You know that high-low style where the material is cut higher in the front while the back flows longer? Well, I'm totally in love with the look and nothing—nothing—you say can snap me out of it. Their revealing-in-all-the-right-places asymmetry is an unexpected twist on the norm (dare-to-be-different confidence does it for me every time). Plus, their looks range from dressy to laid-back and can go from feminine to edgy in a heartbeat.
So, you'll have to excuse me if I get a little defensive when people start giving this fun style Michael Bolton-esque nicknames (circa mid-'80s) like The Mullet (okay, that one does get me laughing) or make hokey jokes about designers facing material shortages.
Read on to see why we're not kidding around with this style. Here are 10 great ways to go with the high-low flow:
High-Low Styles that You Must Try
Lady in Red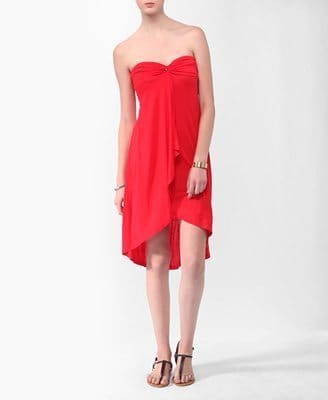 Knotted Sweetheart Tube Dress, $13.80 from Forever21
We think this dress is great for those nights when you want to strike that sexy-summery balance. Thanks to a hem that's high enough in the front to be revealing yet low enough in the back to be ladylike, this look is great for a dressier date or a fun night out with friends.
Make Mine an LBD, with a Twist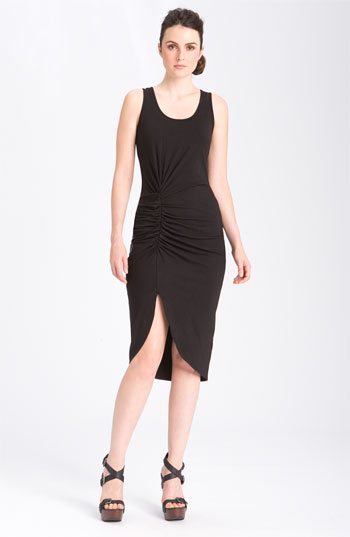 Karen Kane Ruched Jersey Dress with Slit, $94 from Nordstrom
Great restaurant? Check. That special someone? Yes. Now get your sexy look on with a twist on the LBD: the H/L LBD. That's right, give that traditional little black dress an edge by stepping out for cocktails in one that's slightly higher in the front (with a slit) and longer in the back. I really like that this look stays true to a classic while incorporating a head-turning trend.
Be Summer Breezy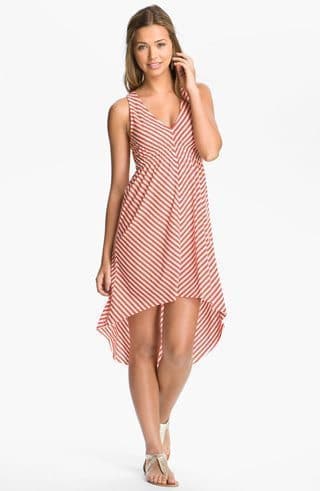 Love on a Hanger Tank Dress, $38 from Nordstrom
Go cool and casual in a simple above-the knee tank dress that's longer in the back. It's short and breezy enough to be summertime flirty yet has enough length so you can stroll about without worrying that the slightest wind burst will give you an "oopsie" Marilyn Monroe skirt-lift.
Romance is in the Air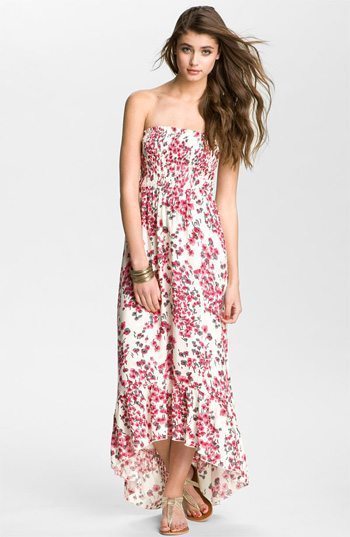 Mimi Chica Strapless Print Maxi Dress, $52 from Nordstrom
Go romantic with a flowing floral. They're comfortable and flattering without being body-clinging. This look is soft, sweet and very trendy.
Be a Rock Star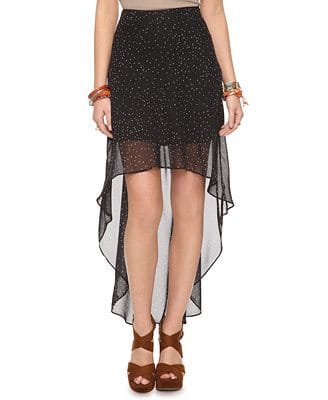 Micro Star High-Low Skirt, $19.80 from Forever 21
Get going with your inner hardcore self for moods where you're not feeling those summer brights or summer anything. Go one part Fleetwood Mac "Everywhere" flowy, one part AC/DC "Thunderstruck" heavy by slipping on a (mostly) black high-low skirt that goes to hemline length extremes. Then, pair with some combat boots—or, if you must, temper the bad-ass bit with colorful bracelets or crisscross wedges.
So Sophisticated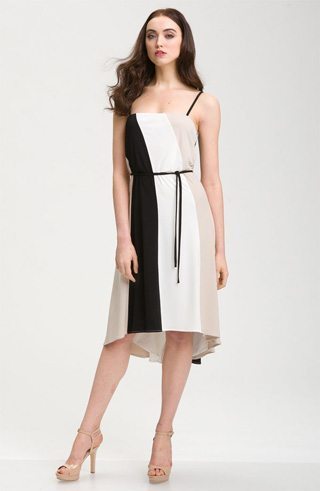 Calvin Klein Colorblock Jersey Dress, $98 from Nordstrom
Not every high-low style has to be up-to-there high and wedding-train-trailing low. We think this colorblock jersey dress is classy and comfortable and love that it's still on-trend without going to hemline extremes.
Pleats to Meet You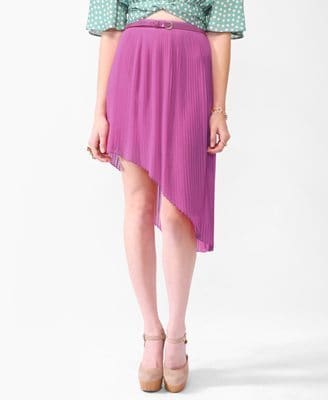 Pleated Asymmetrical Skirt, $19.80 from Forever 21
High-low isn't always a matter of front-back length variations. Think side-to-side, like this asymmetrical skirt where the material is higher on one side of your leg and longer on the other. You're not unbalanced, you're diagonally charmed!
Simplicity that Floored Us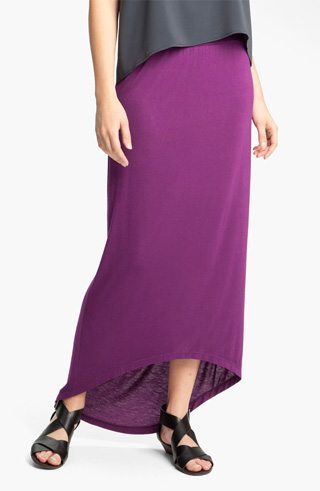 Mimi Chica Maxi Skirt, $38 from Nordstrom
Stepping out in this casual maxi skirt is high-low simplicity (and comfort) at its best. I especially like that the hem forms a graduated, gentle curve that still manages to stay within floor(ish)-grazing maxi territory. It's a low high-low.
To Tie-Dye For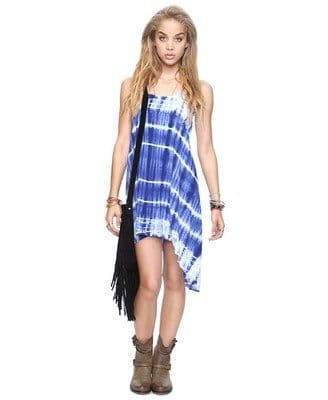 Crisscross Tie-Die Dress, $22.80 from Forever 21
The high-low side hem adds a funky flair to this free-spirited look. Can't you just see wearing this at laid-back barbecues or artsy music festivals? This dress makes me think of living life as carefree as possible. Road trip, anyone?
Do we See a Pattern Here?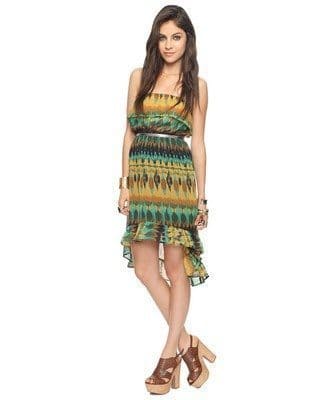 High-Low Ikat Print Dress, $22.80 from Forever 21
Get your earthy, Arizona-esque vibe on with this bold-patterned high-low dress. The flounced hem and top amp up the femme factor, making this a playful number that we went wild for.
Tell us what you think of the high-low trend and what looks you're into.