Ah, LA Gear. The high-top sneaker that had street cred AND looked super cute. The brand had a huge moment in the sun — at one point using Paula Abdul and Belinda Carlisle as celebrity spokesmodels.
OK, so the street cred part might be a stretch, but we still thought LA Gears were totally cool, in part because they came with little license plates. What more could a late 80s/early 90s girl want?
Sadly, in the fashion world, all good things must come to an end. And the once super-popular LA Gear sassy sneaker empire would ultimately fizzle out. So, the question is…what happened?
What happened to LA Gear
For the uninitiated (read: those under 35) a little background: LA Gear was one of those beautiful fashion trend arcs that started out high-end (not kidding) but trickled down quickly and mercifully into affordable, attainable fashion for the mainstream masses.
If you are a 90s baby and have NO idea what I'm talking about, behold this collection images that capture the beauty (or horror, depending on your perspective) of the LA Gear phenomenon, via BuzzFeed.
Selling the LA lifestyle
Robert Greenberg founded LA Gear in 1979. Fun fact: The same Robert Greenberg repeated his formula in the early 2000s by launching Skechers.
The LA Gear brand sold fashionable footwear, yes, but also the Los Angeles lifestyle. Who in the 1980s didn't want to be part of the glitz, glam, and perpetual sunshine of SoCal, California? Greenberg initially intended to sell his LA Gear brand through his own women's fashion retail store — but the masses had other ideas.
LA Gear quickly moved into department stores. By 1990, the brand was the third-best-selling athletic footwear brand in the country, behind Nike and Reebok.

Killed by grunge
It's what happened in and around 1990, however, that led to LA Gear's demise. And what happened, in a word, was grunge. LA Gear's marketing relied pushed the image of super cool girls with blond perms and scrunchies hanging out at the soda shop. Those perky and popular girls grew tired of their ice-cream-colored crop tops and spandex shorts — and grunge was an easy replacement
Suddenly, cool girls didn't want to be from LA. They wanted to be from Seattle. Drab plaid and torn denim took over the young girl fashion scene.
As a company, LA Gear didn't respond well to this seismic shift on fashion sensibility. An attempt to branch into men's athletic footwear failed. There was even an ad featuring basketball star Kareem Abdul-Jabbarad, backed by flames and wearing spandex short-shorts and high white athletic socks. The starpower didn't help — on second thought, maybe the Kareem ad was the problem…
Not gone, just forgotten
LA Gear never regained the fashion craze status it once enjoyed. The brand does live on, however. You won't find LA Gear shoes at trendy retailers anymore. Instead, you'll find them at mainstream, white bread middle America retailers like Beall's, Shoe Carnival and Sears.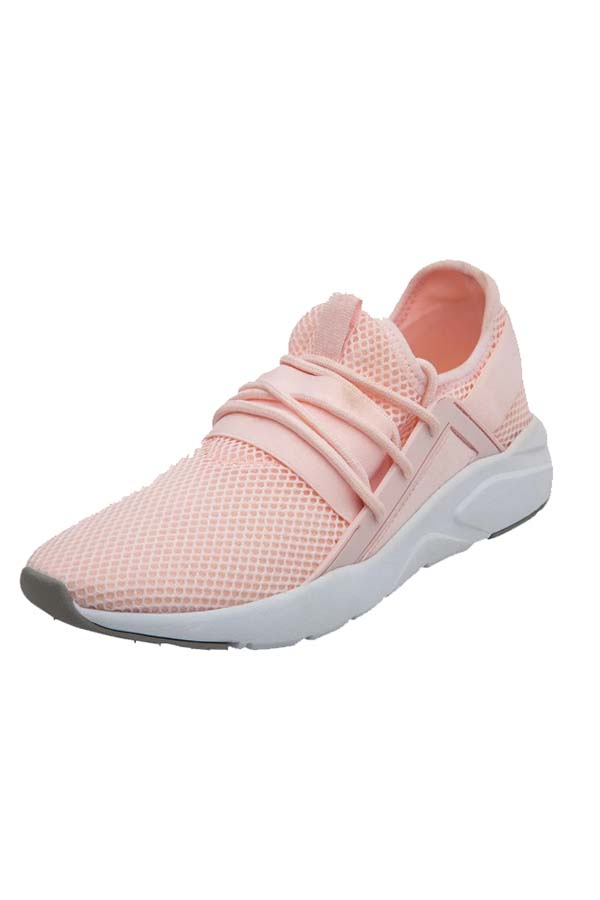 And as far as styling goes, gone are the iconic white velcro-strap high tops and in their place? Brightly colored fitness shoes that look a lot like every other shoe on the wall at the Foot Locker. Sure, there are probably nuanced differences, but they all look pretty much the same.
A second wind for LA Gear?
A few years ago, I would have said LA Gear would never recapture the magic that had us all wearing colored shoe-laces and scrunchable socks to achieve the quintessential LA Gear look. But would you believe that LA Gear is bringing back a retro shoe in spring of 2022?!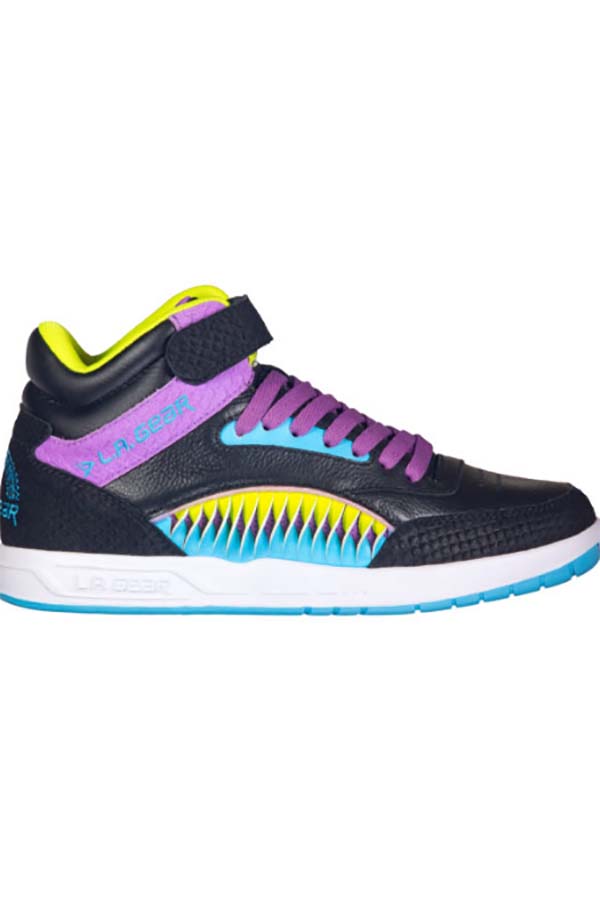 Retailing for $120, the shoe comes in coral, yellow, or a multicolored design, and get this — it features a velcro strap at the ankle! Rejoice children of the '80s. If the new LA Gear shoe takes off, we might all soon be getting perms again (actually that would be terrible, unless someone comes up with a no-damage perm solution).
If you really want to recapture the bold athletic shoe of days past, another option is a modern twist on the old high-top — LED light-up shoes. Yes, that's right, light-up shoes! These aren't for the faint of heart, but they do have a definite '90s flair to them.