This post may contain affiliate links. See our privacy policy.
Anisha Bhasin Mukherjee is a busy girl. She's the co-founder of Dress for the Day, a website and mobile app that curates streetstyle fashion looks for occasion, weather, personal style and budget. She's also co-host of "Sports Style Swipe" on si.com, critiquing the hits and misses of professional sports fashion and interviewing pro athletes.
I wanted to hear more about Dress for the Day and the life of a fashionista who's running around in the man's world of professional sports, so we reached out for an interview with Anisha. Read on for Anisha's take on fashion icons, the fashion sense of NBA player Russell Westbrook and her top tip for everyday style.
Dress for the Day is all about streetstyle. Tell me about the Dress for the Day customer. Who is she and how does she use Dress for the Day?
The DFTD customer can be anyone! Everyone needs to get dressed each day and make choices about what to wear. We all have various events and occasions in life; be it work, a vacation, wedding or a ball-game. So, DFTD makes life quick and easy by providing instant fashion inspiration for the everyday man and the everyday woman.
It's super simple to use. You select your occasion and personal style from the drop-downs, and streetstyle looks will populate based on your selections and the weather (your located is already factored in!). You can either emulate the look with pieces from your closet. Or, you can shop the look head to toe based on your budget. We hand-curate pieces from our retail partners, which span from the major fashion houses and brands to new and emerging designers. Plus, the app has added features like a fashion forum and calendar!
What did you do before you launched Dress for the Day?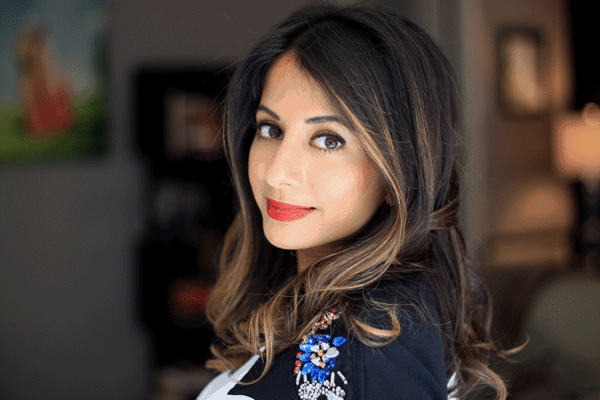 Before launching DFTD, I practiced law. I was in-house counsel at a music publishing company, representing the kings and queens of the jazz era (Billie Holiday, Benny Goodman, Perry Como).
How did you come to know you would start this business — did you have an ah-ha moment or was it more gradual than that?
My co-founder and I were out to dinner, catching up after years, when the ah-ha moment occurred. We both knew there was a void in the fashion tech world that needed filling. A simple tool, that answered the everyday question of "what do I wear?" We needed it, our friends needed it and their friends needed it. So, we built it! Well, it wasn't as simple as that, of course. It took months of designing, testing our MVP (minimum viable product), surveying and finding the perfect tech team before we were ready to launch.
The outfits on Dress for the Day are curated, correct? Would you say the outfits reflect your own style?
Yes, each and every outfit we feature is hand-curated by our team (no robots or software!). Each streetstyle reflects a wide variety of personal styles, from classic to contemporary to casual to edgy to over-the-top. I can absolutely say that I would wear each and every outfit on DFTD!
The models on your site look to be everyday women. Do you have your own models?
Each streetstyle comes from the everyday man or woman. They are either submitting their photo or we are out on the streets scouting fashionable and inspirational men and women. So, we don't use any 'models' per se.
Who's your fashion icon and why?
It's a tie between Mary Kate Olsen and Amal Clooney. Mary Kate has been a fashion inspiration for me since chokers and floral dresses were trending the first time around — in the 90s! Her style is unpredictable, unique and always makes a statement. She isn't afraid to color outside of the lines and I love that. Amal's style is a bit more conservative, but exudes an insane amount of confidence, class and badass-ness. Her work wardrobe is feminine yet powerful and her weekend athleisure wear is always on trend.
Do you consider yourself a fashion personality? Why or why?
I think it's important not to allow fashion to define the individual. Rather, one's personality and character should define his or her fashion choices. I definitely try my best to practice this philosophy and don't discriminate when it comes to fashion. My personal style can change drastically from day to day and I love mixing and matching pieces across all price points. I think it's safe to say that I have a well-rounded fashion personality!
What's your go-to look for a weekend day of shopping? An evening out with the girls?
For a weekend day of shopping, you can find me in Adidas Stan Smith sneakers, a comfy, cotton black midi dress from Zara and my Givency Mini Antigona satchel. For a night out with my girlfriends, I'll be in Rag and Bone flared jeans, Stuart Weitzman Nudist Sandals and an off-the-shoulder blouse from Asos.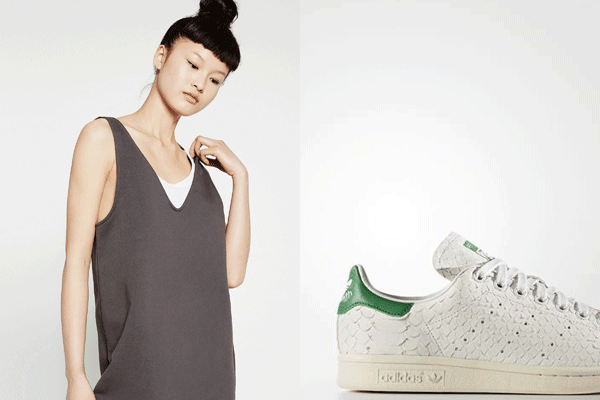 Tell me about your fashion series with Sports Illustrated.
Sports Style Swipe is a super exciting new digital fashion series I co-host on Sports Illustrated.com. It's essentially Tinder for fashion and sports. We critique the style hits and misses in the world of professional sports. We also discuss trends and fashion related news amongst athletes.
Which professional do you think has the best overall fashion sense? The worst?
I love Russell Westbrook's daring sense of style. He really treats the hallways that lead to the basketball court as his runway and I can't get enough. He's edgy, trendy and dresses like nobody's watching.
As for the worst, well everyone has potential to improve — so I can't name a worst!
How strong is the relationship between sports and men's fashion? I have definitely seen an increase over the last few years of people — the masses — talking about men's fashion? Have you seen the same? Why do you think that is?

The fashion scene in the sports world is exploding in the best way possible. Men in general are taking a greater interest in fashion than ever before (the first Men's Fashion Week took place earlier this year) and this is definitely carrying over to athletes (the NBA All-Star Fashion Show premiered last year).

I think social media has had a significant influence in making players more cognizant of their outfit choices. They know they are going to be photographed before the game (entering the stadium) and afterwards (press conferences) and this is their chance to express their personal style, since they are out of their uniforms. Long gone are the days when they would walk around in sweats and a t-shirt (unless they are luxury cashmere joggers and a vintage distressed tee). Now it's all about high-end designers like Saint Laurent and Louboutin and bold, fierce textures and patterns.
We otherwise only get to see a glimpse of athletes' personalities, since the focus is mainly on their athletic ability. But now, we are able to appreciate their creativity on another level, as they strut their style game off the court. Also, it's important to note that fashion collaborations between athletes and retailers/designers are growing. Russell Westbrook has a line with Barney's New York, Steph Curry is a brand ambassador for Express and Kam Chancellor has an exciting collaboration with custom-shoe designer, Awl & Sundry.
Let's wrap up with this. Do you have any words of wisdom you can share for the women who's uncertain of her own fashion sense and personal style?
That's easy. There's no better fashion accessory than confidence.