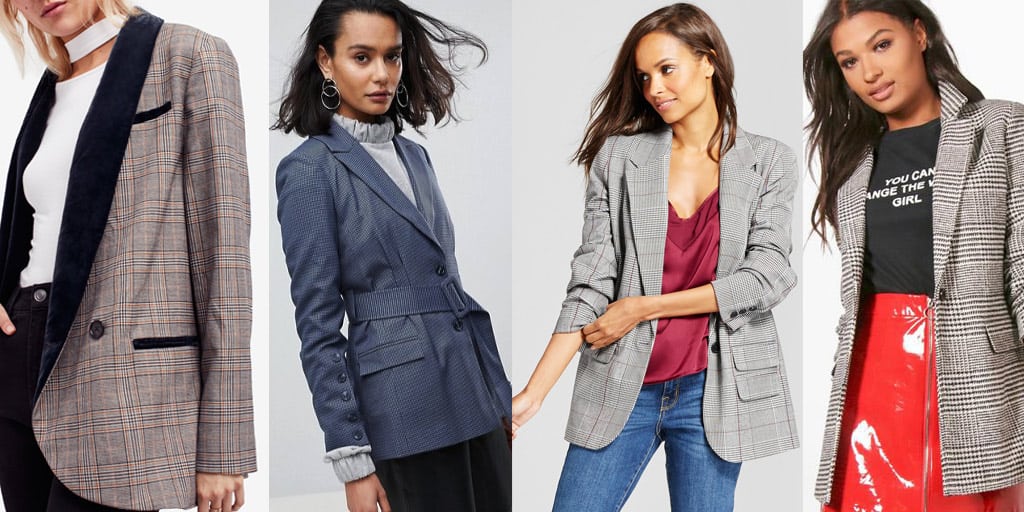 This post may contain affiliate links, which means I earn a small commission if you click and buy something (at no cost to you). See our privacy policy.
Leave the little black blazer to winter fetes and NYE, because there's a new office-wear essential in the mix. It's the check blazer, and every fashion lover needs one. In beige hues checked with red and brown, or grey tones gridlocked in black, this fresh take on menswear trends adds an all-new tailored look to your standard fare.
Much like the trusty camel coat, the checked blazer is a new neutral to be worn with all of your old favorites. It's a multi-tasker, for sure. Slip it on when the puffer feels too sporty, but the trench feels too polished and predictable. Wear it to dress up your denim, balance out your thigh-high boots or add sophistication to even your most flirty dresses and skirts. It's the ideal layer for day-to-night looks and it works with prints, patents, and of course, your plainer pieces too.
Even better, check blazers are easy to find at a huge range of price points. So let's break down some essential benefits of the top contenders.
Top Picks: Check Blazers
With All The Trimmings
For an extra dash of personality, look for options with decadent details. Satin or velvet lapels up your game immediately and will have you standing out amongst the plaid in-crowd. Bonus: Who doesn't like feeling fancy?!
Basic & Brilliant
Prefer pops of color left to your other items? Go for the checks in basic black and beige and let an unexpected pairing do the talking. The classic combination up top means you can — and should — wear it with everything, even cherry tomato minis.
Fit for Layering
For that just-tossed-on, snatched-it-from-your-guy's-closet styling, scoop up the checks in a less tailored boyfriend silhouette. A little roomier is all the better for serious scarf action and layering up on cold winter mornings.
Tweaks on the Trend
And for the most subtle tweak on the definitive trend, look out for bolder liners, contrasting buttons and other details that make an It-item all your own. Here, the elbow-to-wrist buttons and a trench-like belt liven things up without losing the blazer's conservative, work-friendly appeal.