This post may contain affiliate links. See our privacy policy.
Every year thigh-high boots (aka OTK boots) hit the shelves. And every year there are tons of fashionista souls who find themselves thinking, "I wish I could pull those off."
Well the time is now, ladies, because you can and you will.
Put your Vivian Ward worries aside and take back a shoe that has wrongly been accused of being taboo. Because hey, if the fashion world didn't want us wearing tall boots, why would they keep making them? And even then, it's your party and you'll wear thigh-high boots if you want to!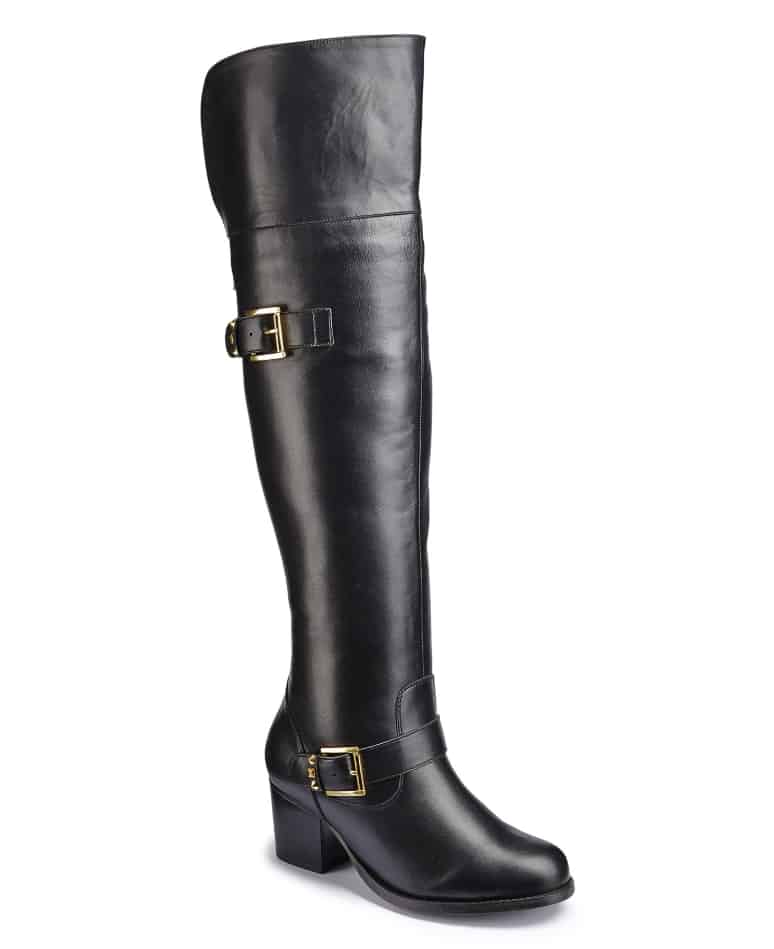 While others' opinions should never ruin your fun, if you are a little skeptical to strut your stuff in thigh-high silhouettes, you'll find these tips and tricks helpful in boosting your boot confidence this fall and winter.
The right wardrobe — and tall boots to match — will leave you feeling empowered (goodbye nervous Nelly!) as you navigate breezy sidewalks, festive events and more throughout the cold-weather months.
Why Wear Thigh-Highs
The benefits of these tall boots are obvious: added warmth. So you'll definitely want to layer them up over your jeans, leggings and even tights. When your legs are covered up, these bad boys add a new level of edge and fashion-forwardness to the ensemble.
For the Office and Weekends
Flat over-the-knee silhouettes heat up breezy days and casual outings with functional, fashion-forward appeal. Team them up with sweater dresses for the office and denim and flannel for your weekends.
Thigh-High Boots as Party Wear
When you're hitting the party circuit, trade in heels for an elevated over-the-knee boot and you'll be sitting cozy at even the chicest occasions. Our trick to avoiding a look that leaves you feeling *too* risqué? Counter shorter hemlines with more fabric elsewhere.
If a thigh-high boot and spaghetti strap dress make you second-guess yourself, aim for a thigh-high boot and a bell-sleeved number to nail boho and mod trends.
And if you do love a good mini dress/boot combo, there's no harm there either. Choose a slinky slip dress instead of a tight, curve-hugging number and you'll be channeling disco inspirations.

After all is said and done, you shouldn't be frightened. They're just shoes–and besides, you're covering up way more with these lengthy boots than you would be in a party pump anyway!