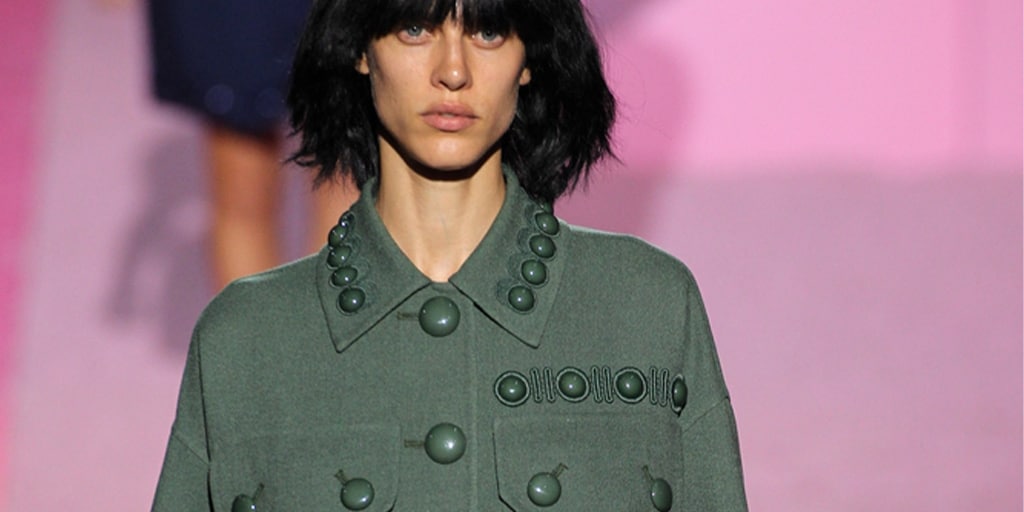 This post may contain affiliate links, which means I earn a small commission if you click and buy something (at no cost to you). See our privacy policy.
It's not as though you didn't know buttons were important. But did you realize just how important they are right now? As in…they're a trend. A big one.
That's right. The simple button — normally a supporting player that keeps things together without killing the vibe — is stepping out as the star embellishment on your favorite garments.
Here are a few tips to make the button trend work for you. Oh, and a few must-wear picks, naturally.
5 Ways to Wear the Button Trend
As an accent
The beauty of the button is that it's quite versatile and unassuming. You can turn to the button trend to liven up a corporate outfit in a low-risk way. While we can't guarantee it, this trend isn't likely to prompt the dreaded raised eyebrow from your more conservative coworkers.
Consider this Zara Oversized Linen Top with Buttons ($49.90), which capitalizes on the trend by adding just a pair of jumbo buttons to the collar. The look is strong and dramatic, and it fits in nicely with polished trousers and pumps.
To dress up your dresses
A button-front dress adds a little touch of pulled-together posh style to your off-duty looks. This Pull&bear Button-Front Crinkle Dress ($30) could easily pass as your brunch uniform for spring. And, it just as easily transitions to after-hours with a few pieces of glitzy jewelry and metallic sandals. The buttons add a little contrast without taking away from the attractive fabric.
The sporty button look
In a world where wearing sweatpants, track pants, and leggings is practically law for many of us, it makes sense that designers would branch out and add a trendy touch to an otherwise classic, casual piece.
This pair of Free People Viola Snap Button Knit Sweatpants ($39.97) illustrates how the addition of a few buttons instantly transforms casual into smart. The sweats look a little more tailored and sharp thanks to their wide leg, drawstring and side accents. It's an easy way to look like you mean business even when you're just running to Trader Joe's.
As the standout
Buttons step in where a zipper may feel too over-the-top or inappropriate. On a pencil skirt, they fall right in line with the piece's overall corporate spirit and give you an alternative to consider over your usual black and gray trousers.
This LOFT Side Button Pull-On Pencil Skirt ($69.50) is all about easy wear, and looks just right with a pretty blouse and a pair of low-profile heels.
DIY button style
Feeling crafty? You don't have to splurge on new pieces if you aren't sure about the trend — or if you just happen to have a few plainer options in your closet that'll benefit from a little something extra.
Hit the craft store and pick up a few decorative buttons to add to your pants, skirts or tops that need a little life. Cute buttons are easy to come by, and this is a simple DIY hack for refreshing last season's clothes.