You've got a nose for sniffing out terrific deals on the latest fall fashions—if you read this site at all, that's a given. But when it comes to your eau de essence, it might get a little trickier. Those haute fragrances you love so much often come with a price tag that could finance a small wardrobe—even a small bottle from the sensual and sensorially-indulgent Bond No. 9 perfume line will set you back $150 to start.
But finding a signature scent is as clutch to your fall style as your statement necklace, your trusty pop-of-color or print bag, your classic LBD or your go-to power heel. Your friends and colleagues already revel in the awesomeness of your brains and beauty—now they can revel in how nice you smell, too.
Finding a perfume when you're watching your pennies isn't always easy, but it can be done, if you know what you're looking for. Fruity? Floral? Herby? Or maybe you trend toward earthier scents, like ylang-ylang or sandalwood. Whatever piques your olfactory senses this autumn, remember: Mist, don't douse. It's nice to leave people with a light lingering of a scent they'll always associate with you, but it's not nice to cause an allergy attack the moment you step foot on the same city block as them.
Here are a few fragrance items that will leave you sitting—and smelling—pretty, without breaking the bank:
Budget-Friendly Perfumes
Banana Republic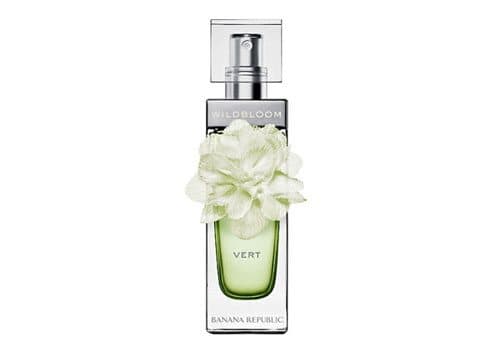 Banana Republic Wildbloom Vert from Fragrantica
The classic apparel store is obviously best known for its chic classics for men and women, but poke around their in-store accessory islands and you'll find a plethora of perfumes, all typically under $50. Their newest edition is the light and lovely Wildbloom Vert, which is predominantly floral with hints of fruity and fresh water notes.
Tokyo Milk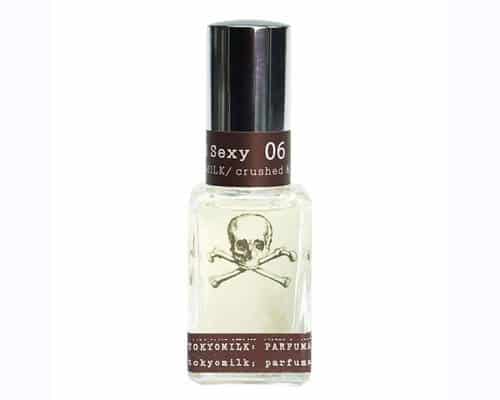 Dead Sexy No. 06, $30 from Tokyo Milk
These small bottles pack a punch of perfume—long-lasting and vibrant without smelling cloying or like something your grandmother would wear. And it's well worth the $30. The Dead Sexy scent really is quite sexy, full of luscious woody, vanilla notes with the slightest edge of floral. The combination is so yummy you'll want to lick your own wrists. And if you dab on the Let Them Eat Cake or the Honey and the Moon scents, well…we wouldn't blame you if you did nibble a bit.
When in doubt, roll it out: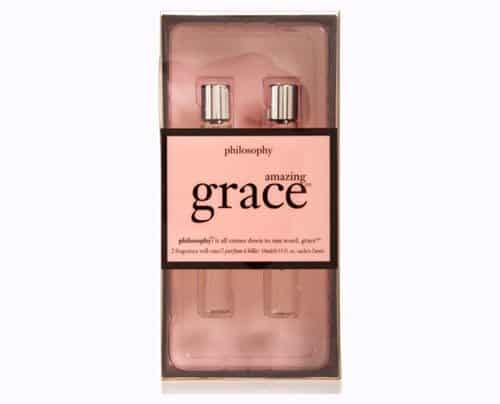 Philosophy Amazing Grace Roll-On Duo, $30 from ULTA
One great way to get your sweet smells for less is roll-on perfumes. Not only will they run you less than the usual 1-or 2-ounce spray bottles (you'll spend about $20 to $30), they're also portable, which means you can stash one in your purse so you're never far from a perfume pick-me-up. Check your your favorite lines, like Givenchy, Ralph Lauren or Philosophy's Amazing Grace for their roll-on options.
Give a Gift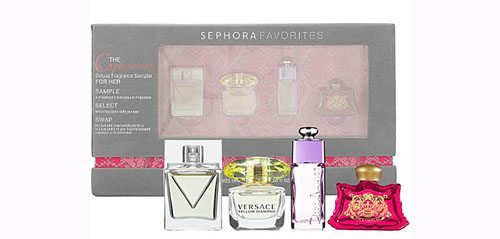 The Captivators Deluxe Fragrance Sampler For Her, $42 from Sephora
There's something to be said for giving gifts to others. But let's be honest: It's also pretty damn nice to give yourself a gift once in awhile. If you're having trouble deciding on the perfect perfume, try a little bit of everything. Boxed sets from a single line, or a set with multiple designer fragrances all in one, come with bigger-than-sample-but-not-quite-the-full-shebang sizes that give you multiple wearings of each scent. Variety is the spice of life and all that jazz, so if you want to change it up on a regular basis this fall, you can do just that for less than $50.