Our content contains affiliate links, so know that we might earn a buck or two if you click and buy :) !
Leggings and Jeans: Invest in one great pair of jeans and one or two pairs of comfy maternity leggings.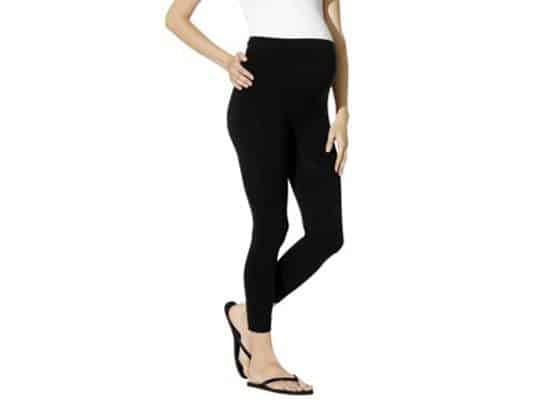 Be Maternity Seamless Capri Leggings–Black, $22.99 from Target
Target sells a great pair of leggings by Be Maternity for under 30 bucks.
Heidi Klum's new line, Loved, offers up great maternity denim wear on the cheap and is available at Motherhood, among other major maternity stores. But if you want to invest in one killer pair of designer maternity jeans, check out Pea in the Pod for your favorite brands (but with an expandable waist), like Joe's Jeans, Seven for All Mankind and True Religion. Always check the sale rack first, because if you buy the newest season they'll run you around $200.
Scarves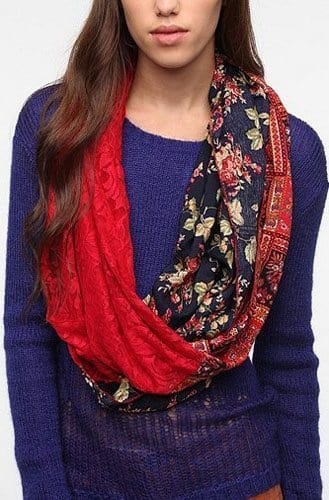 Just like jewelry can salvage the same bored outfit in a dozen new ways, so can scarves! In addition, they can hide your belly when you want! So embrace your inner Frenchie and invest in a couple of fun and in-season scarves. Urban Outfitters carries plenty of fun scarves that will quickly change your look on the cheap.
Dresses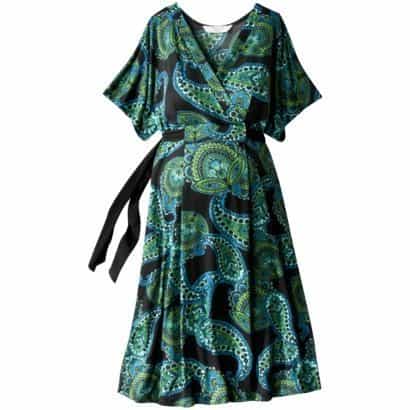 Dresses are a must, as those elastic bands on your maternity pants start out comfy and enjoyable but, by the last weeks, will be digging into your belly as hard as your baby will be kicking. Dresses provide your belly with some freedom and make breathing easier. Invest in a couple of solid-color dresses that you can change up with your new jewelry and scarves from stores like Old Navy, JCPenney and Loft. Then grab one or two more fun dresses with prints that you can save for special occasions, like parties and of course, your baby shower! I grabbed my favorite dress at Target on sale for just $13.97 (see above).
Maternity Basics: Target is your savior when it comes to basics like solid-color tops, wrap sweaters (no, your own sweaters–even the biggest you own–will not fit by week 35), camis and empire-waist tops (your new best friend). Finally, don't be shy–ask your friends if they have any hand-me-downs (if they're done reproducing) and check resale shops for even more bang for your buck.