So, about our budget fashion and style advice: We sometimes use affiliate links, so we might earn a buck or two if you click and buy :) !
What's cuter than a fashionable baby? Really not much. After I had my fashion forward baby boy, I quickly learned that he was changing sizes faster than I could say his full name. But as a devotee to making my dude don the best duds (was feeling in the mood for some alliteration) I wasn't willing to settle for plain clothes for my little guy.
So I've learned some great tricks along the way. And in an effort to learn even more, I asked some of my favorite moms to share their secrets, too! Enjoy these tips and the adorable pics they come with. Then, share your tips for adorable baby fashion, we'd love to hear it!
7 Tips for Baby Fashion that Won't Break the Bank
Tip #1: Bandanas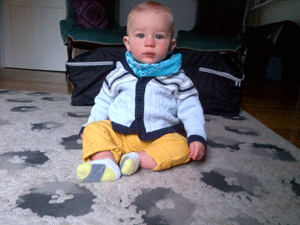 This tip comes from yours truly. My son is half-Polish and we spend a lot of time in his second hometown of Krakow. That's where this tip comes from. In Krakow, the artist's haven of Poland, babies and toddlers wear bandanas  Genius! Not only is it adorable (and like a chic baby scarf), it is also cheap, comes in a variety of colors, adds pizzazz to a plain onesie, and keeps your baby warm while catching their drool fest. Get one in every color! Seen here is my little guy Max in a turquoise bandana.
Tip # 2: Headbands from Etsy
This one comes from the best baby photographers you'll ever find, Brittany Jonaitis who owns Juliana Leigh Photography (her work seen in the main image and below). Ever in a bad mood? Just visit her site and peruse the baby pics, you'll instantly be revitalized! Have a baby? Then book her. My plugs for her work aside, the woman knows how to find adorable baby gear, heck, it's part of her job! Dressing up the little guys for their shoots, she knows where to look. "I find most of my newborn hats and headbands on Etsy. Some of my favorite vendors are: Sew Whimsy, Devoted Knits, and Two Crafty Mamas. My favorite line for little girls is Matilda Jane and I'm always looking for deals at Gap and Janie & Jack for little boys."
Tip # 3: TJ Maxx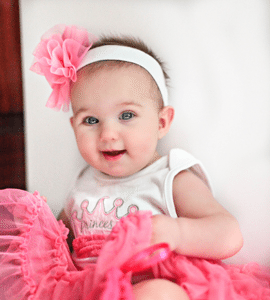 "Nothing like scoring a good deal at TJ Maxx. Visit often to find the best of deals," advises Susan Beyer, mother of the jaw-droppingly cute Siena seen above and with one on the way. "For my baby girl, I often find great deals for clothes at Target or TJ Maxx. They have some of the cutest skirts and dresses and you can't go wrong with a little extra ruffle."