Great jewelry? Check. Perfect shoes? Double check. A wrinkled, old paper lunch bag "clutch" to accent those cute flats? We think not. When it comes to carrying our lunch to work or even a casual outdoor get-together with our BFFs, why throw our style off with a very un-stylish brown paper lunch bag?
Or worse . . . a stretched-to-the-max plastic grocery store bag? Ladies, it's time to break out the fashionable lunch bags. We're worth looking good every step of the way, right? And yes, that includes how we package our egg salad sandwich.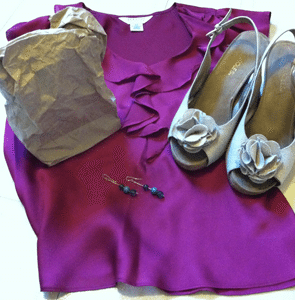 The brown paper lunch bag kind of kills the look, no? Time for fashionable lunch totes, ladies!
After all, we search for deals on amazing pocketbooks, prettying up our lipstick and drivers license with the perfect clutch. We have snazzy cases for our sunglasses, cute phone covers and pretty coin purses that go in even prettier wristlets. Our water bottles have covers. Our steering wheels do too. So why not carry food in style?
We fell in love with these insulated beauties, many of them with styles similar to purses: patterned, sturdy and downright lovely. And before thinking these will look like something fit for a 7-year-old or give others the impression we're about to go camping, rest assured, these let the world know we're women who want to look good from head to toe (a Vera Bradley lunch tote, anyone? It's here. So are other brands in stripes, florals and polka dots).
Bonus: not only are these fashionable lunch bagsfor women are pretty, but they have money-savings potential (whoda thunk it?). Making meals at home means less money spent out with colleagues or with friends at pricey boardwalk concession stands. Looking stylish and saving moola? Win-win!
Feast your eyes on our 12 favorites. Then, ditch that brown paper bag, ASAP.
Fashionable Lunch Bags For Women
What lunch totes make your mouth water? Tell us in the comments section below–we'd love to hear from you.