This post may contain affiliate links. See our privacy policy.
On April 16, iconic designer label Bottega Veneta (pronounced: Bo-TAY-ga Ve-NE-tah) launched its newest home collection during Milan's Salone del Mobile. The home line-up was born with a single bench design in 2006, and has since evolved into a full collection of luxury lighting, furniture, glassware and more.
Bottega Veneta is one of those mainstay labels in luxury fashion. And although we budget fashionistas are usually priced out of the designer game, it's useful to know the labels. After all, you have to spot a good dupe when you see one, right? So we're taking a closer look at Bottega Veneta's history and what makes this brand so special.
A Brief History
Fun fact: Bottega Veneta launched in 1966 by Renzo Zengiaro and Michele Taddei in Vicenza, Italy. Today, the brand delivers ready-to-wear collections for men and women that are always on-trend and well-made. But the Bottega Veneta reputation was initially built on the quality craftsmanship of signature leather goods — luggage, handbags, and wallets — and a braiding technique known as Intrecciato.
After the original founders retired from the fashion house in 1990s, the brand's popularity began to wane. But the direction changed for the better when Giles Deacon, Katie Grand, and Stuart Vevers became the heads of artistic direction in 2000. By 2001, Bottega Veneta was taken over by the world-renowned Gucci Group.
The Secret Sauce
What sets Bottega Veneta apart from other luxury fashion brands is its discreet nature. The company motto, "When your own initials are enough," encapsulates the brand's position — that sometimes understated makes the biggest statement. Unlike other labels that regularly flash their own logos, Bottega Veneta tends to be very subtle with the use of its branding.
In other words, if you want a high-quality piece, this is your brand. But if you want to be obvious about your designer handbag, try Yves Saint Laurent instead.
Where to Shop Bottega Veneta
Getting your hands on Bottega Veneta merch is fairly easy, assuming you have the budget. Bottega Veneta boutiques can be found across the world. You can also shop the brand online at the official website or Saks Fifth Avenue, Bergdorf Goodman, and, Neiman Marcus.
Bottega Veneta Pieces We Love
Because a girl can dream, we shopped some of our fav Bottega Veneta pieces to put on your wish list.
Mist Lamb Dress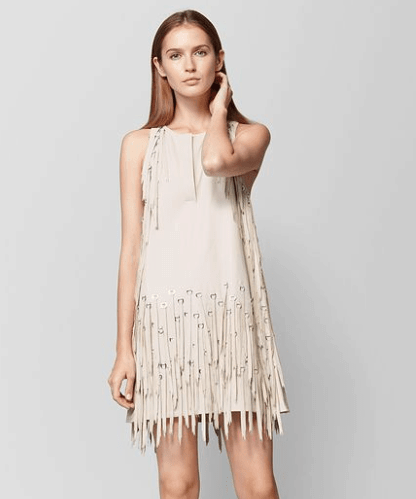 You'll find the Mist Lamb Dress ($5,860) in this season's digital catalog. The '70s-inspired sleeveless mini dress is simple and lightweight, made from buttery-soft lambskin. On the sides you'll find silver tone metal rings, each hand-tied. The A-line silhouette dress also features fringe detailing which is trending this season.
Loop Intrecciato Woven Hobo Bag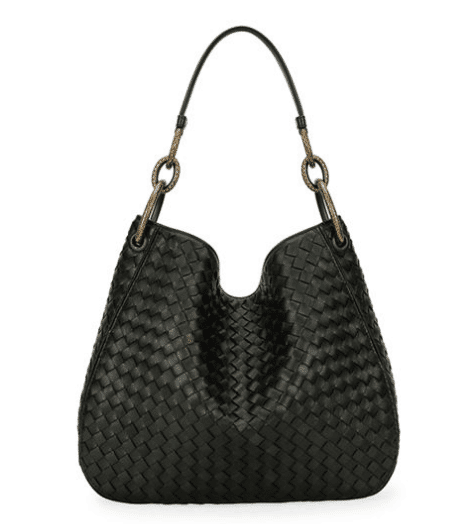 This stunning bronze hobo bag ($2,850) is the perfect addition to any outfit. With its signature intrecciato woven leather, the shoulder bag offers plenty of eye-catching texture embellished with a flat leather and woven link shoulder strap.
Crisscross Flat Sandals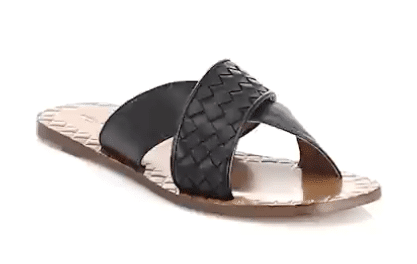 Perfect for the warmer seasons ahead, these slip-ons ($620) feature an open-toe design with leather sole and upper. The stylish sandals are crafted with Italian leather for the perfect blend of casual wear and sophistication. You'll find these sandals in both black and cigar.