Anytime you're thinking about going for a natural makeup look, it's important that your brows are on point. Whether you prefer a thick, full eyebrow style or something more streamlined, you can enhance your whole look by shaping your eyebrows to suit the shape of your face. Just as a belt emphasizes your waist, or round sunglasses softens the angles of a square jaw, the best eyebrow shape for you can express your style while adding balance to your face.
If you want to make a big change to your eyebrow shape, head to the salon for help. At least the first time around, it's best to have a trained pro get the shape just right. After that, you can probably manage the upkeep using eyebrow stencils, pencils, and tweezers.
Best Eyebrow Shapes for Your Face
Eyebrows for round faces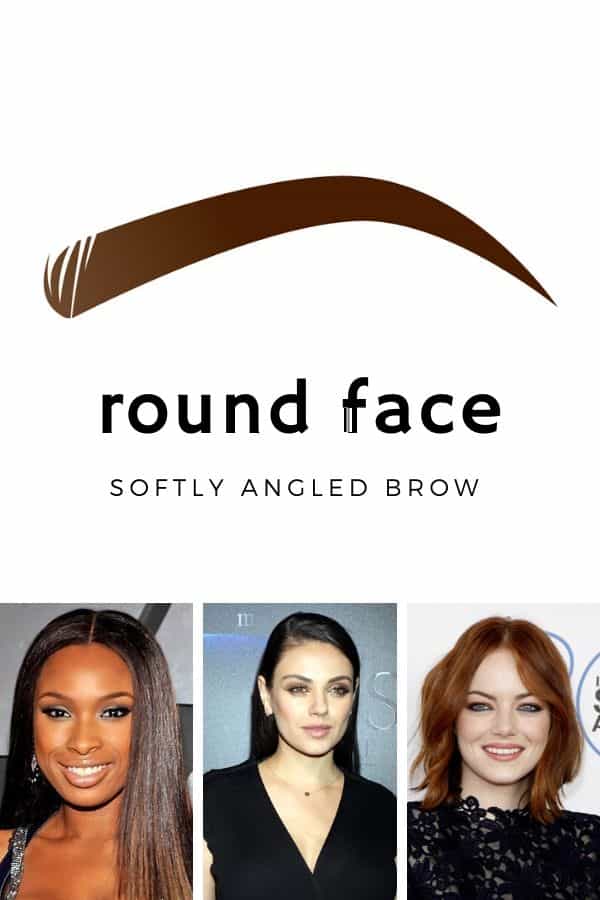 A round face is as wide as it is long, and has a soft, curved jawline. Think of Mila Kunis, Jennifer Hudson, and Emma Stone.
The round face looks amazing with a softly angled brow. Before you do anything semi-permanent, use an eyebrow pencil to test various widths. You'll probably find that a slightly thinner brow that doesn't overpower your face looks best. As Jennifer Hudson shows us, you can also experiment with how you fill in your brows. Hers are filled in more thickly in the middle, and fade lighter on the inside and outside edges.
Eyebrows for heart-shaped faces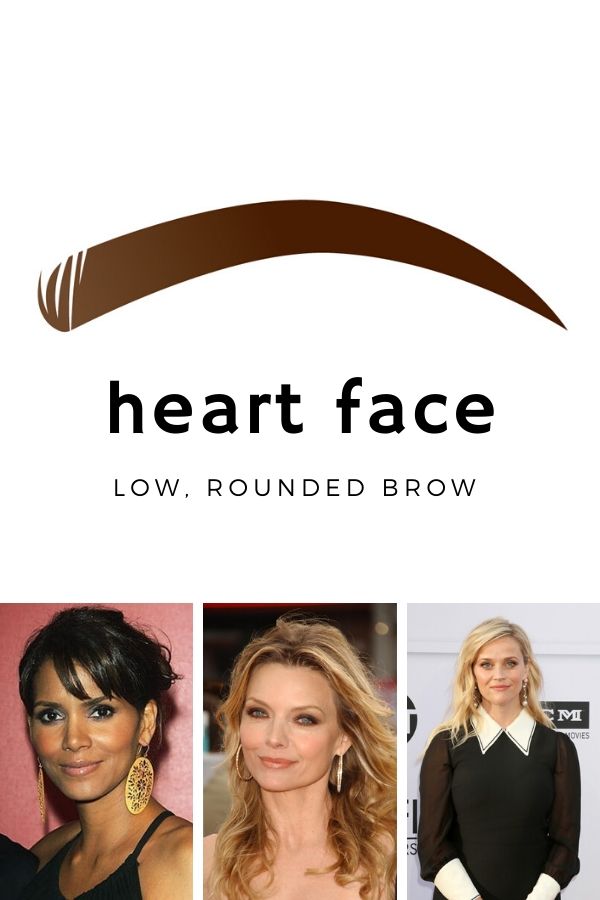 A heart-shaped face has a wider forehead, defined jawline and narrow chin. Halle Berry, Reese Witherspoon, and Michelle Pfeiffer have heart-shaped faces.
A low, rounded brow with no angles or pointy edges looks lovely on a heart-shaped face. Keep the brow defined near the outer corner of the eye to balance out the narrow chin. Don't skimp on the brow powder, as medium to heavy applications will make the eyes the brightest feature of the face.
Eyebrows for oval faces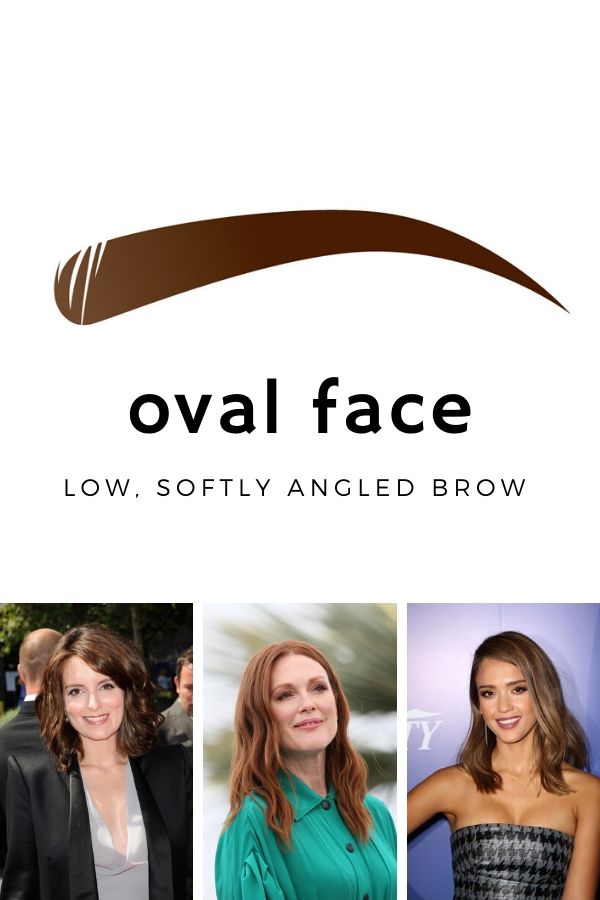 Oval-shaped faces have higher foreheads and defined cheekbones. Try a soft, slightly angled brow, with an arch that isn't too high above the eye. Take your brow cues from oval-faced celebrities like Jessica Alba, Tina Fey, and Julianne Moore. None of these beauties have an aggressive eyebrow, and that works for them. Use a dark brow pencil to fill in any sparse spaces and will make the eyes appear brighter.
Eyebrows for long faces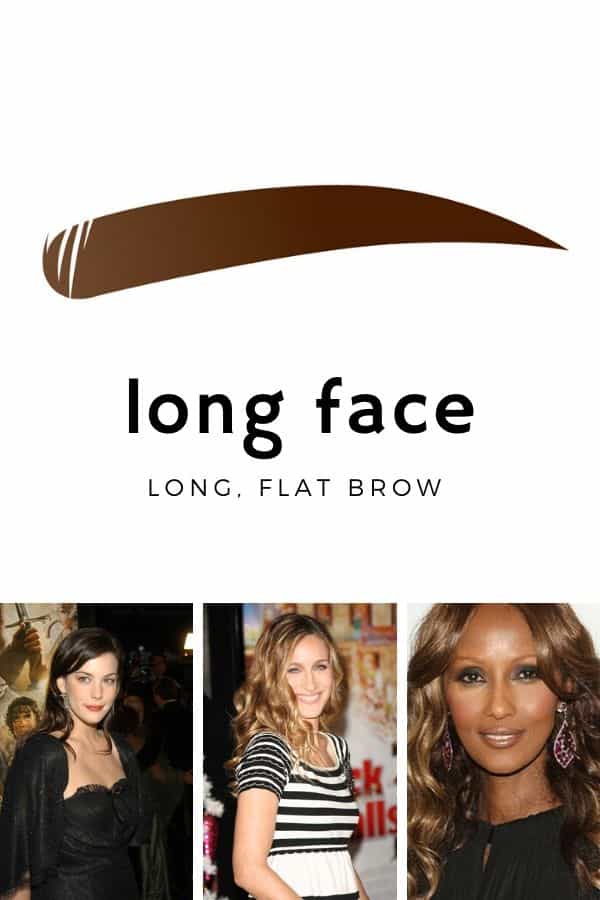 Long-faced beauties have a jawline, forehead and cheekbones that are the same width, like Iman, Sarah Jessica Parker, and Liv Tyler. Keep the eyebrows fairly flat, as an arch adds length to the face. Try extending the tail past the outer corner of your eye, too. This will add balance. You could also dye your brows to match your hair color, which looks particularly nice on long faces.
Eyebrows for square faces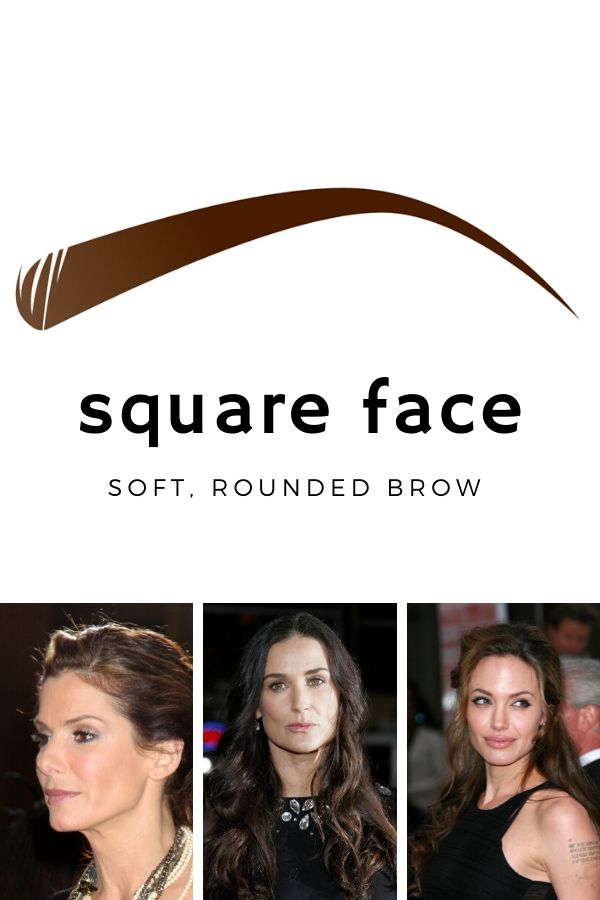 A square face has the same general proportions as a round face, with a more defined jawline. Square-faced celebs include Sandra Bullock, Demi Moore, and Angelina Jolie. The angles of the square face pair very well with a soft, rounded brow or an s-shaped brow. Experiment with your brow powder color, too. You might like a slightly lighter colored brow, which will give you a fresh look overall.
Eyebrows for diamond faces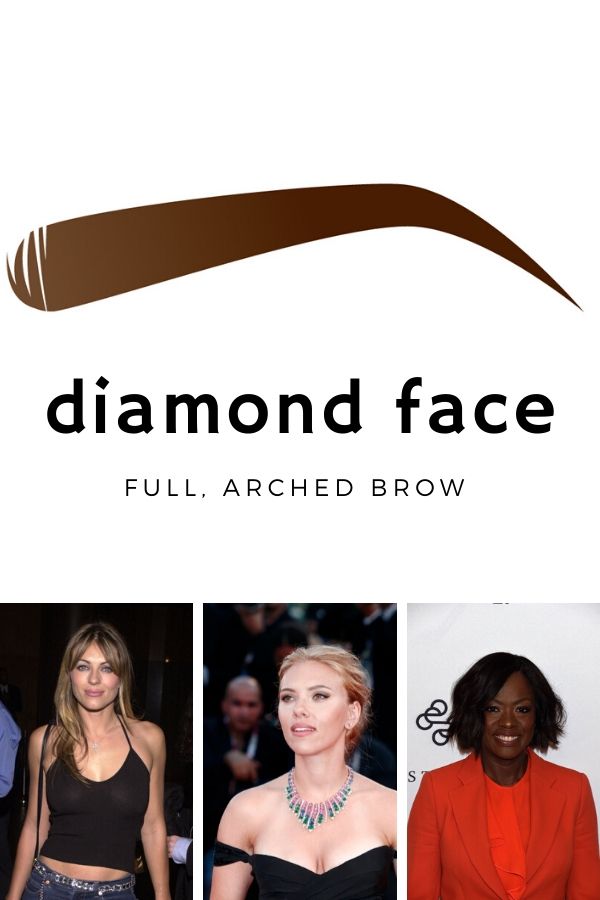 Viola Davis, Scarlett Johansson, and Elizabeth Hurley rock the diamond face shape. These ladies have a narrow forehead and chin, coupled with defined cheekbones.
Try an arched eyebrow that extends from the inside corner of the eye. A fuller shape penciled in slightly lighter than your hair color will make your eyes the star of the show.