In the 90s, the "it" beach cover-up was a Hawaiian print sarong. In the early 2000s, it was all about board shorts. But today? It's less about any one silhouette that's popular and more what suits your own style.
The swim cover-up is an essential nearly as important to the summer season as the bikini itself. You can create an entire beach wear outfit by donning the right cover-up over your suit. It's an easy-going, look-topper that takes you to the boardwalk, the cantina, and beyond, in style.
What's fun is that any single piece that's light, airy, and long enough to cover a tad of your bum will work. With a little imagination, you can set yourself apart on your next trip or vacation, sometimes by shopping cover-ups that aren't even in the beachwear section.
There are chic options everywhere. And, if you get out into the other departments, you might find something you can work into your regular wardrobe when you aren't waterside. What's not to love about that?
The poncho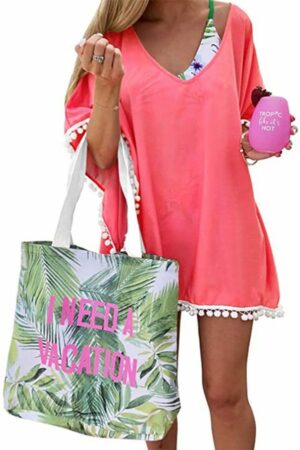 For adventures on the coast that you know will turn into long evenings or maybe even a bonfire bash, there's no better option than a throw-and-go poncho. This one from Amazon is priced-right and features a tassel detail that's on point.
The kimono that doubles as a beach cover-up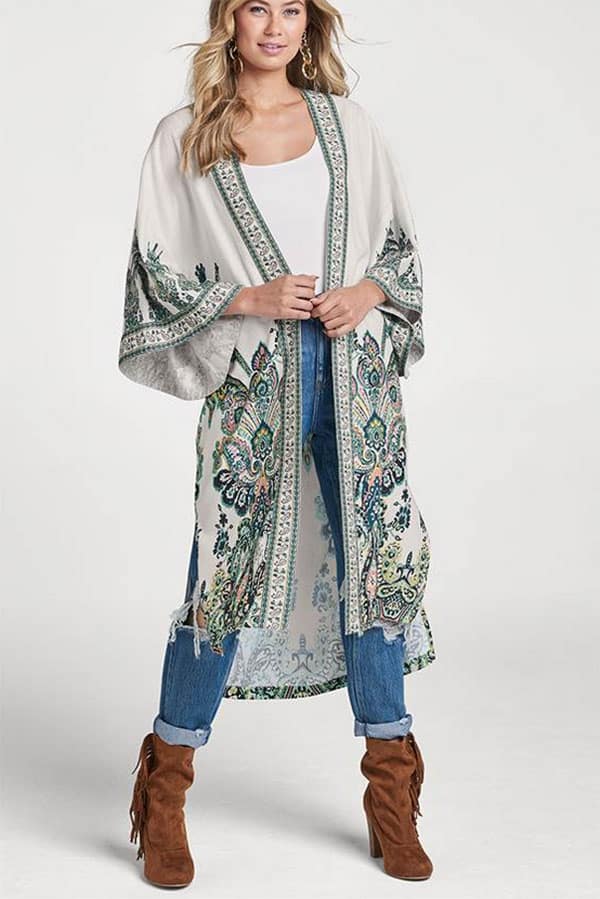 For the festival gal who loves a bit of vintage-inspired, rock-n-roll charm, the kimono is the lightweight number that makes pool outfits pop. In a desert oasis, your own backyard, or at a cabana in good ol' Sin City, strutting your stuff with one of these showstoppers turns a bikini or one-piece into a tried-and-true ensemble.

The kimono shown above is available at Venus for $45.
The oxford
For trips to the docks and setting sail that require that French girl-cool, pull a card from old cinema. For a look that screams The Talented Mr. Ripley, take a borrowed-from-the-boys approach and go for a men's oxford. Think Gwyneth Paltrow and old-school Ray-Ban shades.
This classic piece offers up European sex-appeal that's subtle and subdued. Take the soft cotton shirt and relaxed fit you love for lazy hours in the bedroom and simply bring it the boat or shore. Your lightweight button-downs (like the option from Forever 21 shown above that's priced at $25) mimic the look of a sexy, sheer beach cover-up.
The caftan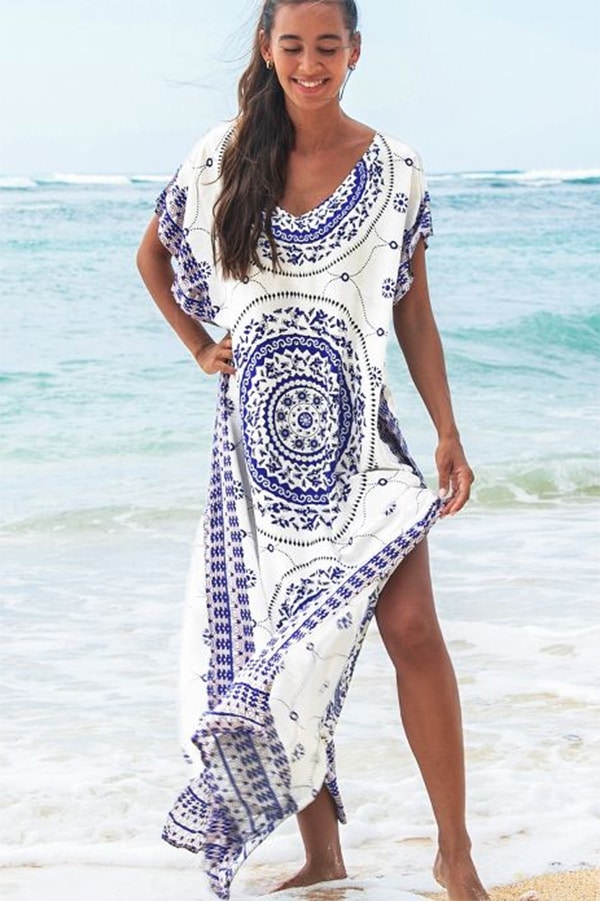 The caftan is a tried-and-true favorite poolside. Sheer versions have a beach club vibe. They'll take you to the pool bar to refill your cocktail and for long walks in the sand. You can pick up the one shown above from Target for $26.
The tunic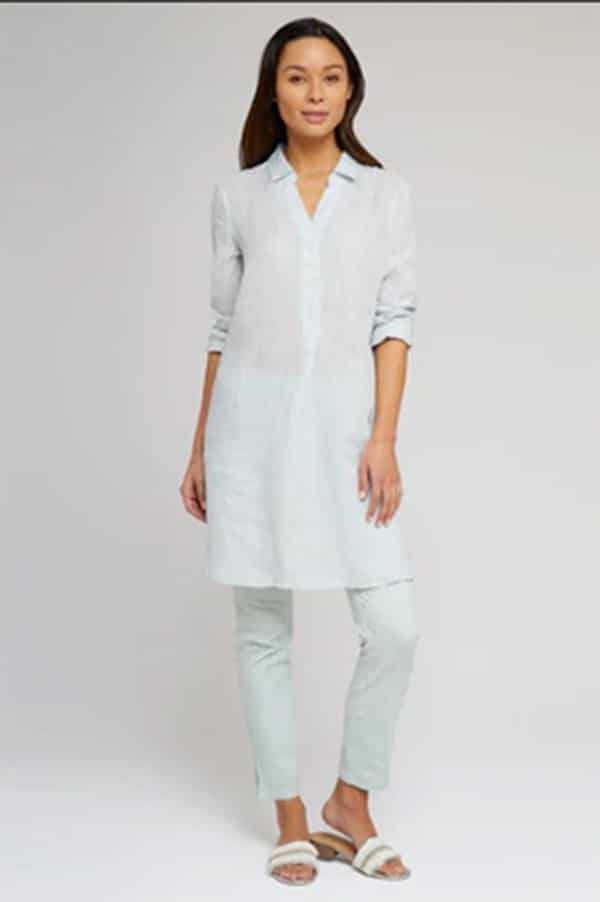 A belted tunic dress provides the same carefree feel as a caftan, but with a bit more structure. And in the off-season, you can wear this style over leggings when you feel like reminiscing about those warm summer days.
My pick from Shop Premium Outlets above is on final clearance for $20 right now.
The beach pant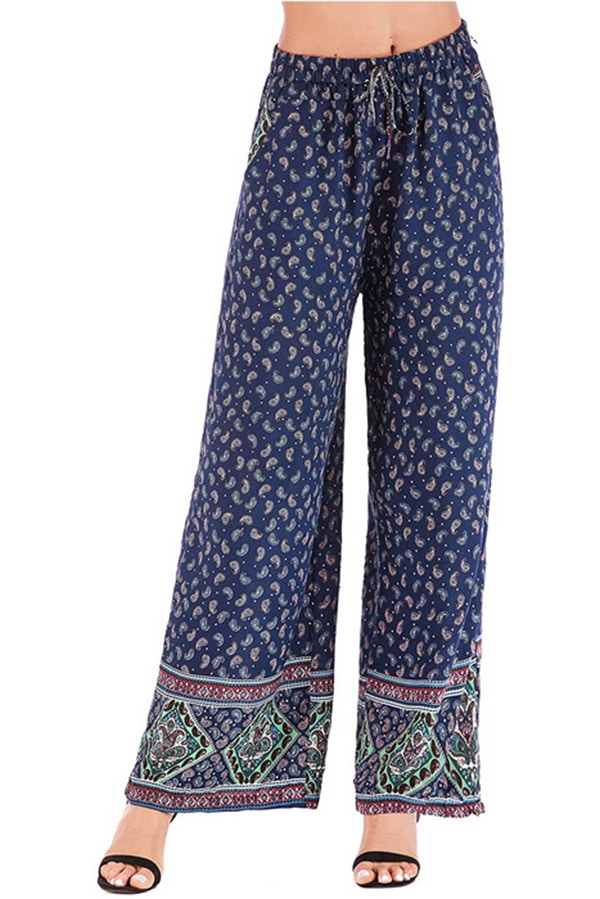 Beach pants are the perfect option when you feel like showing off your top half. They pair well with a bikini top or crop top, an anklet and a light, strappy sandal.
The dual-purpose piece
You may find the perfect beach cover-up somewhere outside the swim section. A regular piece of clothing you can repurpose into a unique and stylish topper for your suit will have so much value. Often, the price will be less — especially if you're shopping in the summer.
This year, commit to getting creative with your beach and poolside looks. Show off your own personal style and see who copies you.