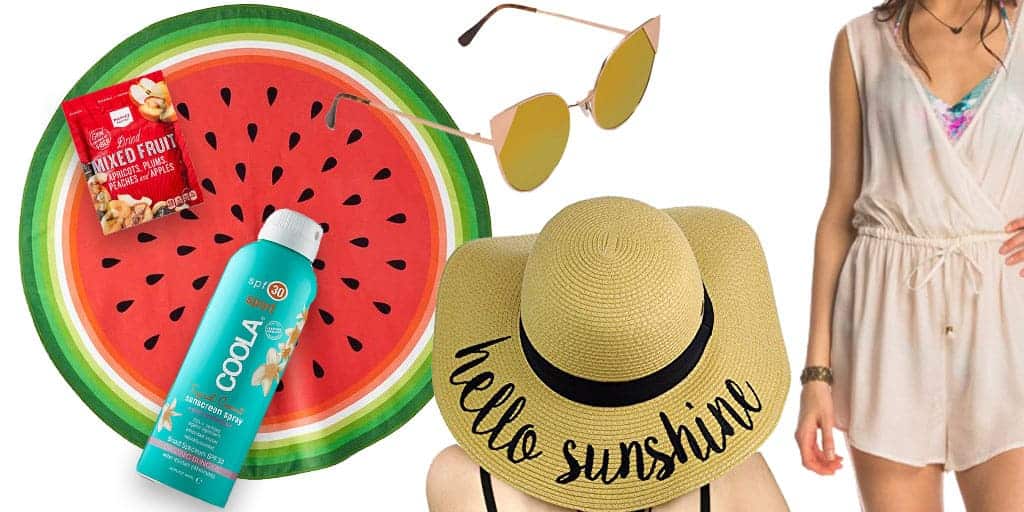 This post may contain affiliate links, which means I earn a small commission if you click and buy something (at no cost to you). See our privacy policy.
When I'm going to the beach, I get so excited about the ocean, the cocktails, and my toes in the sand that I forget some of the practical matters. How much money do I need? What will I eat? And most importantly, what will I need to put in my beach bag?
The Beach Must-Haves
Your beach tote's job is to carry (stylishly) a small selection of goods that'll keep you comfortable all day long — through the heat, humidity, sand and wind. Here are our top six picks of beach bag must-haves, all under $25 a piece.
Spray Sunblock
This 30 SPF sunscreen is made with 70% organic ingredients, such as cucumber, algae and strawberry. It's lightweight, cruelty-free and remains water-resistant for about 40 minutes. Enjoy your fun in the sun, while being nice to the environment.
Trail Mix
These mixed dried fruits from Market Pantry make a great beach snack. They are nutritious, filling and easy to share either in the car or after you're set up in the sand. Stow a few packs of these in your bag for those "just in case" moments. They're non-perishable, and will survive the hot sun just fine if you don't get hungry.
Cover-up
Find a cover up you love wearing and you'll take every opportunity to walk up and down the sand. This romper-style cover up features a flattering wrap shape with a deep V to show off your suit. The shorts are a nice touch, because you don't have to hold the hem down every time the wind blows. And, the sheer fabric lets you feel the ocean breeze but covers up enough to be appropriate for other outdoor activities.
The Roundie Towel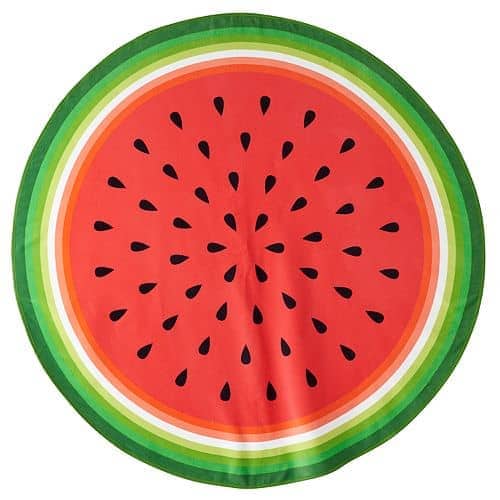 Round beach towels are having their moment in the sun. What's really cool about this trend is that these come in many patterns, colors and price points. You can spend the big bucks for an original Roundie, or you can head to Kohl's and make a statement with this watermelon towel. This one's 55 inches across, which is big enough to make you feel like a queen for the day.
Sunnies
Extreme cat-eye sunglasses are also trending, and this pair delivers at a budget price. I love the bold shape and capped corners of these shades. The opaque lenses are both mysterious and flattering in that gorgeous honey color.
Sun Hat
Keep your face protected from the sun in style with this cute floppy hat. When buying a floppy hat, look for a band on the inside plus an adjustable drawstring. Those features will keep the hat with you when the wind blows.
What's in your beach bag? Let us know below!
You May Also Like These:
Great Beach Totes for Under $25