This post may contain affiliate links. See our privacy policy.
If you've ever wanted to wear nice, new things without actually buying them, then this LE TOTE review is for you.
Le Tote Review: What is Le Tote?
The best way I can describe LE TOTE is like a Netflix for clothes — and not the streaming Netflix, but the original one, where you got an endless supply of movies in the mail.
With LE TOTE, you start by completing a survey and providing your measurements. You pick out a few pieces you like, and then — boom — you start receiving new garments and accessories in the mail.
The number of pieces you receive depends on the package you have. I am on the $59/ month package, which gets me three garments and two accessories in each "tote."
LETOTE verus Stitch Fix
Now, here's what makes LE TOTE different from, say, Stitch Fix. These pieces aren't brand-new, and you don't have to buy them if you want to wear them. You can wear the items in the tote for as long as you want, and then send them back. Once you return a tote, another one is shipped out to you.
My brain translates LETOTE this way: I get a never-ending supply of fresh pieces to wear and it only costs me $59 per month. My closet doesn't get cluttered and I don't get bored. Win/win.
Highlights from My Totes
I have been using LETOTE since August of 2016. Here are some of my favorite looks: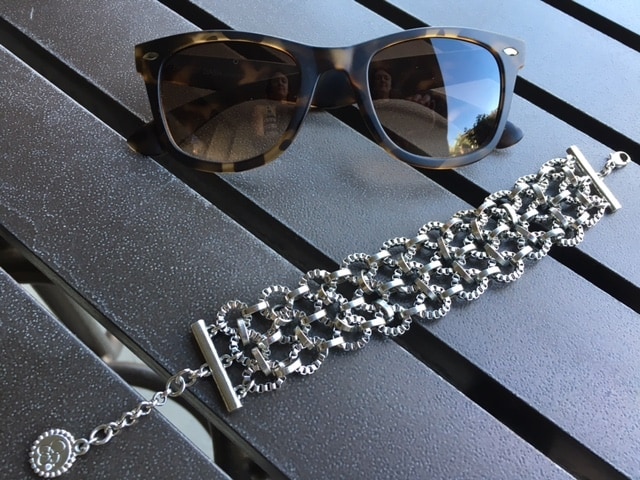 While I held on to this tote, the bracelet made it into my regular rotation — I think I wore it as much as I wear my go-to sunnies! The chain detail on this piece adds some flash without being over-the-top.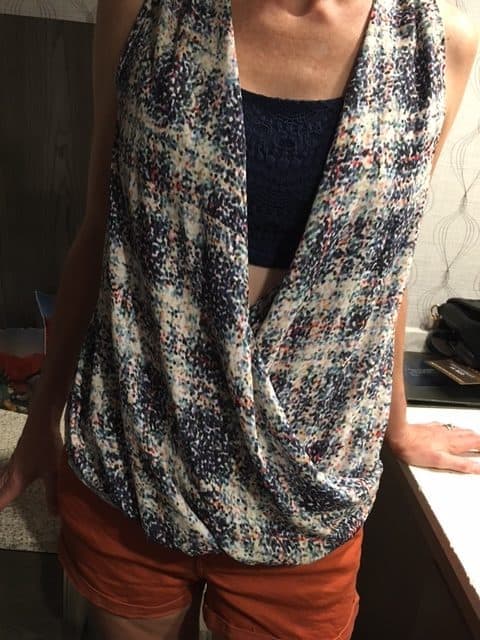 This was my favorite look from my first tote! The wrap-style top is colorful, fun and feminine. I paired it with a textured navy bralette and rust shorts for a flirty summer ensemble.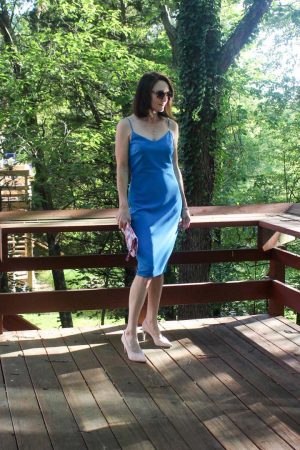 I loved this blue dress. It fit perfectly and is a fabulously simply backdrop for a great pair of shoes and a necklace.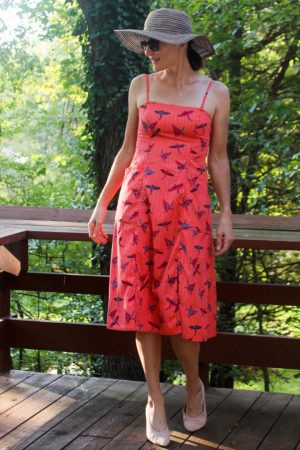 I don't know that I would have pulled this off the rack in a store, but I added it to my tote because it's risk-free! And I was rewarded for it — I got so many compliments on this colorful midi dress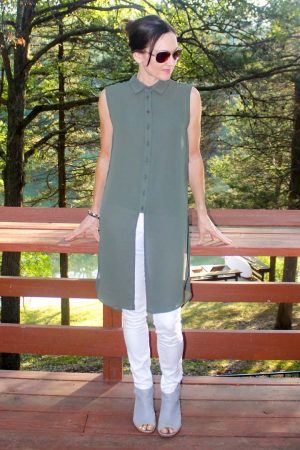 A dramatic tunic is right in my style wheelhouse. This one looks so great with white leggings and open-toe booties!
See my LE TOTE unboxing video!
Unexpected LE TOTE Benefits
When I received my first tote, the buzz of new clothes lasted for a few days, and then I cleared my head and started thinking about the true benefits of Le Tote. Here's my take:
Le Tote is ideal for frequent travelers.
I am writing this post from the road. When I packed, I made sure to bring all of my Le Tote items, plus the prepaid return bag. That way, I can drop the items in a mailbox while I'm traveling, which makes repacking much easier. It also frees up space for any extra stuff I may have picked up on my trip, and lessens my post-trip laundry load.
The clothes actually fit.
When you fill out your profile, you will have to provide measurements. Take this part seriously (meaning you should actually measure yourself instead of guessing) — because the pieces are all individually measured and matched to you based on your size. I tend to buy clothes that are too big for me, but Le Tote takes my poor decision-making out of the equation by picking the size for me. Case in point: I pulled out the dress that was in my tote and immediately thought, "this is too small." Nope, it actually fit just fine.
You can wear new things without needing more closet storage.
What's your closet look like? Mine is ready for a seasonal closet purge. I really, really like the idea of having new pieces to wear without burdening my closet space. It seems so efficient also. When I send my totes back, they are getting cleaned and pressed and sent out for someone else to wear and enjoy.
You can try new styles without risk.
When I went shopping on Le Tote's website, I didn't pick out the stuff I knew I'd like. I picked out pieces that were outside of my "go-to" zone. This is a great way to try new looks and styles without risk. Even if you do try something on in the fitting room, sometimes you still bring it home and never find the right time to wear it. With Le Tote, you don't have to worry about it. If you like the style, great. If you don't, who cares? Send it back and lesson learned.
Be surprised or not.
You can go hands-free and let LE TOTE pick pieces out for you, or you can actively select the garments that you receive. I like picking my items, but you may like the surprise of not picking them. Either way works with LE TOTE.
LE TOTE Tips for Success
1. Be honest about your measurements and shop the site.
Completing your profile accurately is a must. I thought about guessing on my measurements, but then I realized that's a bad idea. You won't be happy with the pieces in your totes if they don't fit. Also, spend some time shopping the site and "hearting" the pieces you think you'll like. (Simply click on the heart image in the top right corner of each product image.)
Know that when you return a tote, you'll receive an email letting you know your next tote has been styled for you. You then have the opportunity to swap out items before that new tote is shipped.
2. Take a picture of the items in your tote.
When your tote arrives, snap a quick photo of all the pieces in the tote. You have to send them all back together, so you don't want to risk forgetting what was in the box. If you send back a tote with only four of the five pieces, Le Tote will charge your credit card on file for the missing piece — the assumption is that you loved it and wanted to keep it.
3. Follow the care instructions on the tag.
The Le Tote team dry cleans and presses all pieces before sending them to you. Once the pieces are in your care, you should follow the care instructions on the tag of each garment. If you accidentally shrink or bleach a piece, you will get charged for it.
Ready to sign up? Receive unlimited boxes of women's apparel and accessories each month with Le Tote!