This post may contain affiliate links. See our privacy policy.
I've been a "budget fashionista" for a while, following the blog, hunting out the best sales, and generally trying to be wise and deliberate with my clothing budget. But last year, when the presents were unwrapped, the bubbly uncorked, and people were resolving to be thinner, wealthier, and better-looking (or something like that), I decided to take my thrifty ways to the next level. I challenged myself to buy no new clothes for the entirety of 2009 – and succeeded!
Completely aghast? Keep reading.

I like clothes. A lot. Legend has it that I began to pick out my daily attire at age two, because something my mom had chosen for me didn't "mats" (I was apparently aware of the color wheel long before I had enough teeth to say "ch").
I treat clothes like souvenirs. I like to buy them when I travel, bringing a little piece of the world home with me. Currently, my closet holds shirts from Dublin, scarves from London, a skirt and sunglasses from L.A., Cubs shirts from Chicago. . . it's kind of like World Market, without the well-coordinated décor, edgy music, and off-brand Nutella.
And, being a good deal-hunter, I am also highly susceptible to "itsareallygooddeal" disease. This illness can strike suddenly and without warning, usually within a tight radius of the Gap clearance racks. And no matter how cute that $12 Target bargain is, those add up fast, and were leaving my closet too full and wallet too, well, empty.
When I say I stopped buying new clothes, "new" is really the key word. I still bought clothes that were new to me, just not new to the rest of the world.
I wanted to lessen the environmental impact of all those clearance rack spending sprees. If I don't buy a new sweater, it means someone makes one less sweater, and those materials and energy aren't used. The consignment shop sweater has already been made, it's already "out there" in the world, and by reusing it, I reduce my resource consumption, albeit by a very, very small percentage. While one sweater isn't going to make a huge difference (or for that matter a whole year of clothes) it is still something I can do, and in the end has changed my buying habits.
The rules of my experiment were simple. No buying new clothes. Consignment stores, thrift stores, garage sales, Ebay, and Craigslist were all were acceptable clothing sources. In an effort to learn a new skill, I was also allowed to wear anything I could sew myself (which sadly turned out to be nothing). I could also wear anything given to me as a gift, because I didn't want to hurt anyone's feelings (and I have a rule to never, ever turn down free J. Crew.)
Surprisingly, my year-long experiment was much, much easier than I expected it to be! Probably the most difficult was when I traveled to L.A. and had to deal with the candy-shop assortment of colorful boutiques awaiting me. I bought accessories (not forbidden) and sought out some cool thrift stores and consignment shops. I didn't get to buy as much I would have liked, but my shopping need was well-satisfied. For the rest of the year, I found a few key thrift store jewels, and got creative with how I put the rest of my wardrobe together.
If I had to summarize everything I learned this year in one word, it would be this: Ebay.
I never knew what a treasure trove of fashion awaited me in cyberspace! I've been an avid consignment and thrift shopper since middle school, and did a good deal of thrift shopping over the past year. Buying clothing on Ebay, however, was a new challenge, one that took patience, proper measurements, and some more patience.
In order to be successful, you need to know your measurements and stick to brands you know and trust (for me it's the ever-lovely J. Crew). I would scour Ebay for the particular item I was looking for, add a bunch of items to my watch list, watch most of them go out of my price range, bid on a couple, and maybe win one. It took me about two months before I finally found the tall, brown boots I was looking for (new shoes weren't off limits during my challenge, just more than I wanted to spend). I had to buy two pairs before I found one that fit (the ill-fitting pair was promptly re-listed). But in the end I ended up with a great pair of brand new $300 boots for $60, and I wear them daily.
Jeans are a bit trickier. I would recommend going to the store, finding a brand and fit that you love, then scouring Ebay until you find a pair. I bought two gently used pairs of jeans for under $12 each – so much more satisfying than buying them out of the catalog for $100.
If the idea of purchasing an unseen, non-refundable article of clothing is a bit scary, you can still rock the consignment and thrift stores. While good consignment stores tend to stock newer items that are still in fashion, thrift stores are a little more helter-skelter, but still worth the effort! If this is all new to you, here are a few basic dos and dont's.
Do go shopping without a specific item in mind. You'll be more open to that fabulous plaid skirt if your heart isn't set on one particular thing.
Don't pick up anything that you wouldn't buy at full price in the store! You'll just end up with a lot of ho-hum pieces you won't wear.
Don't buy anything that's not in good condition. That rules out any sweaters with pills, or things with holes or stains.
Do buy vintage pieces that are back in style (if they're in good condition), like blouses with ruffles or bows at the neck, boyfriend blazers, or skinny jeans.
Do try things on whenever possible. Most consignment and thrift stores should have dressing rooms.If they don't, ask if you can return items with tags still intact, and try them on at home.
Now that my fast is over, I'm trying to decide what my new shopping habits will be. While it will be really nice to walk into a store and buy something I need rather than scouring every thrift store in town, I don't think I'll be returning to my old ways any time soon. I still plan to consult Ebay whenever I'm looking for a new pair of jeans, and thrift stores can more than satisfy any hint of "itsareallygooddeal" disease that may come my way.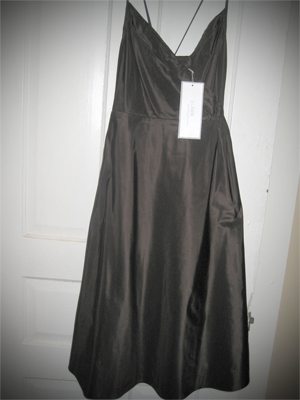 This might be my greatest Ebay find of the year: a brand new, tags-attached J.Crew taffeta party dress. Total cost? $11.50, plus a few dollars in shipping.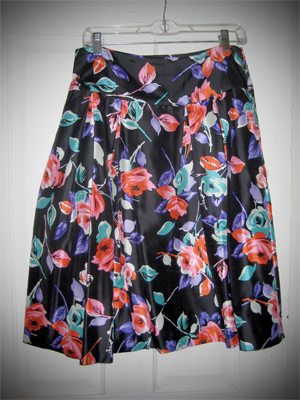 I bought this skirt in an LA consignment store. It's Express, silk, and in perfect condition, for about $12. Consignment stores in LA are amazing.