This post may contain affiliate links. See our privacy policy.
Dear Budget Fashionista,
I really need your help. Even though I wear a clothing size 12, I have VERY wide calves (plus size—about the size of someone who wears a size 16 to 18). I would love to be able to find a stylish pair of wide calf boots to wear this winter. Help!
Shopping for Wide Calf Boots
Tracking down the perfect pair of boots to fit wider calves is a common problem that affects women of all sizes — whether your legs are curvy or ultra muscular. The key is patience. Set aside shopping time so you can find the perfect fit. That way, you don't end up in a pair that feels too tight after a single wear.
Try these tips for finding comfortable and stylish wide-calf boots.
Get Professionally Sized
The problem with many boots that are touted as "wide calf" is that they just plain aren't! The shaft typically feels a little too snug for comfort, leading you to wonder wide calf means in the first place.
You can resolve this by having your feet and calves professionally sized. Once you're armed with precise measurements, you can more confidently purchase boots both in person and online — just be sure to shop specifically for shafts that measure 15 inches or more.
Chummy Up with a Cobbler
Cobblers aren't just characters in classic books from yesteryear. Many women count them as their secret weapon for flawless-fit footwear.
Once you find a reliable and experienced professional, you can trust her to stretch out the leather on those new wide-calf boots if need be. Use this strategy only on boots that are already cut wide, but still feel a smidge too tight.
Don't expect your cobbler to work magic — even the most skilled pro can't transform the actual size of a boot.
Look for Added Stretch
While it's tempting to look for those sleek, stiff boots that have a runway-ready look, it's in your best interests to seek out styles that incorporate stretchy fabric in the mix. This increases your comfort exponentially and makes them a little easier to pull on, too.
Many modern boot brands carry extensive options with stretchy accents. You shouldn't have trouble finding a style that fits nicely into your wardrobe.
Wide Calf Boots: Top Picks
Ready to shop? Try these eye-catching options: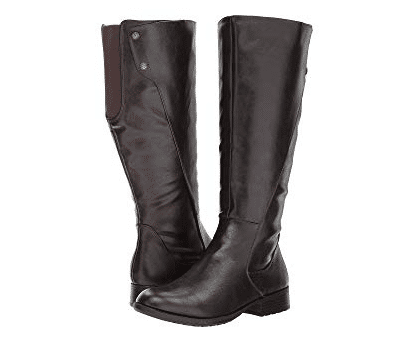 Get set for fall and start planning those cool-weather ensembles now. These boots by Lifestride ($89.99) feature an elastic gore at the opening, making them easy to pull right on. Constructed with faux leather, they're ideal for complementing your go-to skinny jeans and a cozy tunic.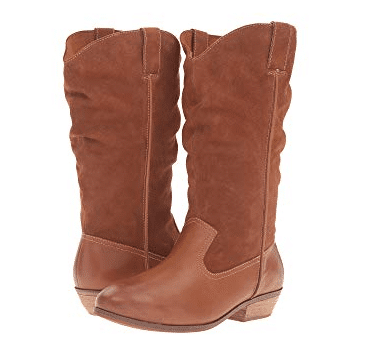 If you're craving a hint of cowboy cool, you'll love slipping into these effortlessly chic boots by SoftWalk ($54.99). They emulate the popular western silhouette and feature a combination of supple cognac leather and matching suede.
Although they look right at home with jeans and a plaid flannel top, you can easily rock them with a dress and leggings on a chilly day.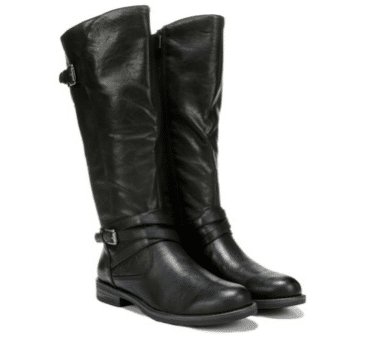 When in doubt, go with a basic black boot that goes with everything, like these wide calf boots from Bare Traps ($45). You'll turn to these routinely throughout the season, whether you're wearing a pretty dress or a more casual ensemble. A strap wraps around the ankle and adds a chic accent to an otherwise simple design.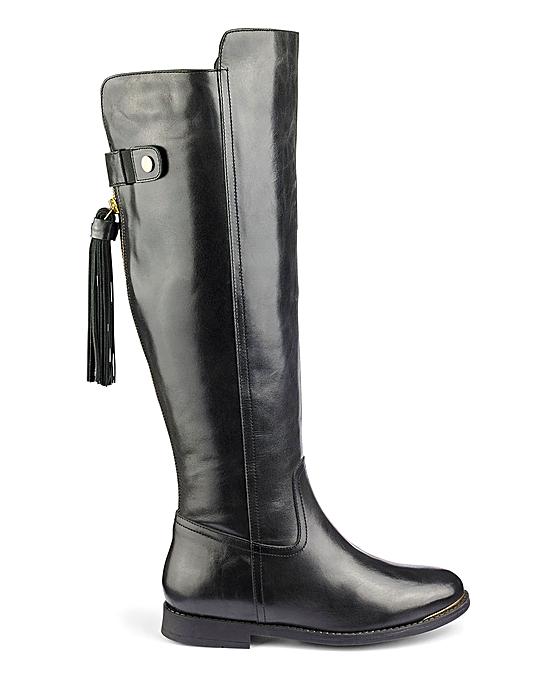 With curvy and super-curvy calf widths, these boots from Simply Be ($89.99) give you the options you need to make the right selection. They're available in a couple of classic hues, and feature a striking tassel zipper pull for a little party-in-the-back flair you'll appreciate.