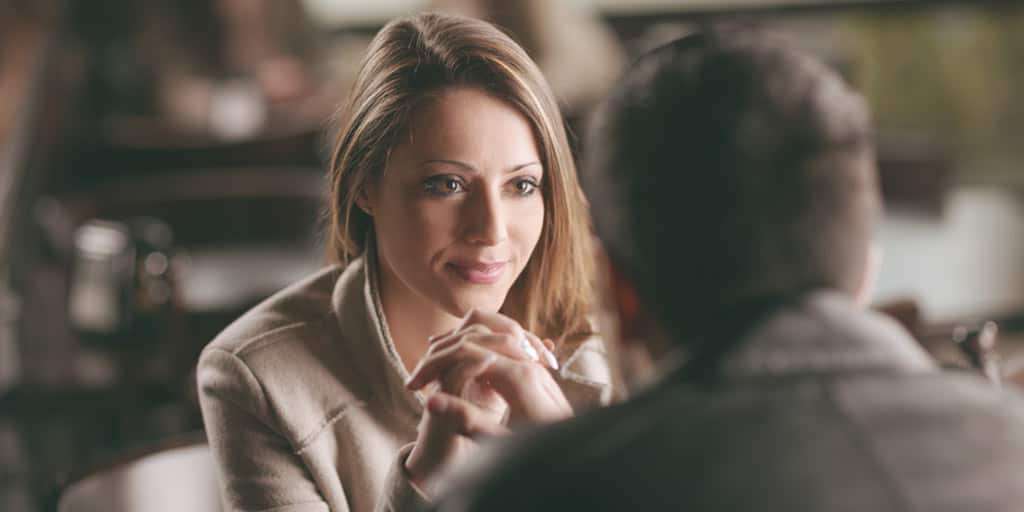 This post may contain affiliate links, which means I earn a small commission if you click and buy something (at no cost to you). See our privacy policy.
So you landed a first date with that cute guy you've been fancying. Congratulations! Now come the all-important questions — what to wear? Is it too early to wear that ultra-sexy top? And, what about the shoes?!
You can and should wear whatever has you feeling your most confident. Because feeling nervous about your outfit stinks, and can get in the way of you enjoying yourself. When you're comfortable and stylishly dressed, you're free to focus on other more important things. Like, what exactly does he do for a living?
Of course, confidence cannot be faked with a plunging neckline and stilettos. Here's the Budget Fashionista stance on going "sexy" for the first date (for you to accept or ignore or argue with in the comments). This is a time for a hint of discretion. In other words…pulling your out most expensive and sexiest outfit may be too much.
Rather than going full-strength right out of the gate, ease your new date into your world. Let him discover the delightful bundle of quirks that you are.
Now, with the generalities out of the way, let's get to it. Read on for budget-friendly strategies for first date fashion, no matter what comes your way.
5 Ways to Master First Date Fashion
Keep it Casual and Chic
I'm a huge fan of casual chic, mostly because it makes life both easy and Insta-worthy. A casual-chic outfit makes a statement but doesn't take itself too seriously. It has a playfulness about it that goes perfectly with a first-date vibe.
Style tips and outfit ideas
A breezy top with pants or skirt of any color, length, or material (as long as you are comfortable; denim also works)
A summery dress in the length that suits you best: maxi, midi, or short
Dress up or down with a casual lightweight blazer in a color that flatters your complexion. (This is a biggie – always choose colors that make you look alive. Roll up the sleeves for a sassy vibe.)
Grab a statement clutch or bag if your outfit is in muted colors.
Accessorize with rings, a necklace, and a bracelet. If you are going for chunkier pieces keep them less in number.
A side-swept fish braid or a simple pony tail will look charming. You can also leave the hair open if you are not having a bad hair day.
The idea is to be well turned out, but effortlessly so. This look can transition from day to night with the help of the right makeup. Apply a neutral shade on your way out the door, and stash a bolder red in your bag for when the sun goes down.
When in Doubt, Go Classic
The LBD is a time-honored choice for moments like these, and for good reason. A classic and simple black dress can take you to the movies or to the opera in style.
An advantage of choosing an LBD for a first date is that it's fairly low maintenance. You won't have to go on the hunt for the right accessories or shoes or bag. A simple pair of black pumps, stud earrings and clutch will do the trick.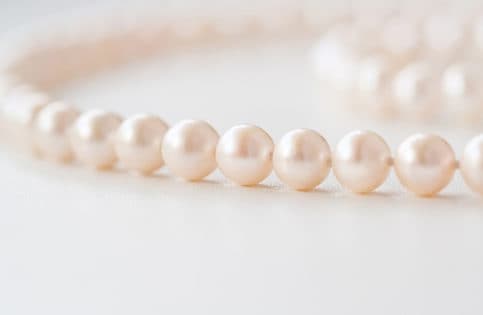 If you know the venue will be on the formal side, a piece of any pearl jewelry will elevate your elegance to Hollywood level. A strand of pearls across the neck makes the biggest statement — if that feels like too much, stick to pearl earrings or a subtle pearl bracelet.
For a more down-to-earth look, gold or gold-plated jewelry looks amazing with an LBD as well — as long as you keep things dainty and simple. A set of gold-plated bangles and a simple watch or a long string necklace is all you need.
For the Outdoors, Think Layers
Outdoor dates present their own challenges. You may feel that you have nothing in the closet that's both practical and stylish. In that situation, don't go out a buy a whole new outfit. Shop for one interesting layering piece instead.
Casual blazers, shrugs, lengthy scarves — any of these can add oomph to an otherwise staid outfit. A feminine shrug can make a simple jeans outfit look dreamy. A check blazer can change the entire vibe of a basic trouser.
You can also layer jewelry — it won't keep you warm, but it will add interest to your look. Two dainty necklaces, stacking rings or a few feminine bracelets can transform even the simplest of outfits.
Easy on the Makeup
Presumably, the first date does not involve reservations at the hottest nightclub in the town. So you shouldn't have to struggle with fake eyelashes and meticulous contouring.
Going with a natural look for the first date has a couple advantages. For one, there's less risk involved — fake eyelashes have a way of coming off and taking your eyeliner with them. Secondly, a heavy makeup routine at the get-go sets a precedent, and you may feel compelled to keep up the high-maintenance look for dates two through seven.
As for the Sexy Footwear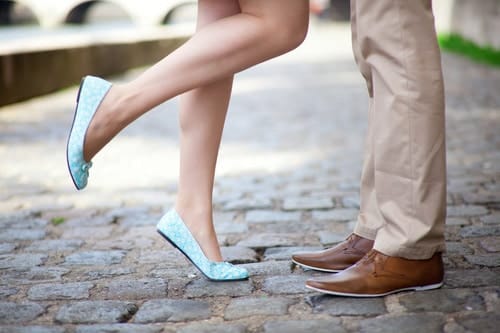 Comfortable footwear is a must for your first date. Are you going to walk around town during an afternoon date or simply stay seated for dinner in the evening? Either way, you need the right shoes for the occasion.
And by "right," I mean anything that doesn't kill your feet and lead to an awkward or distracted gait.
High heels may be tempting but never, ever wear a brand-new pair — how many times have shoes felt fine in the store and then led to blisters after an hour's wear? If you're eyeballing new shoes for the first date, consider ballerina flats, booties or stylish sneakers instead.
Pay no mind to the idea that men prefer women in high heels. Your best match is the guy who prefers his girl not suffer through arch pain and bunions.
What you wear on a first date should feel like second skin to you. The more comfortable you are, the better you look. Your clothing and makeup should not make you anxious or self-conscious, but instead set you free to express yourself…and, of course, charm the guy seated across the table from you.