For the past four years, it seems like Alex and Ani "bangles" have made their way to the wrists of college girls everywhere. At first, I was confused as to why all the ladies (and some extra-fashionable gentlemen) were donning the bracelets so regularly. Yeah, they were cute and not too expensive, but what else was so special about them? How had they managed to capture the attention of so many people?
I was an Alex and Ani skeptic until I received my first bangle as a graduation gift. I'm not going to lie, I wasn't immediately impressed when I took it out of the box. It was a simple, initialed bracelet with three other charms: one said Alex and Ani, one had a recycling symbol, and the biggest had an M on it for my first initial.
It wasn't until I started incorporating the bracelet into my every day wardrobe that I realized how much it added a source of class to every outfit I wore. It did not take me long to get a second bracelet, then third. Before you know it, I was taken with the whole brand. Whether you're a skeptic, a curious cat or already obsessed, here are three reasons why we love Alex and Ani.
We Love Alex and Ani and Here's Why:
Trending, but not trendy.
Other than the bracelets there are rings, necklaces and earrings. Not only have that, the bracelets themselves had many different collections. From your favorite football team toy your favorite animal, it won't be too hard to find a charm that suits you. You can wear your initials, your alma mater, or even your favorite city. The fun thing is, you can tell a lot about another person by looking at their Alex and Ani bracelets. Whatever season it is, (aka football season) you can be sure that Alex and Ani has a charm for it. If you can change the charms around, you can always keep the same piece of jewelry fresh and relevant. Certainly beats buying new jewelry every season.
Eco-Friendly and Socially Responsible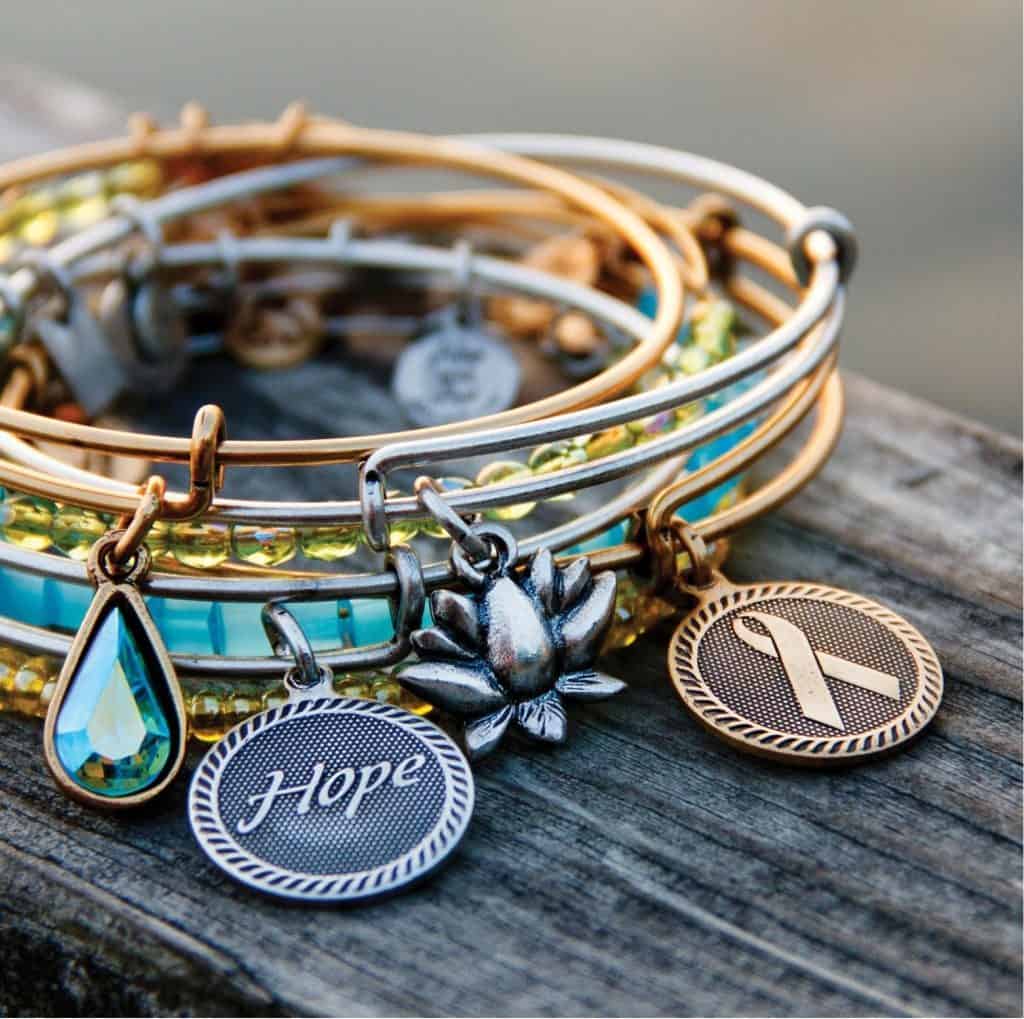 "Charity By Design" Bangles
Part of Alex and Ani's whole mantra is that their jewelry is made out recycled materials. The metal for the jewelry comes from scraps from local mills. The creator and designer, Carolyn Rafaelian, hopes that her jewelry is a step in the right direction to a greener planet. There is also a collection of bangles named "Charity by Design," where 20% of the proceeds go a non-profit organization.
Affordable
Compared to other high-end, sustainable jewelry lines, the Alex and Ani collection falls mid-range. The average bangle is a less than $30.00 and it's fair that the rest of their jewelry is under $100. The price allows you to keep building your own unique collection of bracelets, which is appealing to those of us who love variety and like to "collect them all".
Alex and Ani brings a lot to the table. We love the versatility, the styles, and most of all the prices.
Do you own any Alex and Ani merchandise? If so, what's your favorite piece?