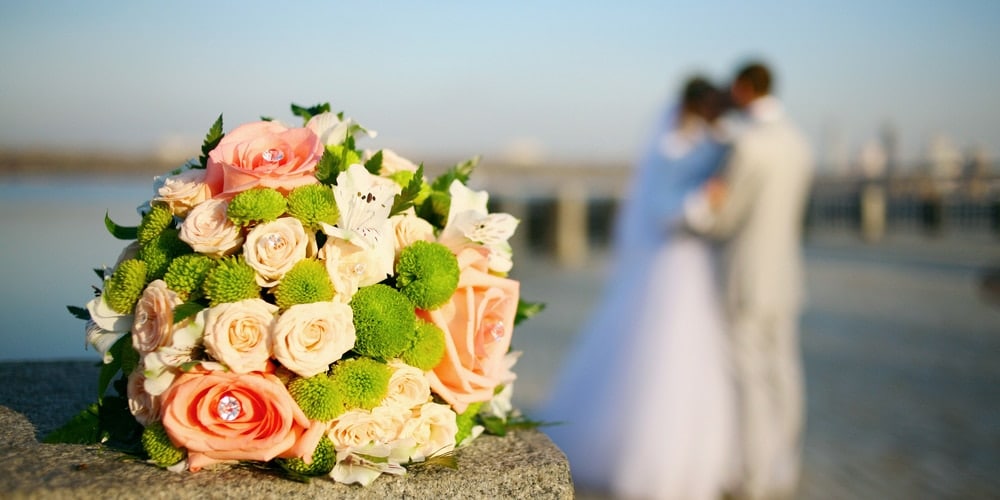 If you're planning a walk down the aisle in the near future, your mind is likely swimming with style possibilities. One of the most important pieces you'll select is the wedding veil, a symbolic element that shades the bride's face from her beloved before they tie the knot.
But while they're customary, they aren't for everyone. Some brides just don't vibe with the classic headpiece's roots — according to ancient lore, Roman brides wore the veil to ward off evil spirits who threatened their happiness. And others just prefer the idea of wearing something more modern. Whatever your reason, there are plenty of possibilities beyond the veil, so to speak, that are just as chic and elegant.
Here are a few wedding veil alternatives to consider.
Wedding Veil Alternatives
The crown
The brilliance of a crown is twofold. It allows you to reveal your face while keeping your hair away. This ASOS DESIGN option slips right on for easy wear and features cascading faux flowers that add a touch of natural elegance and graceful style to your look.
The headpiece
Another way to lock your locks into place? Try a dramatic headpiece accented with brilliant embellishments. This one from David's Bridal features an abundance of shimmering pearls and sparkling crystals that harmonize beautifully to create the ultimate wedding-day accessory.
The headband
If you prefer something simple and understated, yet still want to step outside the box — it is your wedding day, after all — then you may want to consider a headband. It's a practical piece that won't steal the spotlight from your dress, yet it can also add a significantly glamorous touch to your look. This Metallic Knot Headband from BHLDN is a chic choice.
The wreath
Feeling a little ethereal but don't necessarily want to wear a sheer cloud of white over your face? Try a wreath, like this one available through Amazon. It's available in a number of interpretations, each one boasting different blossoms and some with added miniature veils to lend them a more traditional, old-world look. This is a great addition to a bohemian affair or one that incorporates a few earthy touches.
The tiara
There's also always the possibility of channeling a bit of royalty as you glide down the aisle. You are marrying your one and only, after all — why not celebrate in style? Try this Silver Snow Queen Tiara from Icing for a regal look that won't break the bank.
Budget Veil Alternatives: Where to Find Them
Now that you've got some ideas brewing about that perfect, dreamy headpiece, you need to know where to shop. Below are our favorite places to shop for wedding veil alternatives.
Etsy
This marketplace for all things creative is perhaps the best place to find a unique headpiece for less than $30.
Amazon
If cheap is more important that style, then you want to check out Amazon. During a recent search, we found wedding veils and other options for less than $5.
Your Local Fabric Shop
While the local fabric shop may not be the first place you think about when looking for a headpiece, these shops can be great places to get supplies to make your own veil alternative.
eBay
The online marketplace is a great site to find vintage headpieces and fascinators.