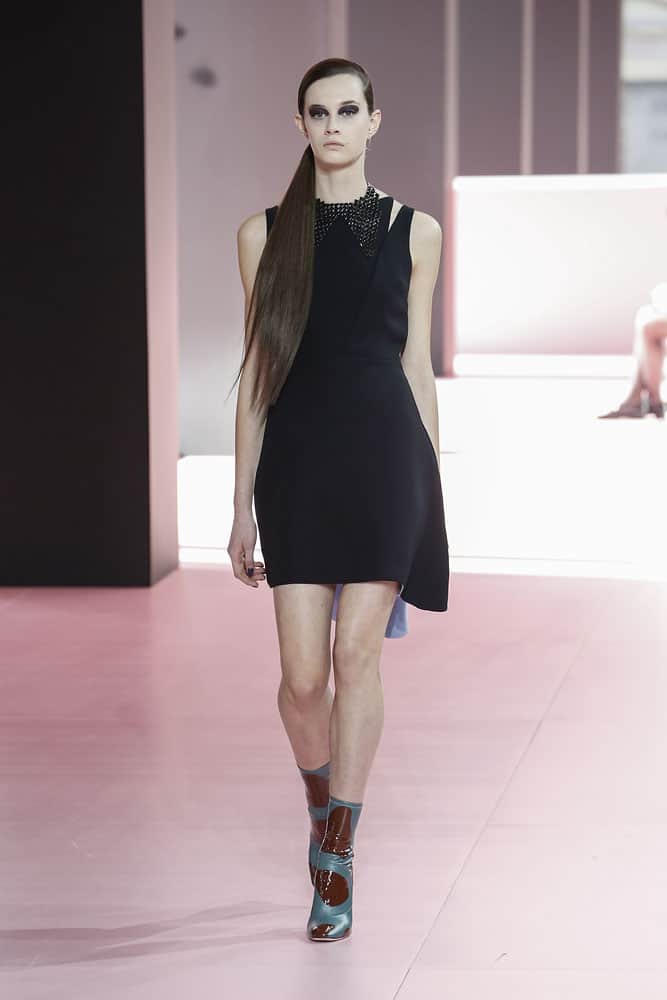 This post may contain affiliate links, which means I earn a small commission if you click and buy something (at no cost to you). See our privacy policy.
In fashion, inspiration is everything. Designers thrive on inspiration, as do we day-to-day fashionistas. And this is why we are sharing the wearable runway fashion trends we saw on the autumn/winter 2016 runways. Get your inspiration here and head out shopping.
#1. Biker Pearls
Biker pearls: these are what you get when you mix classy pearls with an edgy biker look. And who does 'edge' better than Moschino? Here is an amazing look from Moschino's fall/winter 2016-2017 collection that pairs a color block skater dress, a bit more puffed up than we would normally see, with a rough denim jacket, tied at the waist.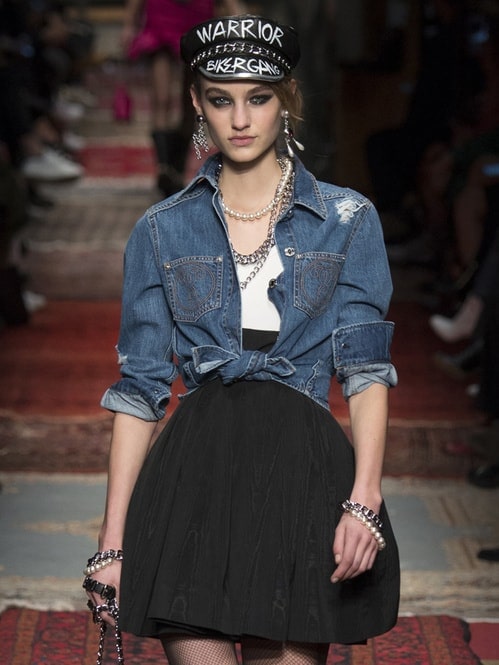 The accessories here are aggressive, starting with those fishnets. The jewelry is a daring mix of pearl and silver chain, and the denim jacket actually has backside pockets on the front. Younger women can wear an ensemble like this with a pair of platform heels. A more wearable version would nix the fishnets, limit the chain and pearl strands to one a piece, and swap out the platforms for flats.
#2. Sweats
As far as wearable goes, there's nothing better than a good pair of leggings and a hoodie. Luckily for us, all the big designers are loving that look right now. Here is Akris' fall/winter 2016 collection, as seen at the Paris Fashion Week. And it's as simple as they get.
Get this look with a pair of comfortable leggings or tights, a loose skirt or dress, a hoodie, and a fleece-lined jacket on top. Long lines and not-too-thick material make this almost-monochrome ensemble work.
#3. Schoolgirl Flair
This outfit from Carven has to be one of the most beautifully feminine outfits at the Paris Fashion Week. It's almost incredible how accessible this combination is too — which means you can easily put this look together on your own.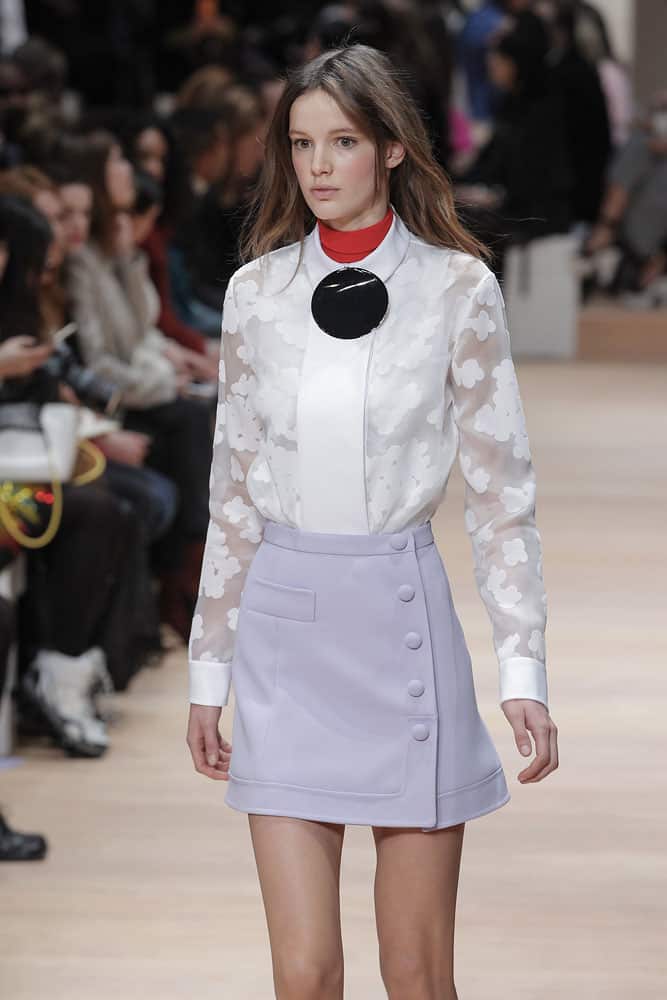 The main components here are: powdery blue or pastel skirt, white silk blouse and red (or primary color) mock turtle neck. Don't shy away from personalizing this outfit either. For example, if you like butterflies, wear a blouse sporting them instead of white flowers as shown here.
#4. LBD
Dior brought back the little black dress (but then was it ever really gone?). Your next LBD doesn't have to Dior — heck, you probably have a similar LBD hanging in your closet right now.
Take a cue from Dior when it's time to give the old LBD a new life. Add a dazzling schoolgirl collar and pair of high-heeled boots. These have a 70s vibe, but you can go with whatever decade you love most. If you decide to sport the smoky eye as well, remember to keep your hair simple.
#5. Owning a Room
Use this Ungaro ensemble as inspiration for your next power meeting outfit. You'll need perfectly tailored, double-breasted jumpsuit or high-waisted pants and a fitted shirt.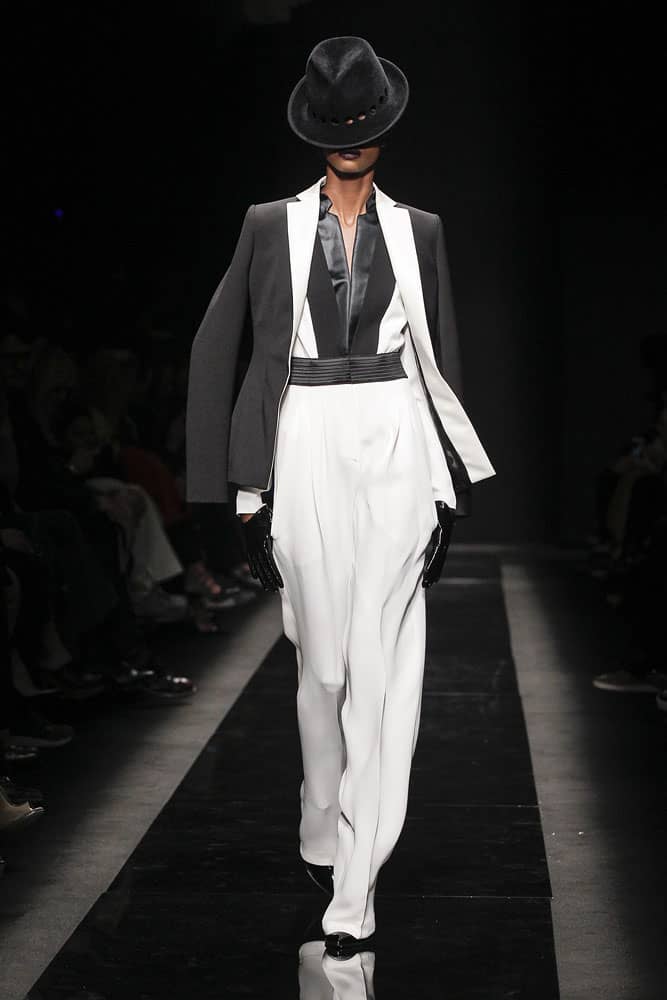 One last thing on this power look. I'd recommend leaving the Michael Jackson hat (and attitude) at home.
#6. The Man's Shirt
Let's be honest about this – who doesn't need a man's shirt? Junya Watanabe proved without any shadow of a doubt how good women look in correctly styled men's shirts. Copy this look by either "borrowing" a freshly pressed white shirt from your guy's closet or by buying one of your own. We suggest the latter, as we have a hunch you will want to wear this outfit again.
The '50s wide skirt is easy to come by, or there may already be one in your closet. The other aspect of this outfit I love is that it looks finished without any accessories.
#7. Shine Bright Like a Diamond
Here's your post-grunge party look when you need to make a bold statement, from the one and only Yves Saint Laurent. Hit the resale or vintage store and find an '80s prom dress (or ask your mom if she still has hers!). Think Madonna in the Like a Virgin phase.
Pair your new (old) dress with a unisex, clear-cut suit jacket and add the big chain jewelry on top. The fishnet stockings and spiked leather boots are optional, of course.
#8. LWD
The little white dress, like its black counterpart, never goes out of style. This time, it was Piazza Sempione who raised the white flag and showed us this gorgeous number during the Pre-Fall 2016 show. It's such an incredibly simple, yet stylish and elegant ensemble.

Team your white dress with a pair of classic pumps, dark stockings and a pony tail. An added bonus, both the pony tail and the fresh-faced makeup you see here are very much in trend right now.
#9. Keeping It Simple
Simplicity will be the theme this fall and winter, just as you see it arranged here by Burberry. This stunning ensemble is part of Burberry's Pre-Fall 2016 collection. You will need a very well-tailored pair of pants, a pleated silk blouse and a stylized military jacket.
You have several options as far as the jacket is concerned. Go for soft fabrics or black denim. For the shoes, stick with pumps.
#10. Bohemian Babe
When fall hits but you're still pining for the summer, wear boho chic! Get inspired by this outfit from Chloe's Pre autumn/winter 2016-2017 collection.
You will need an oversized lacy dress (bohemian is practically another word for lace) and a pair of suede boots. The beautiful details are what makes this look so simple, yet so spectacular. There are two details to note that pull off this look. The knee-high socks, just peeping out of the boots, and the beach-waves hair. One says autumn leaves are falling, the other says we still want some sun and sea.