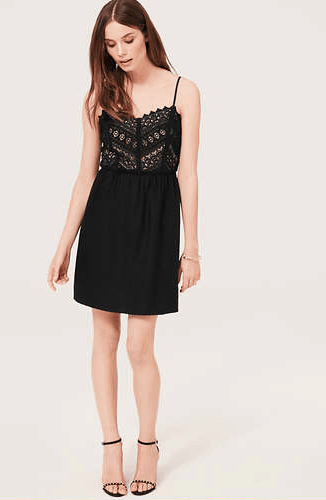 Dear Budget Fashionista,
I have a wedding to attend in late June and I found a black dress with small white polka dots that I love. Can I wear black to a wedding?
Answer: While you want to avoid wearing black to a daytime wedding, it's fine to wear the dress to an evening wedding (i.e. weddings that start after 5pm).
Tips for Wearing Black to a Wedding
Add Color to the Outfit.  A colorful wrap/pashmina (which you can find for less than $20 at stores like Target, TJ Maxx, Ross) can add a much needed dose of color to the outfit.
Show Some Skin. When it comes to weddings,  leave the boring long sleeves/high cut black dresses for funerals. Wear outfits that show skin and add a bit of sexiness to counter-balance the dark color, like a halter or strapless dress.
Accessories are Key.  Accessories are key when wearing black to a wedding. Look for accessories, especially jewelry, that adds a bit of sparkle (faux diamonds, crystals, etc) and/or color to your outfit.
If You're Pale, Then Tanning is Key. It's important that your skin has a healthy glow. Try a self tanner like
Love this post? Subscribe for Updates.