This post may contain affiliate links. See our privacy policy.
From the 1940s to the 1960s, there may not have been a more prominent style of footwear in the USA than saddle shoes. Popular with everyone from swanky business executives to teenagers bopping at sock hops, the classic, black-and-white oxford shoe offered widespread appeal in a very clean, versatile design.
Worn by characters in pop culture like the Pink Ladies in "Grease" and Lucy from "Peanuts," saddle shoes have evolved into a staple in vintage fashion — evoking a true sense of Americana. That's why saddle shoes are a great addition to vintage costumes or outfits for themed parties.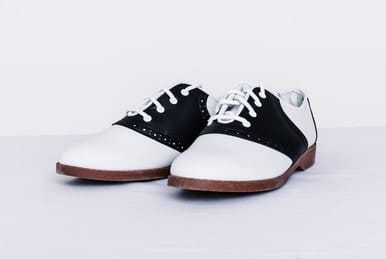 But, the saddle shoe's color-block design is timeless, meaning they can be used for much more than Halloween! If you're looking for some inspiration to strut your stuff with a vintage twist, read on for a look at five saddle shoes outfits you'll love.
5 Saddle Shoes Outfits to Wear Now
1. Truly Classic
For a classic everyday outfit, don a pair of saddle shoes to give your attire a vintage edge. Sport a worn graphic tee of your favorite brand and some skinny jeans to complete the look. Here, we see Chloe channeling the 50s cigarette pant with some high waisted, cropped skinny jeans. The look is best suited for taller gals, as showing off calves can shorten figures. Complete this timeless look with a pair of saddle shoes — a quaint, comfortable finishing touch.
2. Leather, Baby!
Lookin' for trouble? Pair a leather jacket and some Rider jeans with your saddle shoes for a sexy get-up that's sure to woo the guys and inspire the gals. Stick to a tried-and-true color scheme: red, white and black, for a guaranteed good look.
3. A Vintage Spin
Pair your saddle shoes with an adorable, timeless a-line dress — which flatters any figure. Weather not cooperating? Saddle shoes can easily be paired with tights, without any frou-frou additions that risk ripping your hosiery. Add an adorable pea coat to give your look a classic appeal. For an added edge, don some statement sun glasses or accessorize with an antique pendant.
4. A Professional Accessory
Saddle shoes are perfect for the office — they're comfortable and hip enough to score compliments from coworkers. Pair the adorable additions with some slimming trousers or skinny jeans, an untucked button down, and a blazer for a sleek, modern look with a tasteful homage to retro-wear. Button the top button of your blouse for a modern look, or leave your blouse slightly unbuttoned for a sexy edge.
5. Retro Fashionista!
Own this classic look by boldly pairing your saddle shoes with an outfit right out of the mid-century, when these shoes were all the rage. To flatter your figure and elongate your legs, go with skinny jeans. For a truly classic look, roll your jeans up a bit to show off your socks (this look is very in this year, too!). Fearlessly pair your shoes with a vibrant cardigan to stand out, or stick to pastel basics for a subtle nod to retro fashion.
Are you a shoe lover too? Read 10 Shoes Every Woman Must Have.