Remember Piperlime? It was Gap's attempt to compete with Zappos, and it flailed around for about nine years before Gap pulled the plug. Budget Fashionista talked about Piperlime a fair amount during its lifespan, from 2006 to 2015. Here's what we had to say.
Piperlime's unclear mission
When Piperlime launched with an online presence, and later, a physical store in SoHo, we were puzzled. It wasn't immediately clear how Piperlime planned to one-up Zappos or ShoeBuy.com or any other online shoe store for that matter. At first review, the prices and selection were comparable — but Zappos was still the king of online shoes, thanks to free shipping both ways.
This is from our coverage of Piperlime's launch in 2006:
Okay, I'm a bit confused about the Gap's new shoe site, Piperlime. I'm sure some retail analyst somewhere told the company that selling shoes online is the way to bring up dismal sales. However, there's really nothing to compel me to shop at this site versus shopping at an established shoe site (with FREE UPS shipping and returns) and price guarantees like Zappos.com or ShoeBuy.com

Also, the initial use of Rachel Zoe as their "style expert," was a complete misstep. Does anyone really care what Rachel Zoe has to say? Especially since her high profile clients have started to drop her (and Nicole Ritchie looks a thousand times BETTER now than when she was being styled by her, although she isn't acting better)? In addition, the name Piperlime sounds like some household product invented by the guy who invented Oxyclean.

Not everything is bad about the site. The site has a nice selection of shoes from designers like Hollywould, Steve Madden, and Kenneth Cole in a reasonable range of sizes (5-12 for women). The prices are just as expensive as Zappos.com and the site does offer free standard shipping and free returns. You can also use your Gap, OLD Navy or Banana Republic credit cards to make purchases.

Budget Fashionista
Piperlime opens pop-up shop in Soho
Piperlime's pop-up shop, formerly located at 93 Mercer Street, carried a variety of brands that included Marc Jacobs, Rebecca Taylor, and 7 For All Mankind. The launch was celebrated with a special kickoff party on Fashion's Night Out with a guest appearance by Rachel Zoe.
When the store opened, we said:
We are giddy with excitement to see what the Piperlime shop had to offer. Just a few blocks from the new Chanel store and diagonally across the street from American Apparel we spotted the green Piperlime sign and charged right through the doors to get our personal preview and we were not disappointed. First off, any fashion lover would appreciate how they divided each section of the store by trend. There was Military Inspired, Vintage Embellishments, and English Prep, we think this makes it much easier for you to shop. They even had a special Rachel Zoe pick section just for those shoppers who need the approval of the reality TV star.

We also liked that they had a large denim bar in the middle of the store. We all know how hard it is to find great jeans and it looks like they have you covered on options. There was a nice selection of fun flirty dresses, sequin tops, and military style jackets.

We fell in love with the selection of shoes and handbags too. They carried everything from Jessica Simpson animal print booties to a Linea Pelle studded leather satchel. The pop-up shop seems like a perfect fit for the Soho area due to some pricey basics, like t-shirts priced at $80. However, the shop does offer a number of wallet friendly items under $100 like a cute pair of Michael Antonio suede studded booties for under $80 and some amazing jewelry under $50.

Budget Fashionista
What the Piperlime shop looked like
Piperlime shoe picks
Despite Piperlime's unclear branding, we did shop the store over the years. One of our favorite collections was this assortment of summer sandals.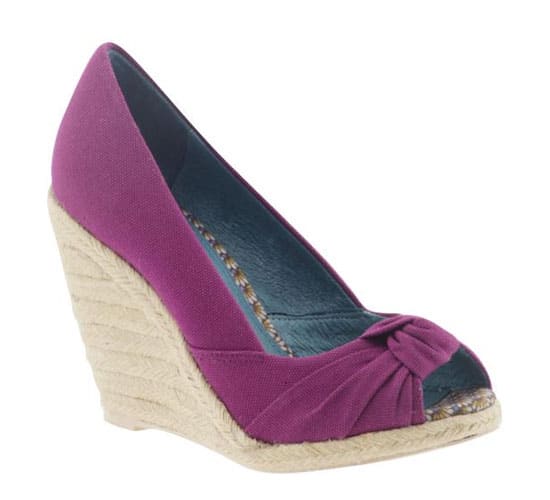 Piperlime's return policy
Piperlime's return policy for online buys was pretty standard. The store allowed for the return or exchange of items by mail only within 45 days of the order date. When you mailed your purchase back using the pre-paid UPS shipping label, the store would deduct a flat fee of $6.00 from your order refund to cover the shipping. Items had to be in their original condition (unwashed and unworn) or defective to be eligible for returns. Final sale items could not be returned. Swimwear had to have the original price tags and hygienic liner intact.
And, finally, goodbye Piperlime
In January of 2015, Gap announced the end of the Piperlime experiment, citing sluggish sales and the need to refocus on issues prevalent in the company's flagship brands. See Fortune's brief write-up of the announcement here.