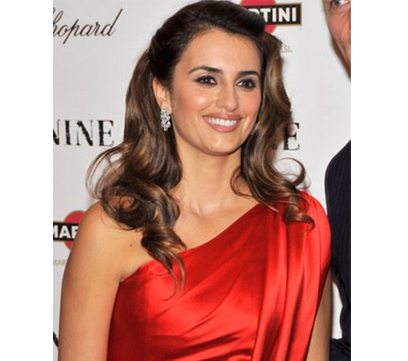 It doesn't get any more gorgeous than new mom Penelope Cruz. The Spanish beauty is so stunning, her photo is hung up in the offices of almost every plastic surgeon in Spain as representation of physical perfection.
While we love Penelope for her movies (we can't wait to see her in Pirates!), we love her more for her chic style. You don't have to get a nose job to imitate her. We have some much simpler tips for capturing some of Penelope's polished looks.
Channel Legendary Sirens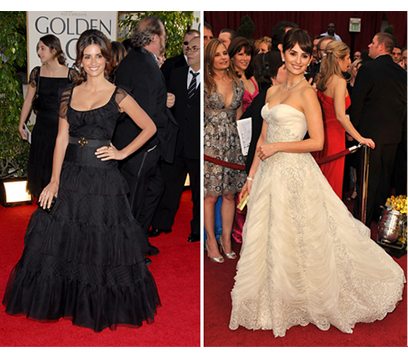 Photo: Sara De Boer / Retna | Photo: Steve Granitz / WireImage
The main reason why the press is constantly comparing Penelope Cruz to every screen siren from Grace Kelly to Sophia Loren is that she dresses like them. The Oscar-winning actress loves vintage dresses and elegant silhouettes similar to those worn by the stars of the 50's and 60's. You can do the same with sweetheart necklines, elegant draping and a-line dresses.
1. Pisarro Nights Beaded Mesh Tiered Gown, $218, Nordstrom
2. A.B.S. by Allen Schwartz Lace Gown, $244.99 at Bluefly.com
Wear Red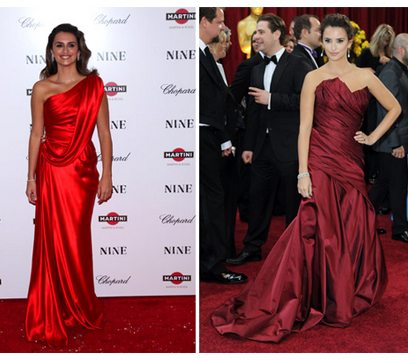 Photo: Jimi Celeste / Patrick McMullan | Photo: Frazier Harrison / Getty Images
The Spanish import stand out among the slew of Hollywood beauties because of her exotic appeal– she doesn't look like every other celeb. One way that Penelope ensures that she's remembered for her international appeal is with a bold red dress. After all, she is Spanish, and what hue could be more exotic than red?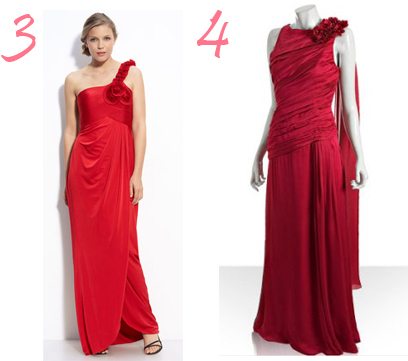 3. Adrianna Papell One Shoulder Jersey Dress, $148 at Nordstrom 4. Splurge: Theia Red Silk Dress, $417 at Bluefly.com
Cover Up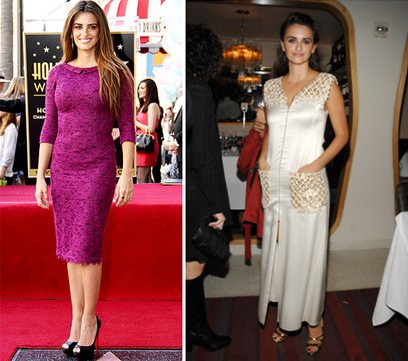 Credit: Eric Charbonneau/WireImage | Photo: Patrick McMullan
We've come to associate "sexy" with showing a ton of skin, but when you've examined dozens of photos of Penelope (like we have) you'll notice that she's pretty much always covered. Sure, a curvy girl like her can't keep her cleavage hidden unless she's in a crew neck, and she'll occasionally walk the red carpet in a tall slit, but that's about it. Penelope shows off her figure not in skin-baring ensembles, but in clothes that are fitted perfectly to her figure. The lesson her? Tailor, tailor, tailor.
5. Donna Ricco Sheath Dress, $138, Nordstrom
6. Bow Back Sheath Dress, $70, White House Black Market
Choose Slimming Shapes and Fabrics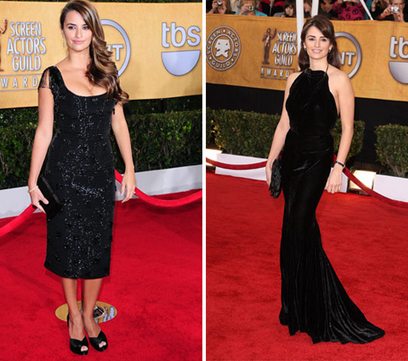 Photo: Kyle Rover / Startraks Photo | Photo: Jason Merritt / Getty Images
Penelope doesn't care for prints or busy silhouettes. Almost everything she wears is a solid color, waist-slimming, leg-elongating ensemble. Why? Because she's not a size 00. Penelope has always been curvy in more places than one, and now that she just had a baby, she's even more voluptuous (and doesn't she look gorgeous?). Prints add bulk to a figure, while solids create clean lines. Her choice sheath dresses elongates her body, while a-line garments make her mid-section look tiny. The same principles work for you.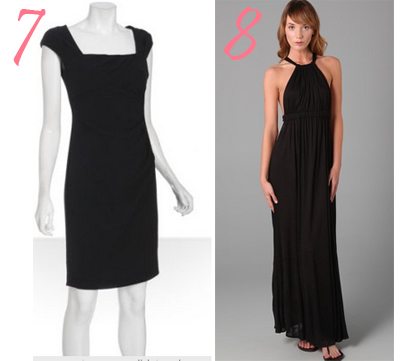 7. Elizabeth J Black Sheath Dress, $97, Bluefly
8. T Bags Long Dress, $194, Shopbop
Accentuate your look with your, well, looks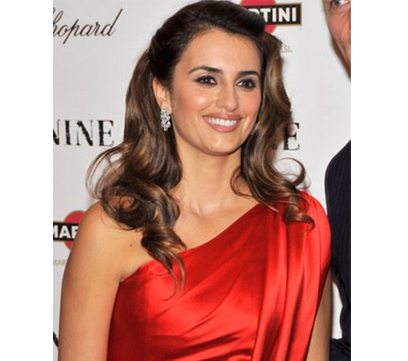 Photo by Kevin Mazur – © WireImage.com
For some reason, it surprises a lot of people to learn that Spanish people aren't naturally super tan. True, people in areas where the weather is warmer, longer tend to spend more time in the sun, but trust us, Penelope Cruz was not born with a tan. She works at that glow, just like she works at her silky smooth locks and flawless skin. If you love her looks, why not work at it too? A little sunless tanner and smoothing serum go a long way. Mimic her skin and hair and you'll capture Penelope's enviable looks whatever you're wearing.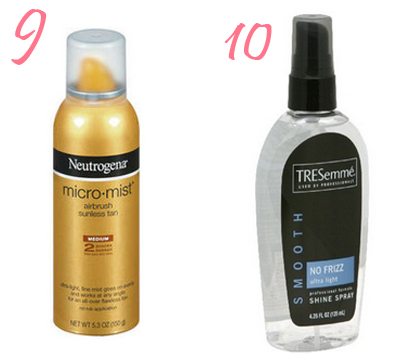 9. Neutrogena Micomist Sunless Tanning Spray, $8, Walmart
10. Tresemme Shine Spray, $4.39, Buy.com