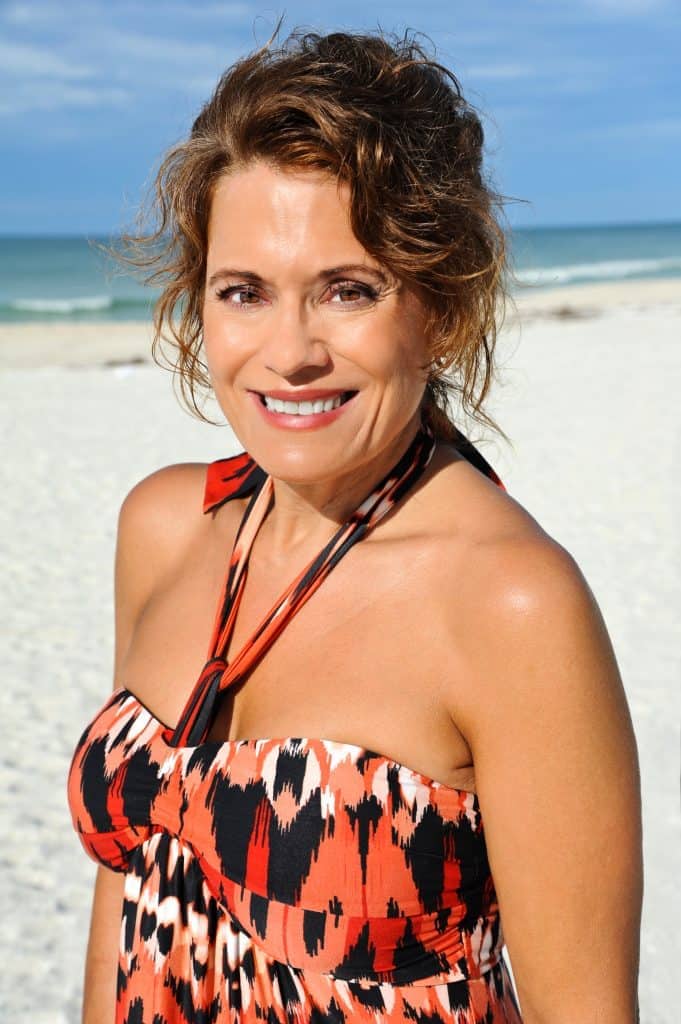 This post may contain affiliate links, which means I earn a small commission if you click and buy something (at no cost to you). See our privacy policy.
Shopping for your vacation should be fun, right? But so many women dread the idea of buying new swimwear — particularly as they get older. While most of us mere mortals will never resemble Elle Macpherson on the beach, you can make the most of what you have with some savvy shopping. When you are over 50, swimwear shopping doesn't have to be high stress. Follow these top tips to ensure you look great and feel comfortable next time you step out to the pool.
Stick To Simple Shapes
Side step the ruffles, sequins and ruching in favor of clean, simple shapes. As you enter your fifth decade, swimwear should be supportive and hold you in in the right places. A great swimsuit can make you look slimmer and stand taller while fussy or flouncy detailing can make you appear frumpy.
It's worth investing a little more in a swimsuit with good quality fabric and additional control panelling to streamline your silhouette. Be sure to check out the lycra content too; the higher the lycra content the more support it will provide.
Allow Yourself Plenty of Time
Don't leave shopping for swimwear until the last minute. The best styles are often snapped up early in the season and you'll be left with a very limited choice of sizes and styles. As you get older and you know what colors and styles suit you, shopping should be about investing in good quality items that will stand the test of time.
Don't Stress Over Sizes
OK — so you may not be at the size you'd like to be (or were ten years ago) but don't fall into the trap of buying swimwear that is too small. After all, nobody else will see the label so don't stress about the digits on the tag.
Buying a bigger size that doesn't cut into your legs, digs into hips or creates 'double boob' will always be more flattering. Always try swimwear on before purchasing; it's hard to tell what will suit you just by looking at in on the hanger.
You Can Still Rock A Bikini
Bikinis aren't reserved for 20-somethings! You can pull it off; the key is picking the right style and shape. Stay away from bikini skirts, unsupported triangle styles and side-tie bikini bottoms which can look aging and do little for most figures.
While it can be tempting to opt for a tankini (shorts and vest top), wrapping lots of fabric around your widest area will only draw more attention to it. Instead, go for classic mid-cut briefs with a supportive, underwire top to balance out hips and create a smoother shape.
It's All In The Details
Remember the additional details when it comes to swimwear shopping. A great kaftan or beach maxi dress can really boost your confidence when wandering around the pool. A stylish pair of oversized sunglasses is an essential too. Oh, and when it comes to your beach bag; bigger is always better. When you accessorize with an oversized bag, you always appear slimmer.
Do you have any over 50 swimwear tips to share? Help your fellow fashionistas by letting us know in the comments what works for you!