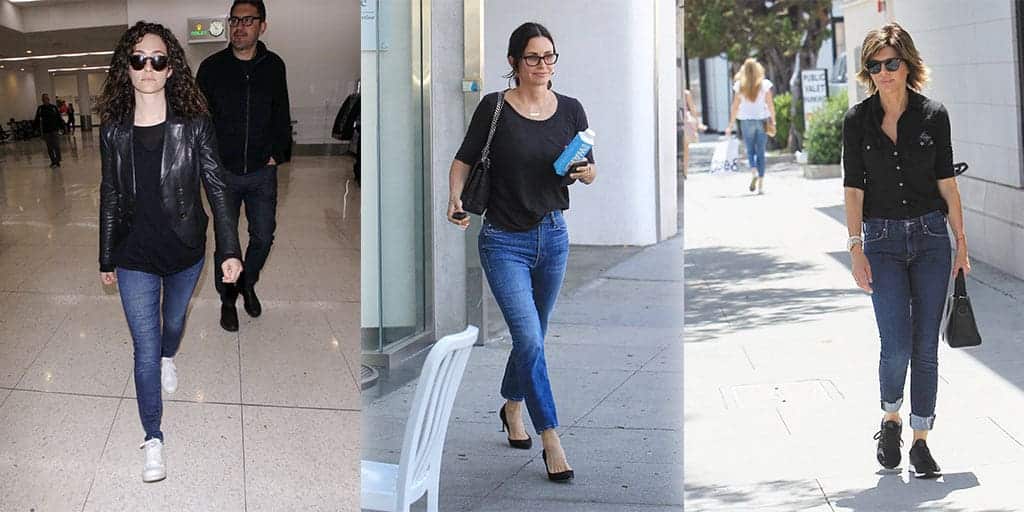 This post may contain affiliate links, which means I earn a small commission if you click and buy something (at no cost to you). See our privacy policy.
Everyone has those mornings when they don't know what to wear. It's not that you don't have enough clothes (if you're like me, you probably have too many), but rather you feel overwhelmed with your choices. On days you want to keep things simple, opt for the basics. No matter the season or the mood, you can't go wrong with this jeans outfit formula: the black top and denim.
Inspired Outfit Ideas with Jeans
It's our go-to move and we're not ashamed: Let's look to our fav celebs for inspired outfit ideas.
Emmy Rossum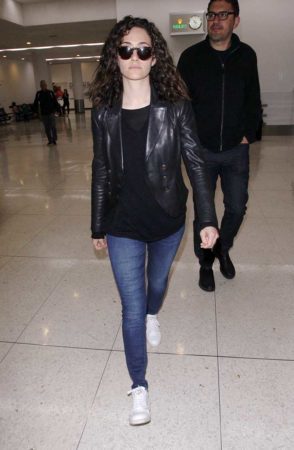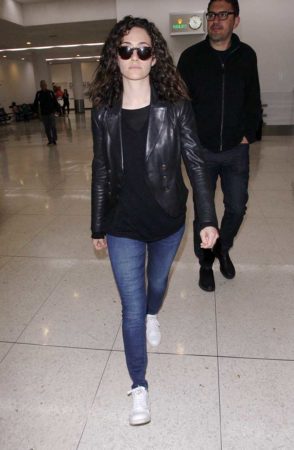 American actress, director, and singer-songwriter Emmy Rossum was recently spotted at LAX Airport in Los Angeles sporting a basic, yet nonetheless stylish, black top and denim blue jeans. Overtop, the starlet wore a cool black leather jacket.
Courteney Cox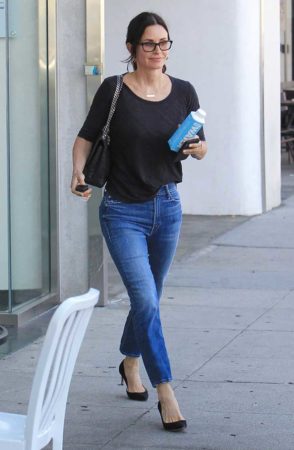 Courteney Cox pulled off this sleek street style while in Los Angeles in early June. She was sighted wearing a loose-fitting black t-shirt with blue boyfriend jeans and a pair of classic black heels. A black shoulder bag completes her look.
Lisa Rinna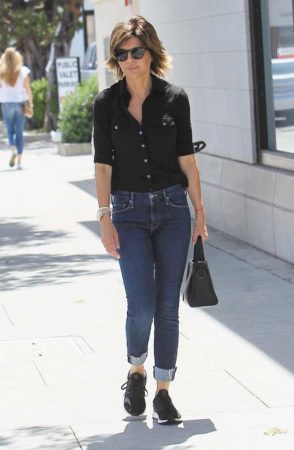 Melrose Place star Lisa Rinna cruises the streets in this casual black-on-denim ensemble. Along with a pair of cuffed blue jeans, she sports a button-up blouse with breast pockets. She carries a black satchel and dons comfy black sneakers in lieu of heels.
Build Your Jeans Outfit: Top Picks
Black tees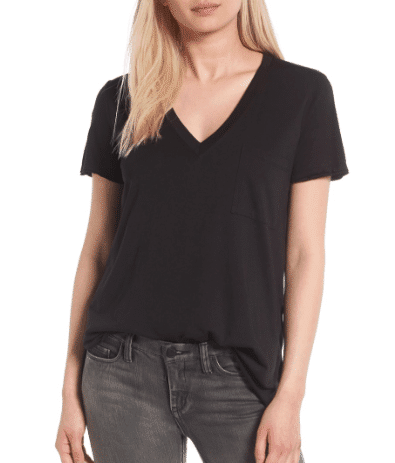 For under $20, the Raw Edge Side Slit Tee ($16) from Nordstrom is a steal. The basic black tee is super comfy and highly versatile. Tuck it into your skinnies, your boyfriend jeans, distressed denim — you name it. You'll probably find it works well with your non-denim bottoms too! The top features a breast pocket, raw edges, and deep side cuts for a relaxed fit.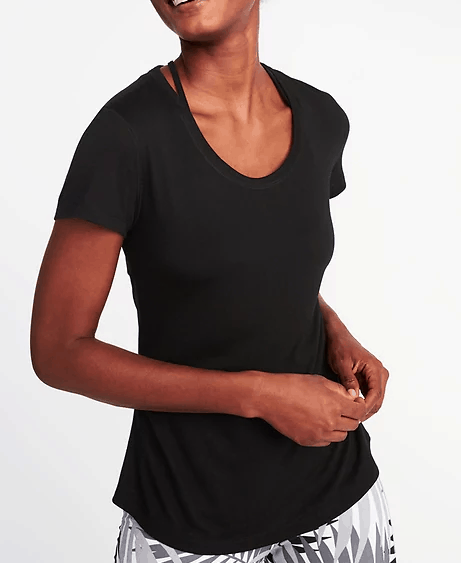 Plain black tops are also great for layering. This Ultra-Light Cutout-Back Tee for Women($17) can easily be worn under a fitted jacket for a sophisticated look. If you prefer to go jacket-free, the tee also has a cute cutout back detail.
Jeans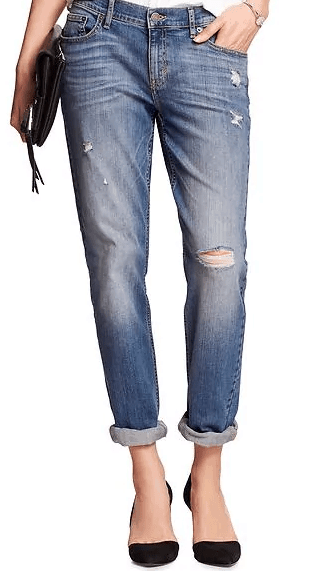 For a casual everyday look, this pair of Destructed Girlfriend Jeans ($28 on sale) by Banana Republic are a great choice. The jeans sit low on the waist and are relaxed through the hip and thigh areas. The jeans also feature five-pocket styling and cuffed leg openings. Wear these with any shoe that doesn't travel too high up your ankle — sandals, pumps, sneakers or even flip-flops.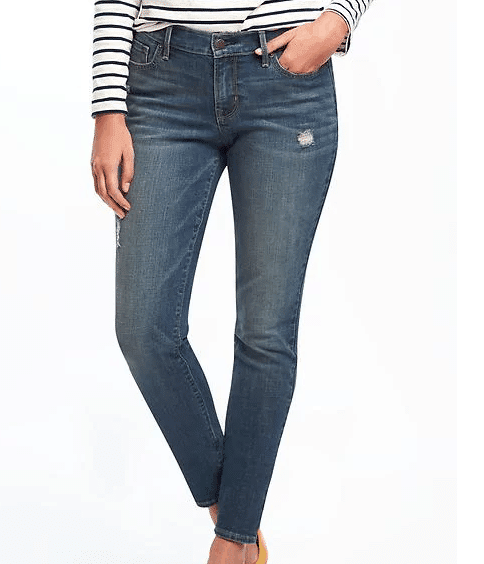 If you're looking to dress up this go-to look, opt for fitted jeans like these Mid-Rise Curvy Skinny Jeans for Women ($27) from Old Navy. Designed to accentuate curvy figures, the skinny leg jeans hug your curves in all the right places and look great with heels.
Shoes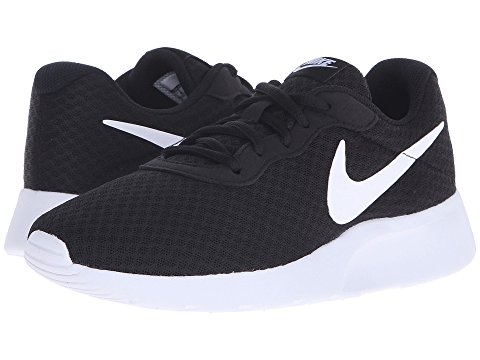 While no shoe style is really off limits with this jeans outfit, a neutral and simply styled shoe will mesh best. For your casual days, try Nike Tanjun sneakers ($65). They're well-built and will look great with a basic black top and denim bottoms.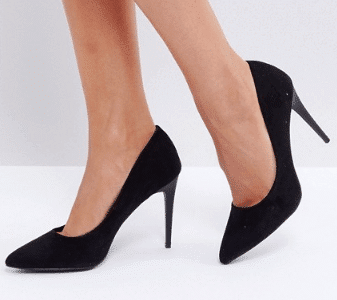 To give your outfit more femininity, slip on a pair of black heels like these New Look High Pointed Court ($32) from ASOS.
When nothing in your wardrobe feels right, reach for the basics. A black top and denim bottoms will always be on point. Then, simply add the shoes, bags and accessories to suit your mood.