Making the list is easy, but keeping the goals once you're out of the holiday vacation bubble? That's the tough part. Challenges like these are best met with the right motivation. And, for our visual learners and mantra mavens, you can keep that motivational mojo running high with some inspirational gear nearby to get your head right.
Maybe you've promised to get more use out of that expensive gym pass. Or you're mapping out your plan for a corporate ladder climb or new role entirely. Or you just need a kickstart to positivity and doing more for yourself. Whatever your New Year's resolution for 2018, we've sought out some essentials to keep your eyes on the prize for the next 365 days.
Check out our list of encouragement must-haves, and then commit to crossing off this year's most ambitious resolutions in style.
6 Stylish Pieces to Keep You Motivated
1. The Tote with Focus
From the farmer's market to the office, a simple tote helps drive home your mantra every time you pick it up. And if you're going to cart around a reminder to help you stay on target, you might as well rock an inspo tote featuring a super-fun font.
2. Power Journal
Reach for an inspirational journal when you need help planning the path but don't know where to begin. This journal is part self-exploration and part self-help to help you understand where you're at and where you're going. You may not know the end-goal yet, but the time is now to figure it out!
3. Mug-spiration
Whether you work from home, in the field or at an office, we've all had a bad day on the job. A meaningful mug can give you a passive reminder that it's just momentary. This uplifting coffee cup (along with five seconds of reflection time) can take from down in the dumps to back on track. Take a breath, take a sip and move forward.
4. Working Out the Workout
So many of us dread the gym — even if we love the results. A playful phrase can bring a little fun to early mornings and tough routines. Grab a cheeky bag, think of the rewards and get to work!
5. One Day at a Time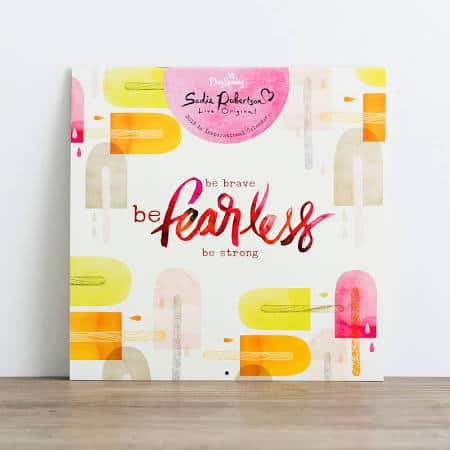 As you plan out your year, look to this calendar for the optimistic reminders you need on the daily. Each time you add an event that's tied to your goals and get organized for more, you'll be hit with some moving quotes and scriptures to boost you up.
6. T of a Warrior
At school, spin class or anywhere in between, this badass tee was made to lift you up. Don it on days you feel like you need a champion and let it light the way to a more empowered Y-O-U.
Like this article? Check out New Years Resolution Success: The Tools You Need for more great ideas on how to stay motivated!
Get more Budget Fashionista