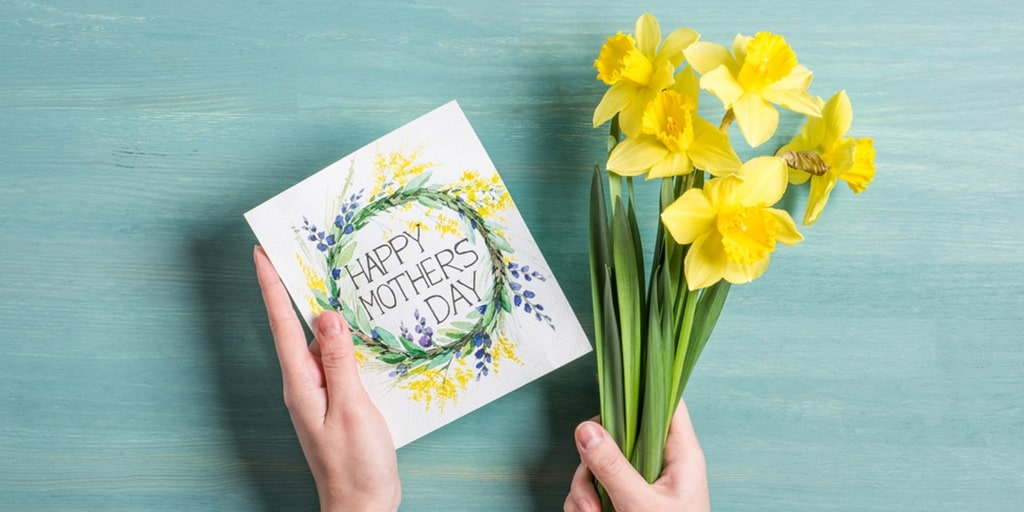 This post may contain affiliate links, which means I earn a small commission if you click and buy something (at no cost to you). See our privacy policy.
Sure, we're just putting away the knee-length puffer, but Mother's Day is a-knocking. Unless you truly enjoy the thrill of last-minute shipping, it's time to start thinking about the gifts that'll show appreciation to all the moms in your life.
The simplest approach is to ask mom what she wants. But then you miss out on the element of surprise and the opportunity to give her something she may not have thought of — like any one of these 20 fabulously fashionable finds.
Enjoy this list of Mother's Day gifts under $40, organized into four categories: accessories, beauty, casual wear, and practicalities.
Mother's Day Gifts Under $40
Accessories
Fun flats
If she's wowed by flowers every year, she'll be doubly grateful for a floral that lasts much longer. These sandals are adorned with a vibrant satin bow on faux leather. They're perfect for adding a little color to her favorite outfits.
Dazzling druzy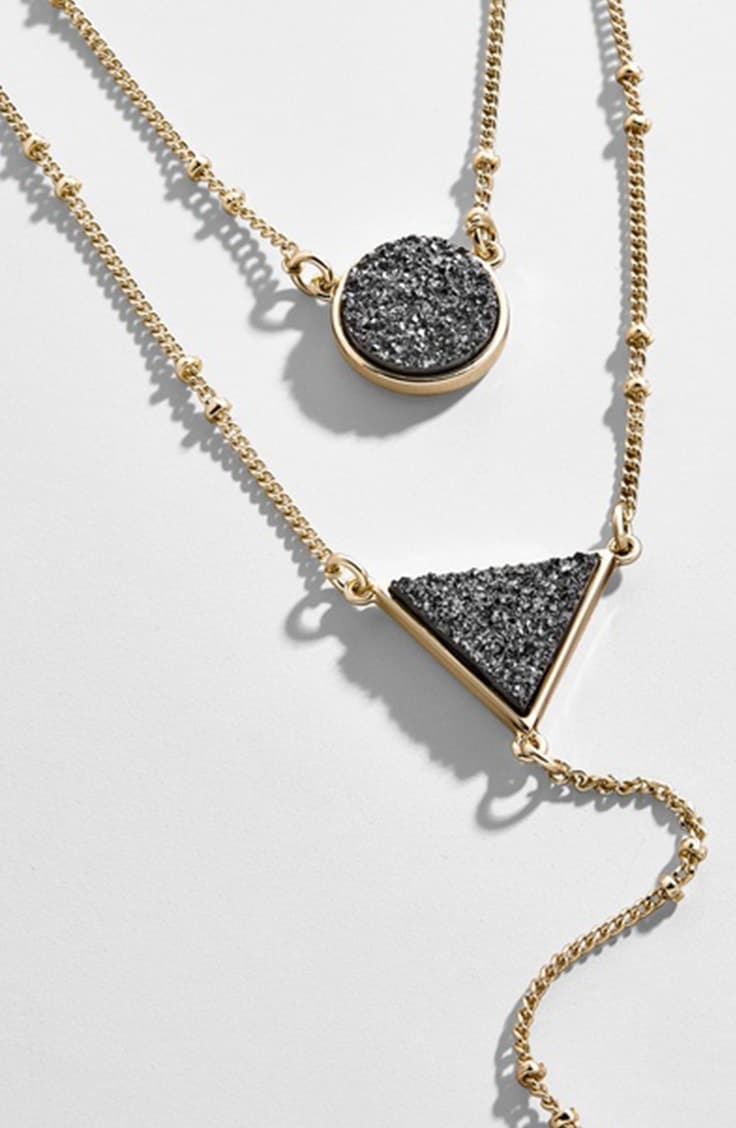 Give her a taste of luxury by presenting her with this pretty necklace. It's more than just a statement piece. It features a combination of lithe gold chains, delicate gold beads and dazzling charcoal druzy stones that shine in any light.
A beautiful bangle
As if she needs an excuse to wear sparkling baubles! This delicate bangle is subtle in its approach to glamour. Its minimal styling makes it the right choice whether she's going to work or meeting you for dinner.
Pearl earrings
Can you ever really go wrong with pearls? These earrings put a modern spin on an old-school favorite. The delicate pearl domes are wrapped in rose gold horseshoes accented by sparkling stones. They make a statement in the subtlest way.
Chic belt
Just say "yes" to a slender belt that she can just as easily wear with her corporate attire as with her favorite black dress. This one creates definition and is a luxurious classic thanks to its velvet band and traditionally Lauren-esque stirrup-inspired buckle.
The big bag
If she's more the type to carry everything she owns, then she'll love this cavernous bag that doesn't sacrifice style in the process of elevating her available space. Made with vegan leather, it includes a matching pouch that is perfect for holding her makeup.
Shaded in straw
Because everyone should have at least one hat in her closet! This one features a practical wide brim that shields her eyes and skin from harmful UV rays while adding a little fashionable finish to her sundresses.
Classic sunnies
If there's one item every woman could use more of, it's a pair of quality sunglasses. Whether she's constantly losing hers or could use a little upgrade, these fit the bill without breaking the bank. They're also totally classic in dark brown.
Beauty
Fresh paint
Life always looks a little better with some fresh paint! This set contains six new and highly flattering shades from Deborah Lippmann. The nude hues range from light to dark, and all are perfect for her busy lifestyle.
Scent of a woman
Can't decide which fragrance she would love best? Forget about making that touchy decision. This set contains seven rich fragrances — she can wear them individually or layer them on skin or hair.
A little of this, a little of that
Why worry about selecting the right item when you can surprise her with several possible winners? Tucked inside this cute pouch are a few of L'Occitane's best, including shampoo, foot cream, shower oil and moisturizer.
Casual Wear
Functional fleece
Ideal for traveling, adding an extra layer in a chilly office, or lounging in at home, this cozy fleece wrap is as stylish as it is comfortable. It's also available in 10 great colors — so this may be a "one for her, one for me" situation. No judgment!
Fabulous floral cover-up
A light, airy cover-up that she can wear whether she's on the boardwalk or in the garden is always welcome. This one looks just right with a pair of white leggings and flip flops or her favorite shorts and sandals.
Springtime scarf
What better time to break out the baby-soft pastel hues? This LOFT scarf is an absolute dream that adds a splash of color to her neutrals and pairs well with her favorite tees, lightweight sweaters and denim jackets.
For loungin' around
Effortless, comfortable, and versatile, these lounge pants are perfect for helping her relax at the end of a long day or to wear while running errands. They're unimaginably soft and have a forgiving silhouette, along with an elastic waist for optimal comfort.
Practicalities
A stylish canteen
Essential for her early AM walks or her weekend yoga class, this water bottle is both useful and attractive. It's thoughtfully designed to keep beverages cold for more than a full day and your warming favorites hot for at least 12 hours. The opening is also large enough to fit ice cubes!
A case for the essentials
Sleek and eye-catching, this spacious wallet doubles as a carrying case for her phone. It's perfect for the mom who prefers a lighter purse for daily use. Even better, it has a convenient wrist strap that makes transport a breeze.
For style in the kitchen
So cute she may be tempted to wear it outside the house, this apron rivals the prettiest spring dresses in her closet. If she loves to bake or just needs to hang up the old apron she's worn forever, this is a fresh alternative she'll adore.
The candle gift set
If she's not one to turn down a beautiful candle, surprise her with this trio of delectable looking jars shaped just like macarons. The warm floral fragrances include Rose Petal Ice Cream, Rose Colored Glasses, and Rose Otto.
For a weekend getaway
The best duffel blends size, style and versatility. This one is sized just right for an upcoming weekend getaway to the lake, or to push beneath the seat during a flight abroad. The bold red makes a statement while the roomy interior offers space for tech essentials, a change of clothes and a pair of comfortable flats.
Did we miss any of your favorite mother's day gifts under $40? Let us know in the comments!