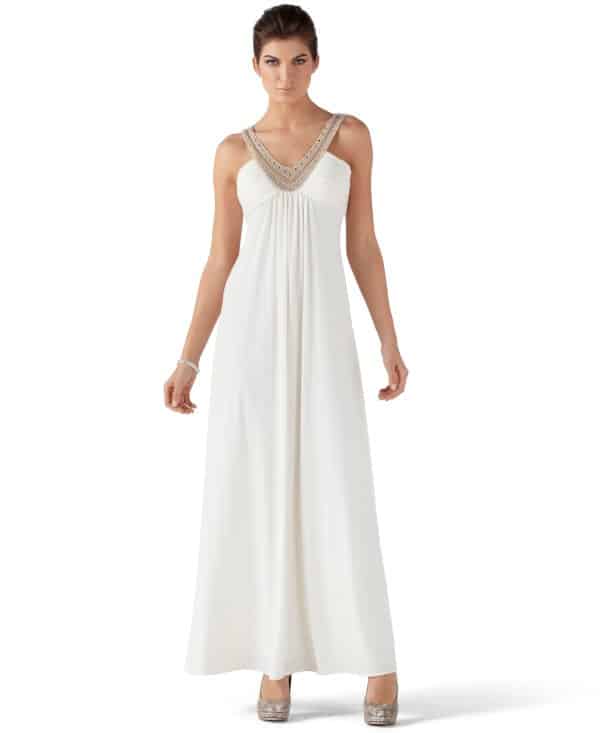 "What will Michelle Obama wear?" Some folks complain it's a sign of times when people seem to care more about what the First Lady will wear than what her husband has to say to the nation during the day of his inauguration. But then again, we can't blame the world's fascination for the FLOTUS. Michelle Obama is that kind of awesome, and it's kinda hard not to be dazzled by her… even when she tries her darn hardest to blend in the background to give Mr. President the limelight. White House | Black Market, a label that Mrs. Obama also proudly wore, pays homage to her through an exclusive Inaugural-inspired dress collection.

Michelle Obama Inauguration Dress-Inspired Collection from White House | Black Market
Called "From Our White House to Yours", this limited edition inaugural-inspired dress collection from WHBM is regal yet accessible to modern and practical sensibilities, just like the First Lady herself. The lineup consists of nine dresses ranging from cocktail to beaded gowns that retail between $250-$300– a steal if you ask, considering that other designers can easily charge $800 upward for evening wear. The line consists of neutral-colored pieces, so fans of colorful wear will be disappointed.
You can own a piece of Michelle O.-inspired elan online and exclusively at four White House | Black Market boutiques including The Fashion Centre at Pentagon City, Tyson's Corner, Wisconsin Place, and Westfield Montgomery.
If you're around the DC area, you might want to drop by at the four local DC White House | Black Market boutiques on January 10th, and attend the in-store event. This includes access to talented stylists who will be happy to help you put together the perfect evening look. Please note that Secret Service agents, a dashing head-over-heels smitten president-husband, and nationwide television coverage are not part of the deal.