The following is a guest post from our friends at Lucky.
I'm not much of a snob when it comes to vintage. For me, alteration is (for the most part) fair game, simple day dresses are more interesting than insanely ornate evening wear (always), and '90s clothes very much qualify as part of the genre. I don't really like or have strict rules when it comes to wearing vintage, but these are some guidelines I find myself naturally following:

1. Mix up the decades: Some women look great dressed all in one decade, but I'm not one of them. I like to play around with the eras around a little–'40s blouses look great tucked into '90s skirts, and a '70s clog can update a '50s sundress in a heartbeat.
2. Throw in something new: Head-to-toe vintage is fine, but I like adding one new thing, even if it's only a necklace or bag. Shoes are the best, though. Especially when they're a bit crazy and unexpected. I recently styled a shoot in which we used these Chloe Sevigny for Opening Ceremony shoes, and they were so tall and strange that they made every vintage piece instantly better.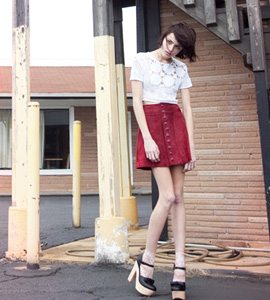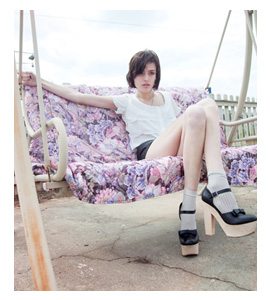 Pairing Chloe Sevigny for Opening Ceremony shoes with vintage for a shoot with photographer Jamie Hopper.
3. Don't be afraid to make alterations: Are there exceptions? Yes. If something is extra-old and in pristine condition, then I usually won't mess with it. But for the most part, altering a dress means I'll get a lot more wear out of it. Fifties dresses look way more modern when made a few inches shorter, and you'd be surprised at how cute a frumpy '90s floral dress can look with the hem hacked off.
4. Don't be afraid to customize: That's kind of a corny word, but I can't think of a better one, really. Sometimes when I half-like a piece, I try to find something about it that I can tweak to make it more me: maybe it needs a change of buttons, maybe it needs a collar added (or taken away). If you're good at sewing (I'm not), you can get creative and make new things out of old things. Lately, I've been wanting just a simple cotton skirt, and I think it couldn't be too hard to make out of an old dress.
For more fashion, beauty, news, and shopping advice, visit Lucky. And here are some other awesome stories –