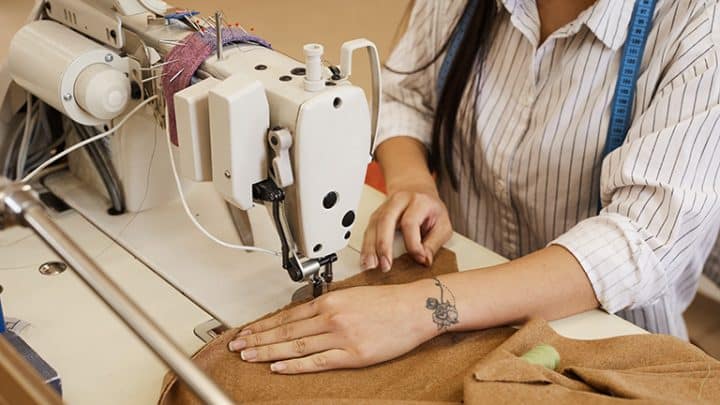 This post may contain affiliate links, which means I earn a small commission if you click and buy something (at no cost to you). See our privacy policy.
Imagine wearing the same dress, day in and day out, for one year.
Pretty hard to imagine, right?
Not if you are Seattle mom Alex Martin. Martin wore the same brown dress, a dress that she made herself, everyday from July 7, 2005 to July 7, 2006 and chronicled it in her blog/journal called The Little Brown Dress.
She paired her homemade brown dress with cardigans and stockings, for both practical and stylish reasons. And, for the most part, no one noticed that she was wearing the same dress everyday.
Martin states on her blog/journal:
I challenged myself to reject the economic system that pushes over-consumption, and the bill of goods that has been sold, especially to women, about what makes a person good, attractive and interesting. Clothes are a big part of this image, and the expectation in time, effort, and financial investment is immense.
So, Martin is right. We are pushed and prodded to buy stuff, (often to emulate the lifestyle we see in celebrity fronted fashion and beauty lines). Even so, most of us aren't going to stop shopping at Target to make our own biodegradable brown dresses. Personally, I would love to know is how much money she saved by wearing the same dress everyday for a year. If I took a guess, I would say probably enough for a down payment on a house.
Would you wear the same little brown dress everyday?
Inspired by the Brown Dress project, I'm going to try to wear the same thing, everyday, for the month of June. Fortunately for me, I don't work in an office setting where I see the same people day in and day out.
But I would love it if someone who does would join me in this project and post their comments below. Tell me how the project worked for you. How much did you save? Was getting dressed in the morning easier? Did anyone notice? What did your husband/boyfriend/partner think?
Note: Alex's little brown dress project as well as her plans to create an entirely new wardrobe from recycled clothing from her own closet are no longer online.