Kristen Stewart just may be one of the most recognizable actresses working today, in large part thanks to her portrayal of Bella in the Twilight film series. But she is also well-known for her non-conformist attitude towards her style choices. Unlike many other starlets in Hollywood, she has been known to remove her sky high heels in favor of her trusty black Chuck Taylor lace-ups and she is just as happy in jeans and a t-shirt (maybe even more so) as she is in her red carpet ensembles. Kristen oscillates between her tomboy style and body con outfits effortlessly and so can you! All you need is few simple guidelines…
1. Good Luck, Chuck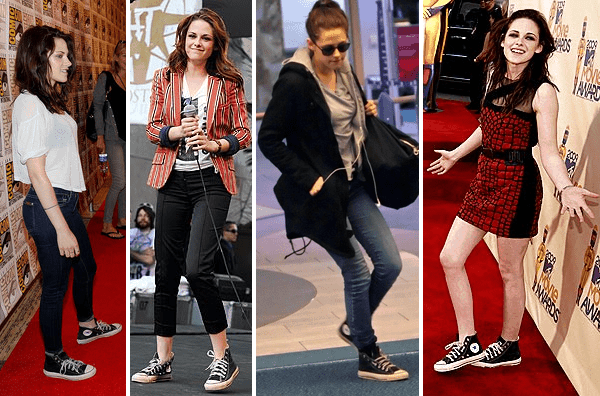 Credit: Michael Buckner/Getty Images North America, Jordan Strauss/WireImage, Bauer Griffin, Matt Sayles/AP
Kristen loves, loves, loves her Chuck Taylor All-Stars so much, she even wears them on the red carpet. These high-tops are so classic that they really do go with almost everything and Kristen shows us they're no longer just for down-time and days off.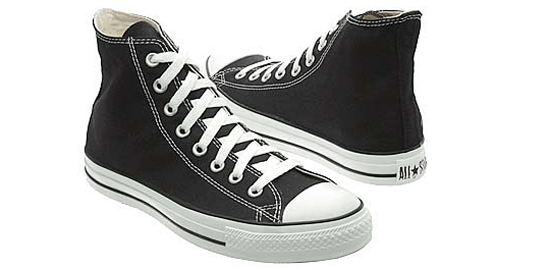 Classic Converse All-Stars in black and white $45 at Shoes.com
2. Tee Time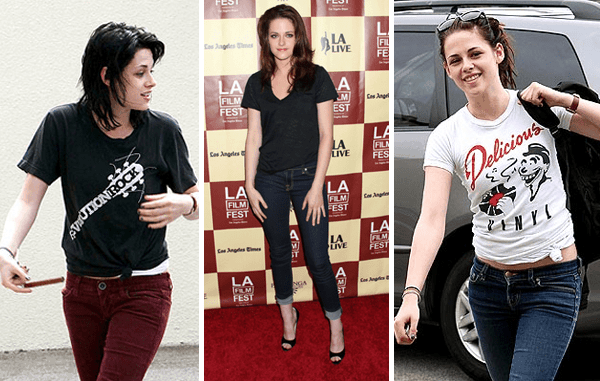 Credit: Clint Brewer/Splash News Online, FlyNetPictures.com, PR/Flynet
Even though Edward and Jacob (Robert Pattinson and Taylor Lautner's characters in the Twilight saga if you didn't already know!) might not like the message of the last T below, one thing we know for sure is that Kristen professed her true love for her T-shirts! She even makes a simple black V-neck look fab pairing it with skinny jeans and killer peep toe pumps. "Less is more" never looked so good!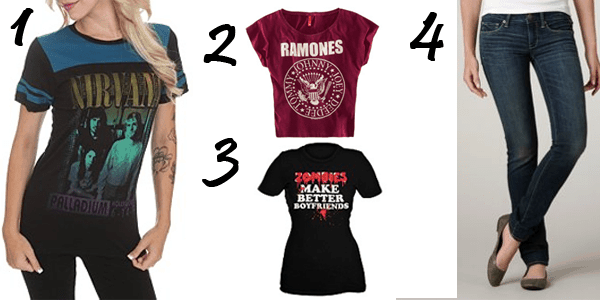 1. Nirvana T-shirt $24.50 from Hot Topic
2. Ramones T-shirt $14.90 from H&M
3. Black T-shirt $22.50 from Hot Topic
4. Skinny jeans $44.50 from American Eagle
3. Shady Lady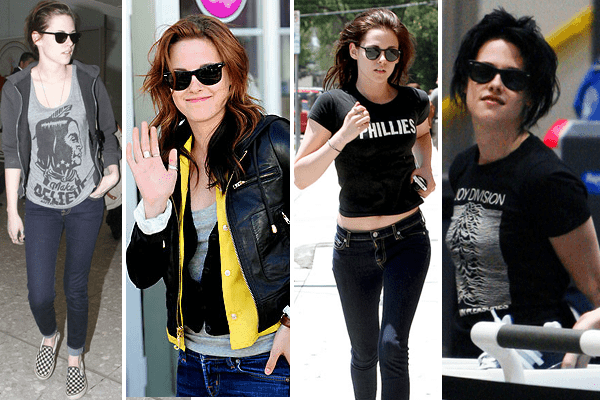 Credit: PacificCoastNews.com, Gabriel S./Bauer-Griffin, National Photo Group, Bauer Griffin
If you were as recognisable the world over as Kristen is, you can bet your bottom dollar you wouldn't leave the house without a trusty pair of dark shades. Kristen proves once again that, like her Converse sneakers and her trusty T's, once she finds a style she likes, she sticks to it. Ray Ban's Wayfarer sunglasses seem to be her favorites and we can see why – they suit her, don't you think? Why not trade in your oversized Jackie O's for the style Tom Cruise made famous when he wore them in Risky Business? We know you'll love them as much as Kristen does, and if you don't, well, that's a risk we're willing to take.


1. Ray Ban Wafarer sunglasses $98 from Eyeglasses4All
2. Round sunglasses $5.80 from Forever 21
4. Frock Rock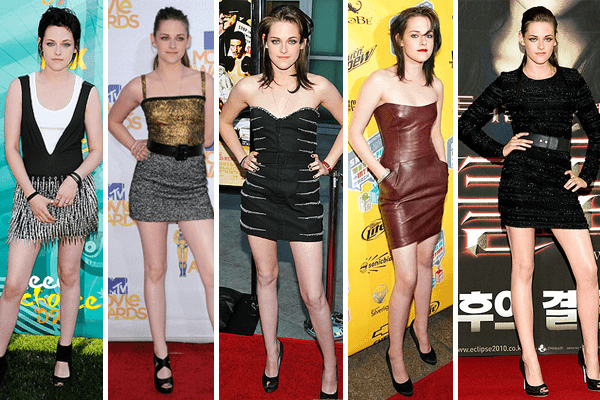 Credit: Frazer Harrison/Getty, Bauer Griffin, Tsuni/Gamma, Scott Kowalchyk/Sipa, Han Myung-Gu/WireImage
Even at the tender age of 22, Kristen has a keen eye for fashion, knows what looks good on her figure (mini dresses to show off those long legs!) and always infuses a little rock and roll into her glamorous red carpet choices. She is stunning in both an all out sequined long sleeve mini-dress and a simple (but perfectly cut) strapless leather frock. If you want to emulate Kristen's dressy, edgy style all you have to do is make sure you have at least one of the following elements in your outfit: leather, sequins, and/or safety pins! Oh, and when in doubt – choose an LBD. It works for Kristen every time!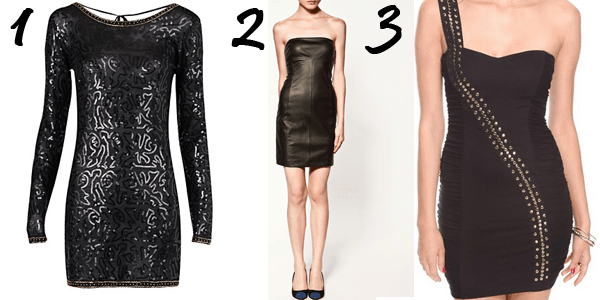 1. Black sequin dress $99.90 from Mango
2. Faux leather strapless dress $79.90 from Zara
3. Black mini dress $24.80 from Forever 21
5. Color Block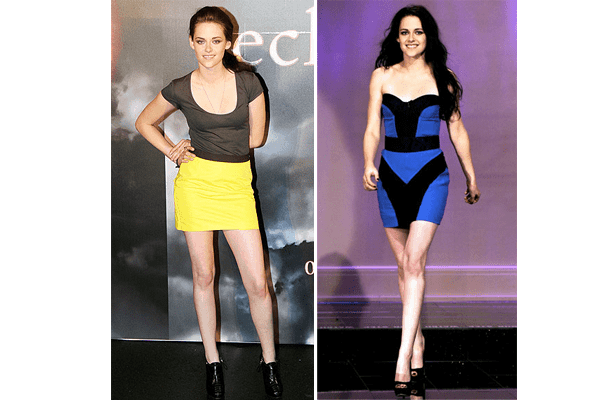 Credit: INF, Kevin Winter/NBCUniversal/Getty
When Kristen does opt for color, she generally chooses outfits that are color blocked with bold hues. This is one of the easiest styles to imitate. Just pick pieces with clean lines and no more than three colors. The bolder and brighter the colors, the better!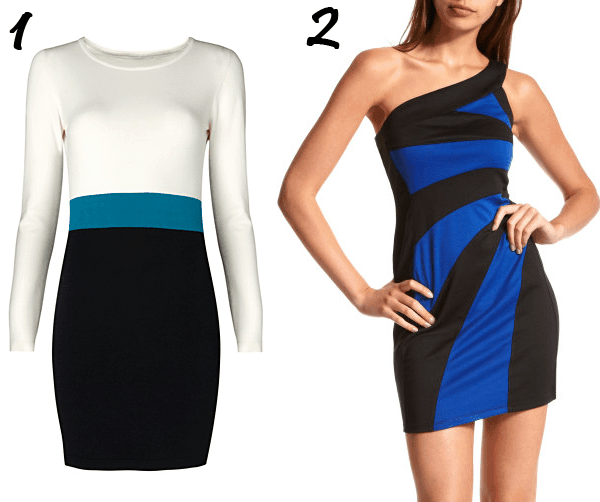 1. Color blocked dress $59.90 from Mango
2. Black and blue one-shoulder dress $29.90 from Charlotte Russe
Oh, and then there is this…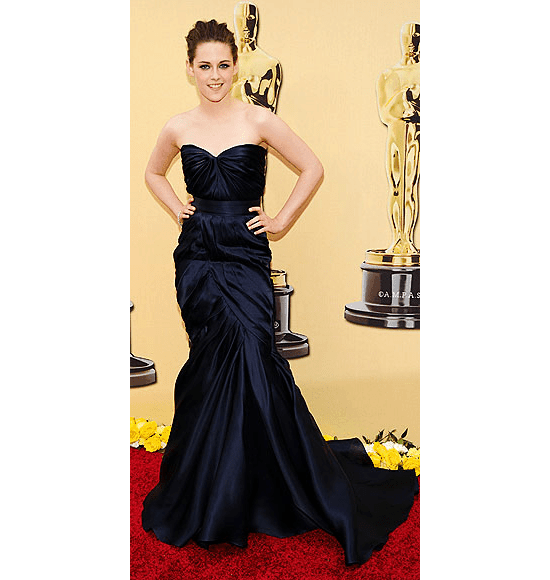 Credit: Kevin Mazur/WireImage
We had to share this last one with you as it is way too gorgeous to ignore. We think the color is to die for, but what we love most about Kristen's look here is the total absence of accessories (save for an itty bitty bracelet). Now, make no mistake, we are big advocates of the accessory but in this case, the dress (and the woman in it) are magnificent enough to stand on their own. Isn't it amazing what the right color and the right cut can do?