It should come as no surprise that the Queen of Couldn't-Care-Less takes a laid-back approach to dressing. Luckily for Kristen Stewart, the easygoing style she's so accustomed to fits right in with her persona, so much so, that it's shocking to see her in anything else than a signature, simple uniform.
On nights where she does have to give a damn, her smart designer allegiance makes her red carpet a stylish piece of cake.
The Style of Kristen Stewart
Tee & Jeans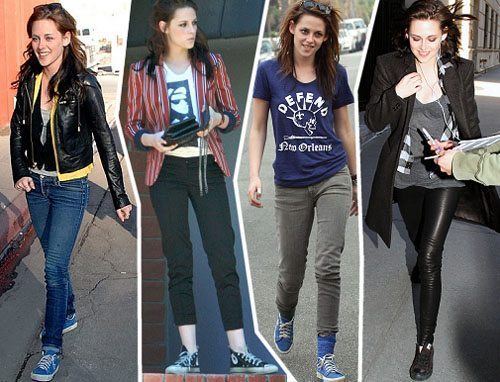 When the actress was dating co-star Robert Pattinson, their about-town paparazzi shots were always a bit of a giggle, because frankly, the two dressed the same. Kristen's preference for pieces like comfy tees and tanks, low-key hoodies and denim put her in the same style category as her own then-boyfriend, known to rock a similar aesthetic. Give the tomboy trend a go with a well-worn classic tee and some tried-and-true blues for off-duty outfitting that's always en vogue or dress 'em up with a blazer and pump.
Converse Sneaks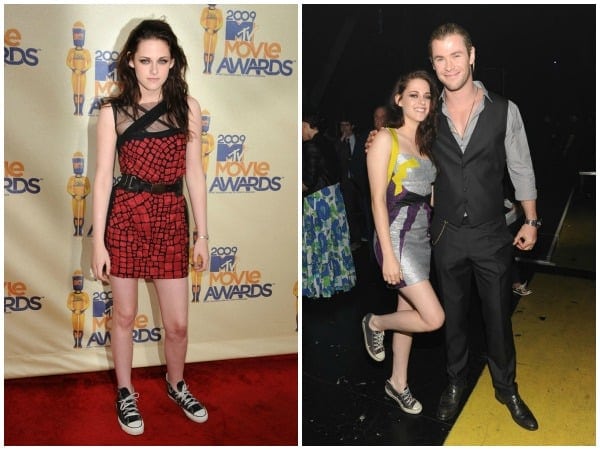 Converse almost immediately come to mind when we think Stewart–heck, she's even worn them on to awards shows in the past. Whether they're the finishing touch to her tee and jeans duo or playing grungy contrast to a chic cocktail dress, they're clearly a favorite and go-to shoe. Give the sneaker a go on casual fridays with your own single silhouette stunner to create some unexpected edge.
Baseball Hats & Ray-Bans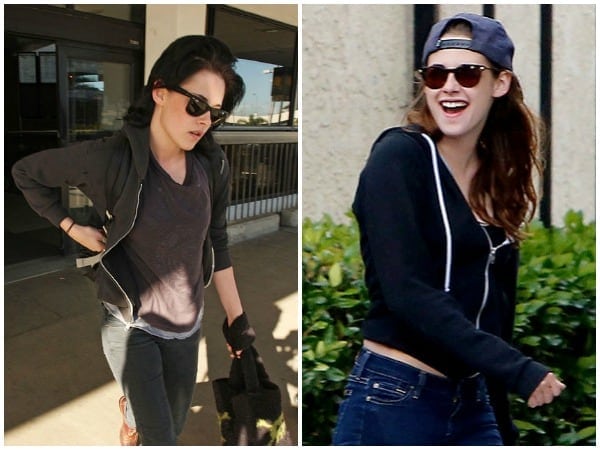 She may not be one for over-the-top baubles and gems, but she sure does accessorize. And typically, it's with a couple of other essentials she's borrowed from the boys. Rarely seen with her Ray-Ban Wayfarers, Kristen switches it up each season with a chapeau. While it's beanies in the colder months for the brooding actress, our personal inclination is when she goes sporty in a good ol' baseball cap.
Vampy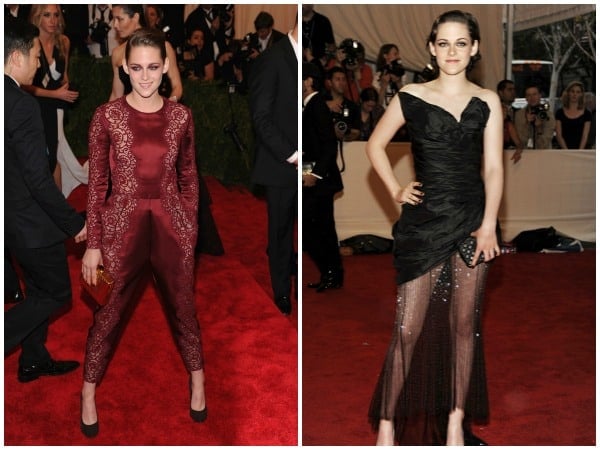 Details Despite the fact that she stopped playing one years ago, Stewart's more glamorous side leans toward the dark and vampy. Lace overlays, intricate beading and inky hues tend to round out the anti-starlette's cleaned-up act for press tour and premier numbers. Perfect for adding a little luxury and texture to everyday ensembles, try a pop of rich red, a bit of embellishment or some peek-a-boo details to go girly.