Jessica Biel smart, sexy and oh so stylish. Whether she's gracing Revlon's beauty ads as one of their gorgeous spokesmodels, attending Giambatistta Valli's latest outing in Paris or shooting her latest feature in Toronto, she always looks well turned out and tres magnifique! It doesn't matter if she's sporting all black workout wear, giving the red carpet a run for it's money in scarlet gowns or donning her favorite style element – ruffles – she always manages to exude the all-American girl that she truly is.
Jessica's personal style is highly accessible, thanks to her impeccably classic choices and streamlined color pairings, preferably black, white and red (we told you her style was classic!). Recreating her look is not hard to do, as long you remember the basics.
1. Ruffles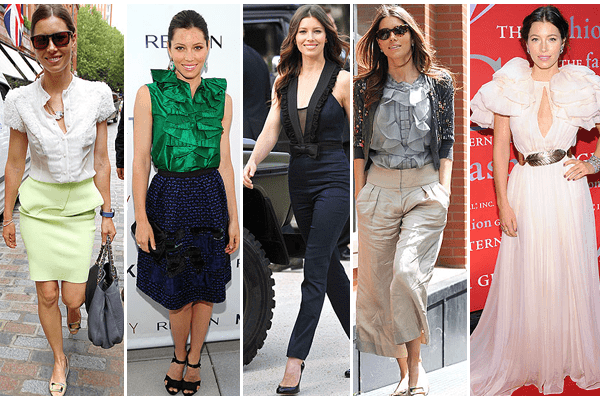 Credit: Andy Robinson/Splash News Online, Dimitrios Kambouris/WireImage, INF, Katie B/Eaglepress, Jamie McCarthy/WireImage
Jessica qualifies to be an official ruffle ambassador given the number of times she's chosen to step out in a frilly pleat (or two), and why not? They're equal parts tea-time, tuxedo and timeless! Lucky for us, ruffles are a mainstay of feminine fashion and so they're fairly easy to find when attempting to replicate the look. Now, if only attaining Jessica's much envied figure was so easy…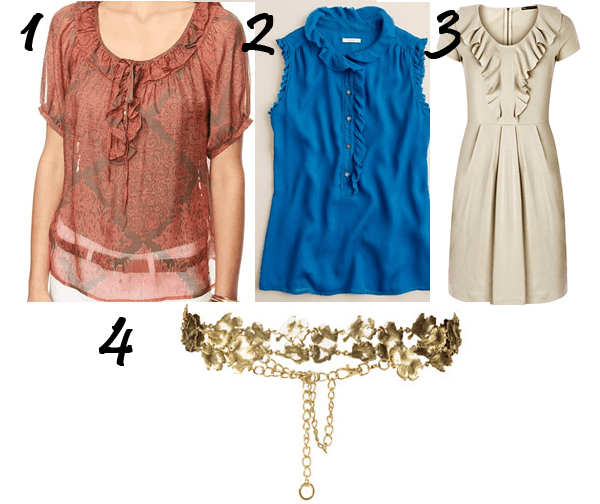 1. Silk top with ruffles $29.80 from Forever 21
2. Silk chiffon blouse $88 from J Crew
3. Ruffle dress $79.90 from Mango
4. Metallic leaf belt $39.90 from Zara
2. Neutral! (flats, paired with denim)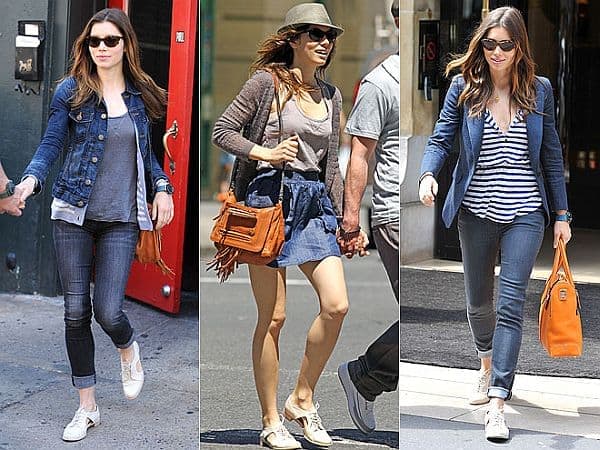 Credit: AAR/Fame; Donnelly/Swarbrick/INF; INF
Jessica shoes, I mean, shows us here that if you pick a great flat in a neutral color, the outfit possibilities are endless. These flats are fashion forward and comfortable, Talk about the perfect combo! If you're looking to pair them with something besides denim (and transition them into Fall/Winter, for those of us in colder – ugh! – climates) then why not wear them with some bright colored tights or socks? They're all the rage this season and they will look super cute peeking out from underneath the cutouts!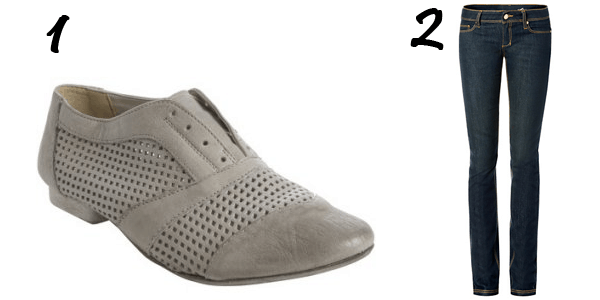 1. Boutique 9 Oxfords $84 from Bluefly
2. Slim leg jeans $49.90 from Mango
3. Black! (shrunken leather jacket, paired with… anything!)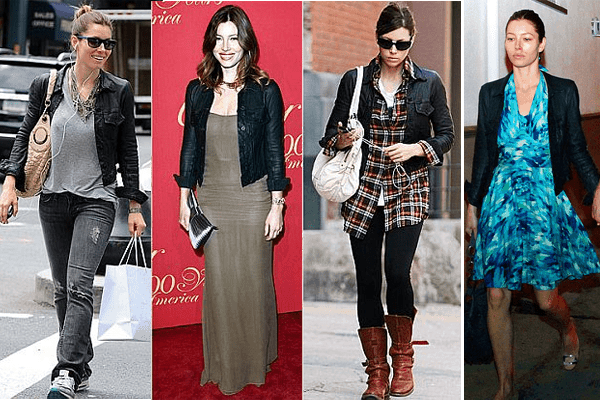 Credit: Pacific Coast News; Splash News Online; FilmMagic.com; Splash News Online
What better wardrobe accessory than the perfect shrunken leather jacket? It really can go from denim to dress, rocker to relaxed, and day to night! It's wise to spend a little more on a piece like this, since you will most likely get a ton of wear out of it. Plus, the older (read: more worn in) genuine leather gets, the better it looks!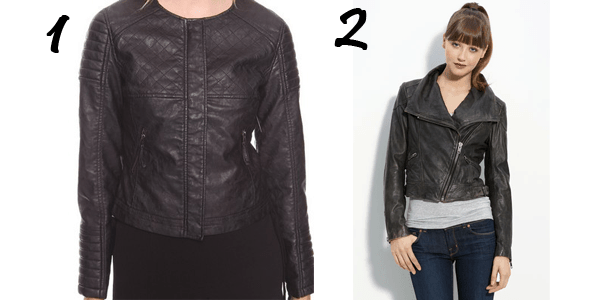 1. Quilted shrunken leatherette jacket $34.80 from Forever 21
2. MICHAEL Michael Kors Leather Moto Jacket $159.97 (was $398.00) from Nordstrom Rack
4. Red! (jeans and dresses)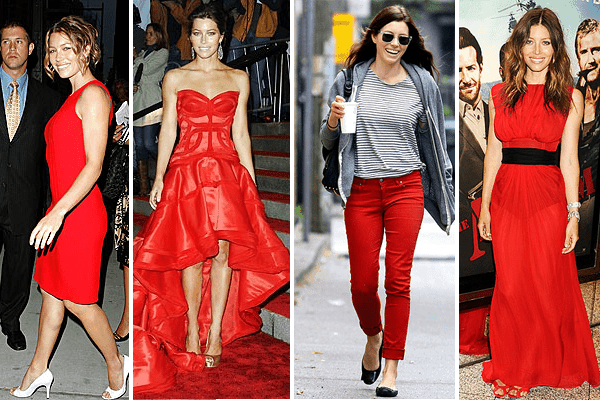 Credit: James Devaney/WireImage, Bill Davila/Startraks, Todd G/Macca/Splash News Online, David M. Benett/Getty
Red is the color of passion, the color of power and though we may never know quite why, it's also one of Jessica's favorite colors! She's not afraid to wear this bold hue either on the red carpet or casual style by choosing a pair of strawberry hued skinny jeans. Either way, we think this is a great color for her!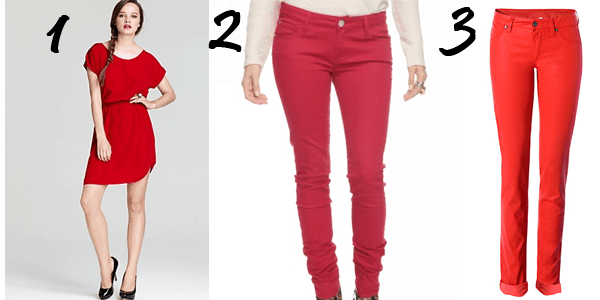 1. Red dress by Aqua $78.00 from Bloomingdale's

2. Red skinny jeans $22.80 from Forever 21
3. Red superslim jeans $79.90 from Mango
5. White! (bootcut jeans)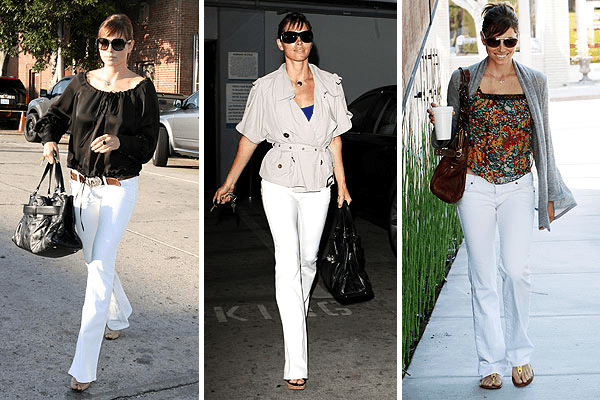 Credit: ATM/Flynet, Fame, Fame
Once upon a time there was a whole lot of nonsense that dictated something about "Not wearing white after Labor Day". Well, the times they are a changin' and thank goodness! White jeans are a staff favorite here at TBF and we're thrilled to see that Jessica agrees! The next time you go to grab your trusty pair of good ol' dungarees, ask yourself "Could I take this outfit up a notch with classic white?" You'll probably find the answer is yes!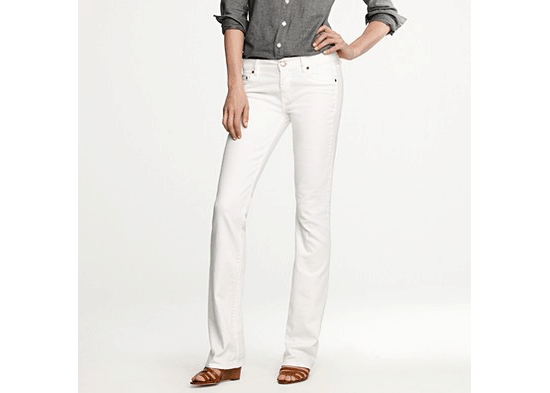 White bootcut jeans $88 from J Crew
6. Work it out! (in black or white)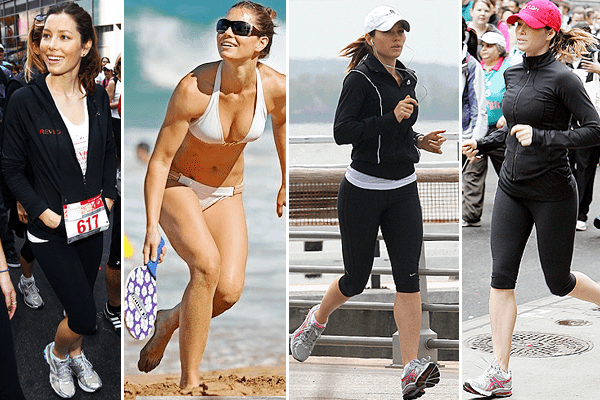 Credit: Fame, Splash News Online, Splash News Online, Ramey
Let Jessica (and these photos) be an inspiration to you – she has been for us! Jessica is so committed to staying in shape, she even works up a sweat on the beach! So, stock up on some solid workout wear in black and white (Jessica's choice) and get moving!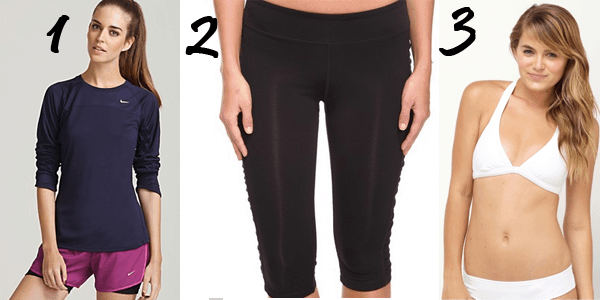 1. Nike Miller long sleeve top $40 from Bloomingdale's
2. Ruched athletic capri pants in black $17.80 from Forever 21
3. White halter bikini $42 (top) & $38 (bottoms) from Roxy
At the end of the day, whether she's on again or off-again with beau JT, one thing remains clear: Jessica Biel is an ever evolving style icon who's fashion choices get wiser, bolder, more classic and more gorgeous every day. We can't wait to see what she comes up with next!