Credit: Carlos Alvarez/Getty Images Europe
It's no understatement to say that Jada Pinkett Smith is something of a wonder women. She's equal parts movie star, super mom, and fashion plate! Just how does this marvelous mama (mother to Willow and Jaden, stepmother to Trey) manage to star in multi-million dollar generating movies, maintain a meaningful marriage (2012 will mark her 15-year anniversary with actor Will Smith) with her husband and kill it every time she steps out the door or on to the red carpet?
It's a simple equation, really. One part fashion maven, one part daring diva and one part let's-not-take-it-all-too-seriously-and-have-some-fun! Mix vigorously in a martini shaker and what have you got? Ladies and gentlemen, may we present Jada Pinkett Smith…

Jada Pinkett Style
Layering Necklaces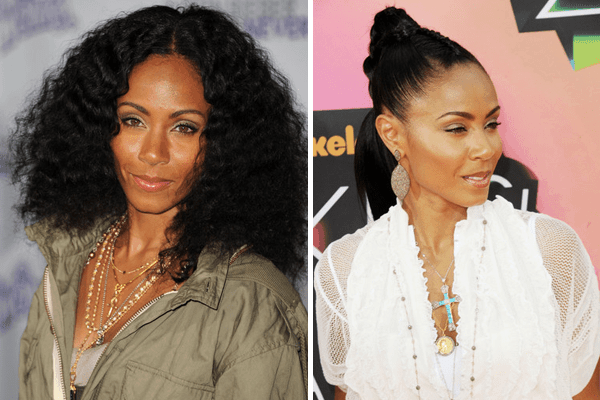 Credit: Jason Merritt/Getty Images North America; Jason Merritt/Getty Images North America
Jada loves to have fun dressing up (for more on that, see yellow bow-toe'd shoes below!) and a great way to add levity to your look is by layering jewellery. Bracelets and necklaces work equally well (earrings not so much…) and in Jada's case it's neck candy all the way. This look is dead easy to replicate; the key is choosing necklaces of varying lengths with lots of different charms or styles. You can even buy a pre-layered necklace that does the work for you. Just make sure your top is not too busy otherwise, you may give your friends a dizzying case of vertigo!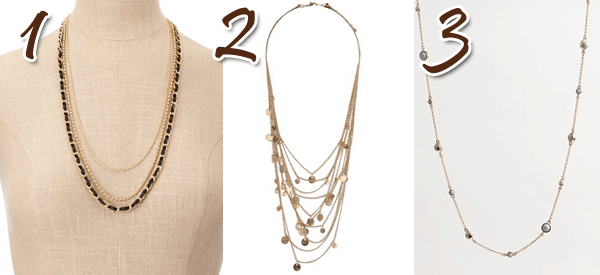 1. Woven chain layered $8.50 from Charlotte Russe
2. Multi-strand necklace $8.80 from Forever 21
3. Long necklace $20.65 from J Crew Factory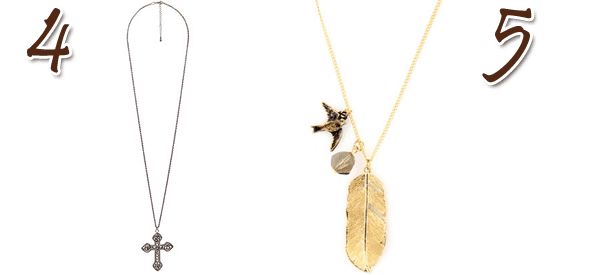 4. Rhinestone cross necklace $6.80 from Forever 21
5. Gold feather necklace $12 from LuLu's
Mini Dresses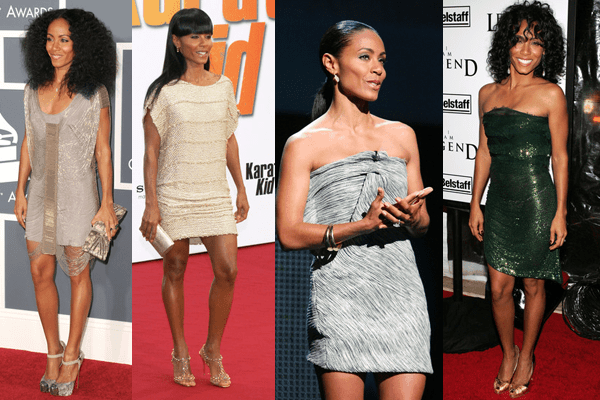 Credit: Jason Merritt/Getty Images North America; FlynetPictures.com; Andrew H. Walker/Getty Images North America; Bryan Bedder/Getty Images Entertainment
Jada may not have the longest legs in the business (she's just under 5') but that doesn't stop her from showing off her gorgeous gams on a very regular basis! Mini dresses are a staple for her and she kills the look every time. Follow Jada's lead and grab a mini the next time you've got an event or special plans. Make sure the fit is perfect and don't forget – if you're going bare-legged, swipe on a solid coat of moisturizer, or if you're feeling festive, sparkling bronzer, before heading out the door – it's the final touch, the icing, if you will, on a this marvy mod look.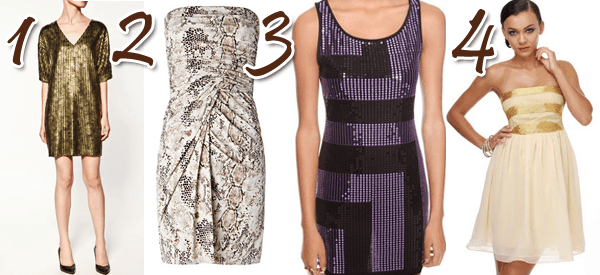 1. Gold mini dress $79.90 from Zara
2. Strapless mini dress $79.90 from Mango
3. Sequined knit dress $19.80 from Forever 21
4. Strapless beaded dress $86.00 from Lulu's
One-Shoulder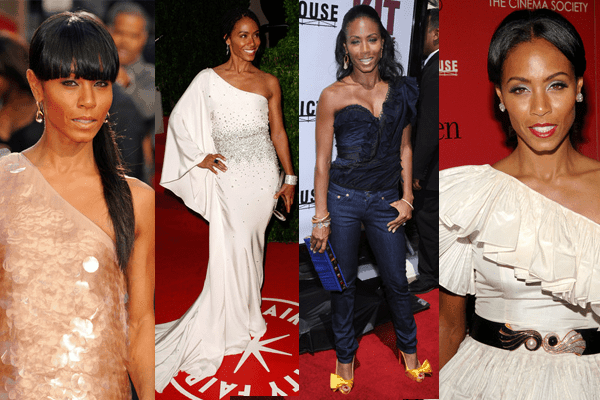 Credit: Bauer Griffin; Michael Buckner/Getty Images North America; Bauer Griffin; Rob Loud/Getty Images North America
Never one for the cold shoulder, Jada opts for its fashionable (and much more friendly) cousin, the one-shoulder. This neckline is timeless and suits Jada to a T, whether she donning glittering paillettes, a full-coverage drape or a ruffled version. If you love the one-shoulder as much as Jada, fortunately for you, you have a ton of choice. Whether you're going for a full-out floor length dress or just want to spice up a classic pair of skinny jeans, there's a one-strap piece out there that will suit whatever you're looking for!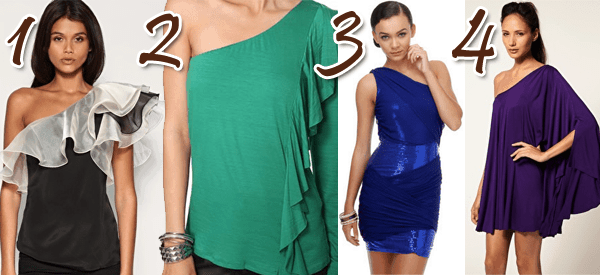 1. Ruffle one-shoulder top $21.56 from Asos
2. One-shoulder top $15.80 from Forever 21
3. Cobalt blue one-shoulder dress $71.00 from LuLu's
4. One-shoulder dress $50.32 from Asos
Oversized Accessories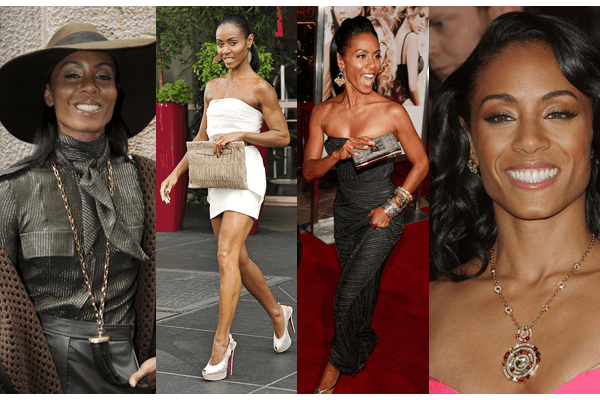 Credit: FlynetPictures.com; PacificCoastNews.com; Kevin Winter/Getty Images North America; Bauer Griffin
Jada has a refined eye when it comes to accessorizing and more often than not, chooses oversized pieces to compliment her ensembles. Clutches, hats, bangles, pendants, Jada is an equal opportunity fashionista in the accessory department. Love the way these larger pieces add pop and punch to Jada's look? So do we! Any one of the options below will fill this potential hole in your accessory drawer, and then some!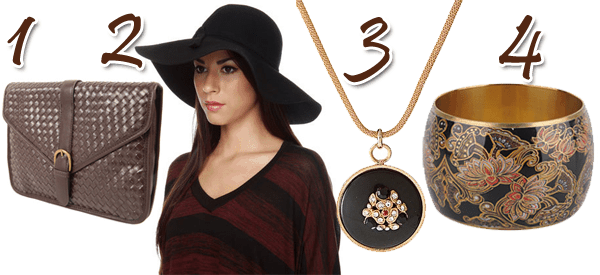 1. Woven leatherette clutch $16.80 from Forever 21
2. Large black hat $27.00 from LuLu's
3. Art deco madallion necklace $32.35 (on sale from $71.88) from Asos
4. Large bangle $6.80 from Forever 21
Bright Pants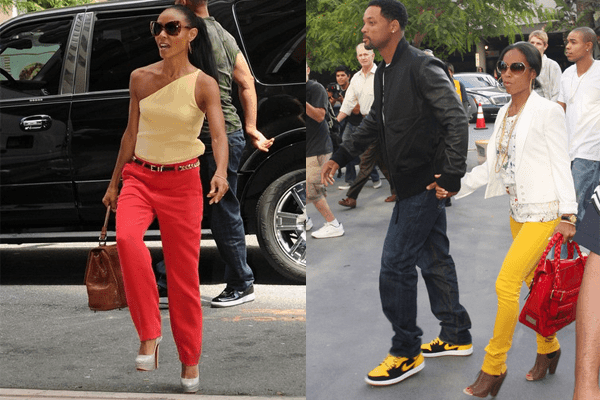 Credit: Bauer Griffin; Bauer Griffin
Brights have been a hot trend for quite a few seasons now, and as far as we're concerned, they're not going anywhere anytime soon! Now that the days have gotten (ugh) shorter and the darker hours make up more than half of our waking life (sheesh), a pair of cheerfully bright pants could be just the thing to keep your energy up! Jada rocks hers with simple, neutral-hued white or cream tops, letting her trousers take center stage or contrasting them with an equally bold and color-saturated handbag. Brights will be beaming down the runways for a while, so this is one fashion piece that you'll get a lot of wear out of!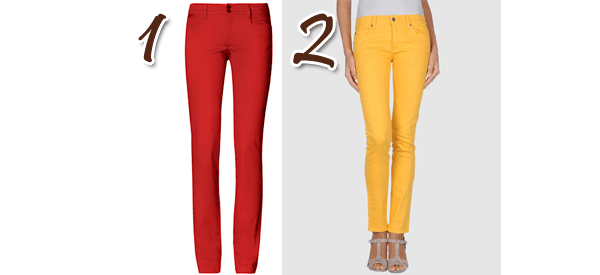 1. Red trousers $39.90 from Mango
2. Yellow pants by Cheap Monday $45 (down from $56.00) from YOOX
We love it when Jada Pinkett Smith hits the step and repeat because we know we're always going to get something stylish and unique – not to mention endless guesses at how she'll be wearing her hair! In a sea of sameness and despite her diminutive frame, Ms. Jada always manages to stand out!