One of the best things about recycling is you never have to say goodbye. Take ice cream, for instance. Who wants to say good bye to ice cream?!?! Instead of looking down into an empty carton streaked with brown and green sweetness, look forward to a sweet recycling opportunity.
When you buy via links on this page, I may earn an affiliate commission. Learn more.
Why reuse ice cream containers? Well, for one, you can stack them. And two, they come with lids. Those are the qualities you need for handy storage containers — for the kids' rooms, hair brushes, combs….
The first step for repurposing those containers won't surprise you. You have to clean them. Dry the containers thoroughly and save those lids.
8 ways to reuse ice cream containers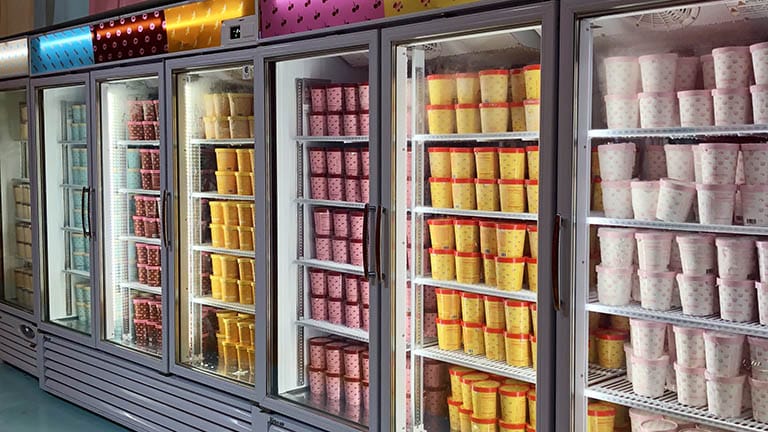 There are so many possibilities, but here are eight ideas that should spark your inspiration!
Counter storage. Line up empty ice cream containers on your kitchen counter. Different flavors and brands can provide a fun decor element and conversation starter. Fill them with fruits like tangerines, apples, persimmons, and grapes.
Pantry storage. Use more durable ice cream containers in your pantry to store flour, sugar, cornmeal, and other baking supplies. Those big plastic tubs you buy at Sam's Club are good options here.
Toy storage. Use the containers from your kids' favorite flavors to store smaller, miscellaneous toys in their bedrooms.
Art supplies. Ice cream cartons are also a fun home for art supplies — crayons, pencils, paint brushes, paints, etc.
Make a planter. Poke holes in the bottom, fill with soil, and add a houseplant. If you're starting with a cardboard carton, line the container with plastic before adding soil. A plastic grocery bag should do the trick.
Bathroom storage. Who doesn't need another bin to house brushes, hair ties, clips, makeup brushes, and other miscellaneous beauty supplies?
Piggy bank. Teach your kids the basics of budgeting and saving by turning those ice cream containers into piggy banks. Cut a slit in the lid and challenge the youngsters to fill it up with their spare change and bills (earned from doing chores of course).
Craft project. For any of these storage ideas, you can leave the container as is. But you can also get super crafty and redesign the outsides with construction paper. That's a fun rainy day project for the kids.
If you're not up for repurposing those leftover containers, then recycle them. Here's a guide on how to do it.