You never know when inspiration's going to hit. You could be walking down the street, talking to your hairstylist or taking an afternoon siesta. This particular nail design came to me somewhere between my first sip of coffee and my mid-morning crash, when I turned to my left in a daze and my eyes landed on a random business card.
The design featured a sort of burst, with Marie Antoinette in the center (do you want dessert now?). I thought to myself, "Self, you can recreate that same burst 10 times on your very own fingernails." And then I went to my nail polish drawer, and the rest is lacquer history.
Instead of the intricate details of Miss Let Them Eat Cake's visage, I opted for a simple heart in a contrasting color. You can mimic the heart design or try something funky like a star, dot, swirl or whatever inspires you. See how we came full circle there?
How to Do a Heart Burst Manicure
You'll need a minimum of three colors. I chose a nude, pink and purple.
Step One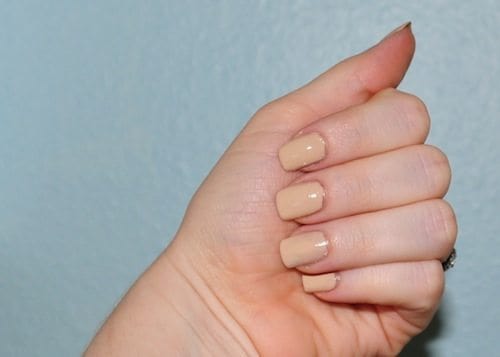 After filing nails and waiting for your base coat to dry, paint one to two coats of your lightest color. Wait at least 30 minutes for the polish to dry. I like to wait an hour to remain on the safe side.
Step Two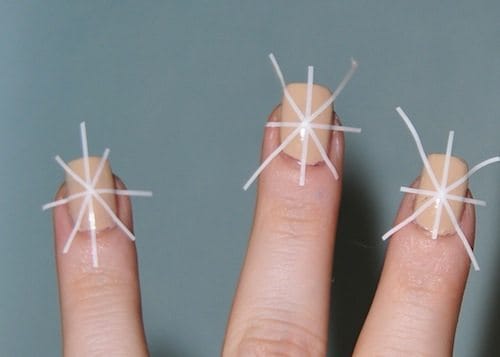 Apply tape. I used striping tape (I found mine on eBay, super cheap at $1 for 10 rolls), but you can use trimmed Scotch tape. You'll need four pieces for every nail.
Step Three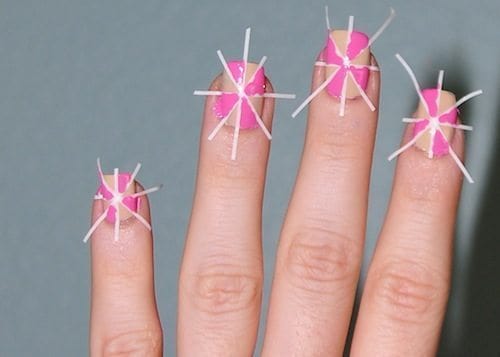 Alternating every other space, paint the triangles your second color.
Step Four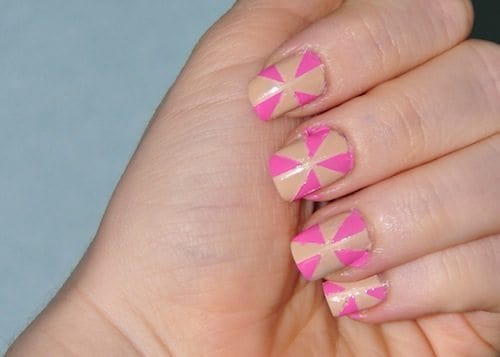 Wait at least 10 to 20 minutes before removing the tape. You'll be left with this design, which is actually pretty cool.
Step Five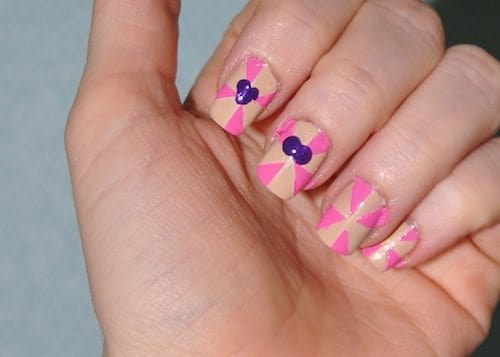 To create the hearts, I used the back end of a paintbrush to create two small dots. You can also use a straight pin, bobby pin or dotting tool.
Step Six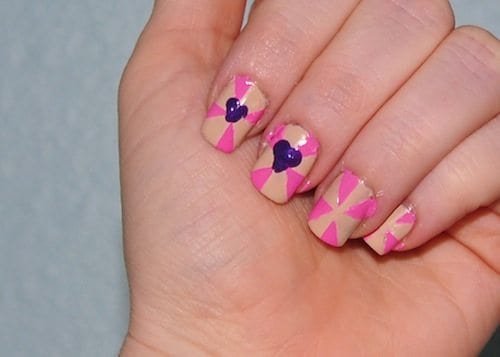 Create a V-shape underneath the two dots and fill in the center.
Step Seven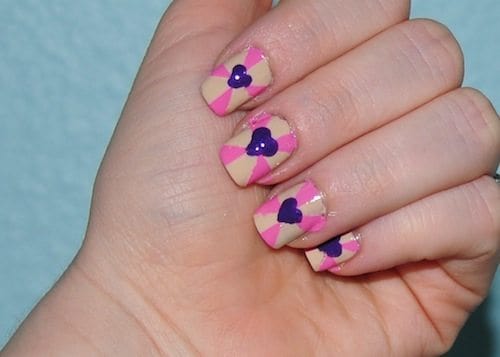 Wait for the hearts to dry and then apply a topcoat to seal in your design. Use a cotton swab dipped in nail polish remover to clean up the cuticles.