Lynn Yaeger is one of my favorite fashion writers and it was such a pleasure to interview her. Here's a replay of our conversation.
Interview With Lynn Yaeger
We could not think of a better way to kick off our new View section, than to interview one of the funniest fashion writers in the business, Lynn Yaeger. Her amusing and insightful rantings about fashion and shopping can read in her column "Elements of Style" on a bi-weekly basis online and in print in the New York newspaper, The Village Voice.
She also contributes to Vogue and Travel and Leisure Magazine (we are hoping that she does an expose on society ladies being forced to carry fake Hermes because of the horrible New York economy). She is the writer for the "thinking shopper," someone who likes a text with their editorials.
What is your full name?
Lynn Yaeger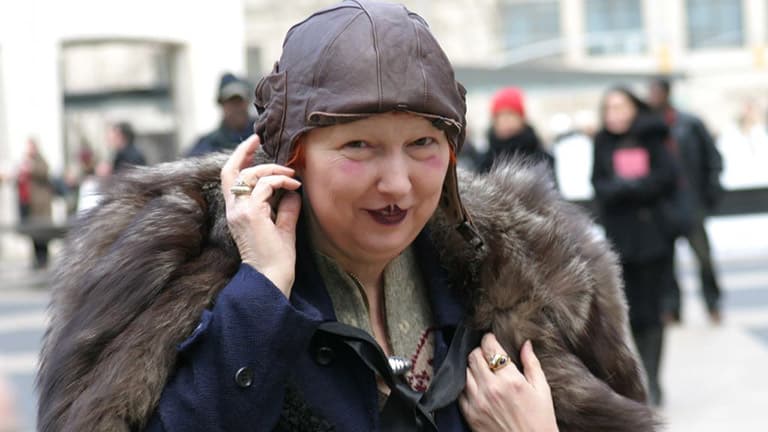 How old are you (or how old do you feel)?
Are you kidding? No comment.
Occupation
Fashion writer/editor
Place of Birth
New York City
Current Home
The (Greenwich) Village
Celebrity Fashion Twin (a celebrity whose fashion sense is most similar to your own)
Isabella Blow/Miuccia Prada
How did "Elements of Style" begin? Do you have a background as a fashion writer?
Not really. Like the best things, I sort of just fell into it, though I have always been completely obsessed with fashion. I tried studying political economy once but ended up making lists of clothes in the back of my notebooks.
Where you draw inspiration for your articles?
I'm a compulsive shopper.
You are our fashion column hero. Have you ever written a book? And if not, why?
No, but I'm a contributor to Travel and Leisure and I've been writing a lot for Vogue.
What are five things people SHOULD NOT wear this spring/summer?
I think people should wear whatever they like!
As a fashion writer for the hippest newspaper in NYC, do you have designers and retailers clawing at your door for a press mention? Do they ever send you free stuff?
I wish they were clamoring. I'm still not invited to a lot of A-list shows. As for free stuff, newspapers — us and the Times anyway — don't allow you to take it. We have to pay for everything, which certainly keeps us in touch with our readers.
What are five things a tourist should know BEFORE coming to New York to shop?
We have the best stores.
Don't be intimidated, but do dress up a little for Madison Avenue.
Bring cash to the flea market.
Come in January and/or July to find great sales.
Don't forget slightly off the beaten path shops like the ones on the Lower East Side.
Has New York lost some of its "fashion flavor," now that Gaps and Banana Republics seem to be on every corner?
Oh, I don't know. Maybe a little, but there are still so many great shops.
Do you go to sample sales? If yes, tell a little about your last experience. If no, explain why.
Oh, sample sales! I try to avoid them, as I have bought some real doggies over the years. I am big buyer-and-returner (in some cases, I have actually bought and returned the same thing twice) and I hate to have that option closed off.
What is your take on the whole t-shirt frenzy. Is it just me or does it seem like EVERYONE is starting a t-shirt company?
I actually think t-shirts look good on people only very rarely.
In a recent article, you stated, "Believe it or not, Prada even sells its own version of the deconstructed Chanel jacket, in gray tweed and with the requisite frayed cuffs. Everything is relative: At $1,295, it's less than half the cost of the Chanel original." Do you think there is a trend toward high-end designers, such as Prada, knocking off higher-end designers, such as Chanel, on a regular basis? If this is the case, do you think it is fair for Prada to then get angry with manufacturers selling Prada knock-offs, when they knock off as well?
I actually think everyone knocks off everyone. There are no new ideas in fashion. As for getting angry about fakes, the time to worry is when no one knocks off your bag. You should be enormously flattered that people want it, and if you can't make it affordable (I mean, it's a nylon sack) what do you expect?

What is the one piece of clothing you cannot live without?
This season, my pink lace Dries skirt.
You have $50 and 30 minutes to shop. Where do you go and what do you buy?
Canal Street for a fabulous fake.
If you could give one fashion public service announcement statement regarding a fashion no-no what would it be?
There are no no-nos!
A family member gives you a Louis Vuitton Bag, which turns out to be a fake. Do you carry it, give it away or trash it?
If it's cute, I'll carry it!
What is your number one fashion secret?
Be yourself! Ignore all the rules!
Quick Questions
Walmart or Target?
Target, because Walmart is unfair to its workers. Though I suspect Target is no picnic either.
Kate Spade or Prada?
Prada.
Martha or Oprah?
Oprah.
New York or London?
Love them both, but NYC is home.
Saks or Barneys?
How can you choose between two children?