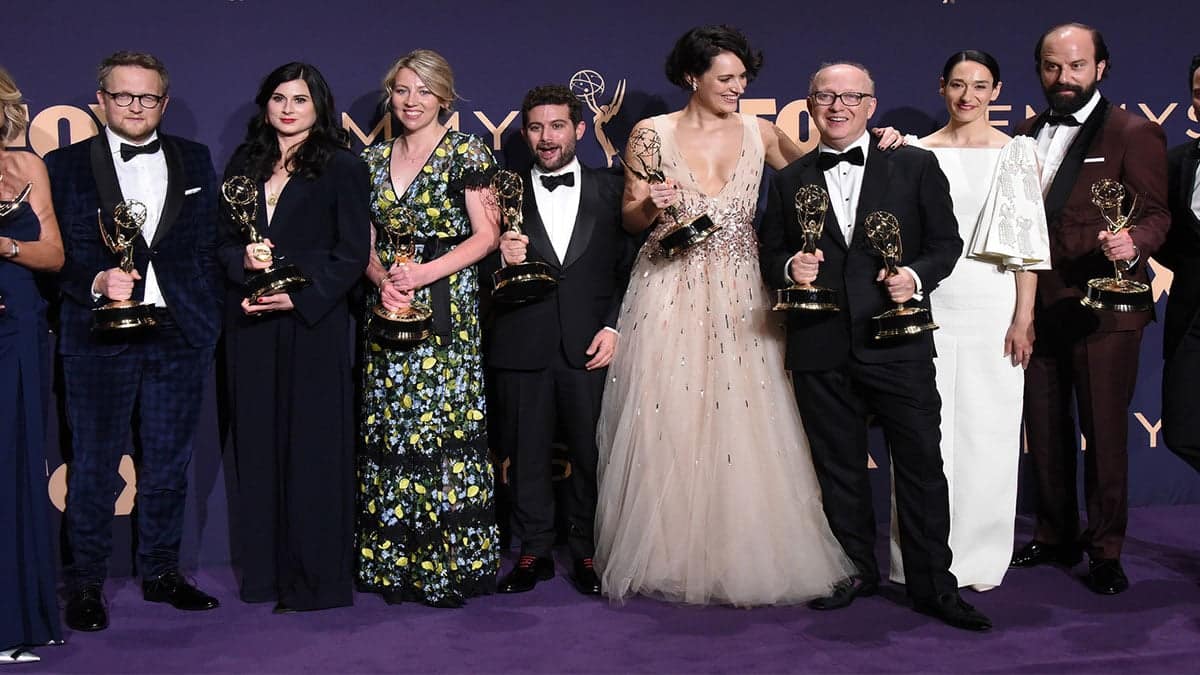 This post may contain affiliate links, which means I earn a small commission if you click and buy something (at no cost to you). See our privacy policy.
This year's Emmy Awards are in the books, but people are still raving about the beautiful dresses that took over the purple carpet. Sure, there were the usual Emmys fashion fails in the mix—but it's hard to focus on those when there were so many inspiring, show-stopping looks. Here are a few of the best.
The Best of 2019 Emmys Fashion
Naomi Watts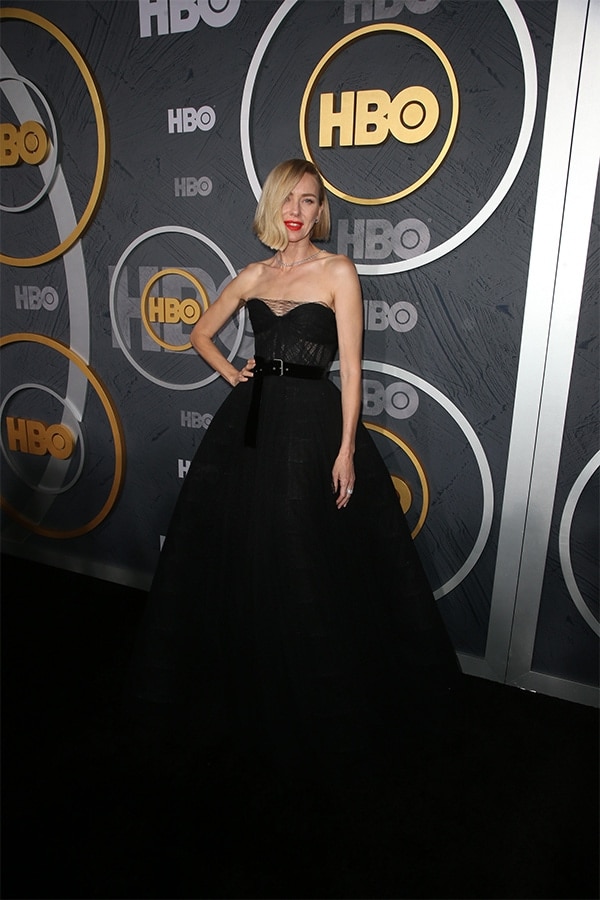 In her riveting black ball gown from Dior Haute Couture, Naomi Watts looked every bit the old-world Hollywood screen siren. It was a modern take on vintage, complete with a sultry sheer bodice that balanced out the full skirt and the eye-catching velvet belt. Her exquisite bob and pop of red lipstick completed the look perfectly.
Phoebe Waller-Bridge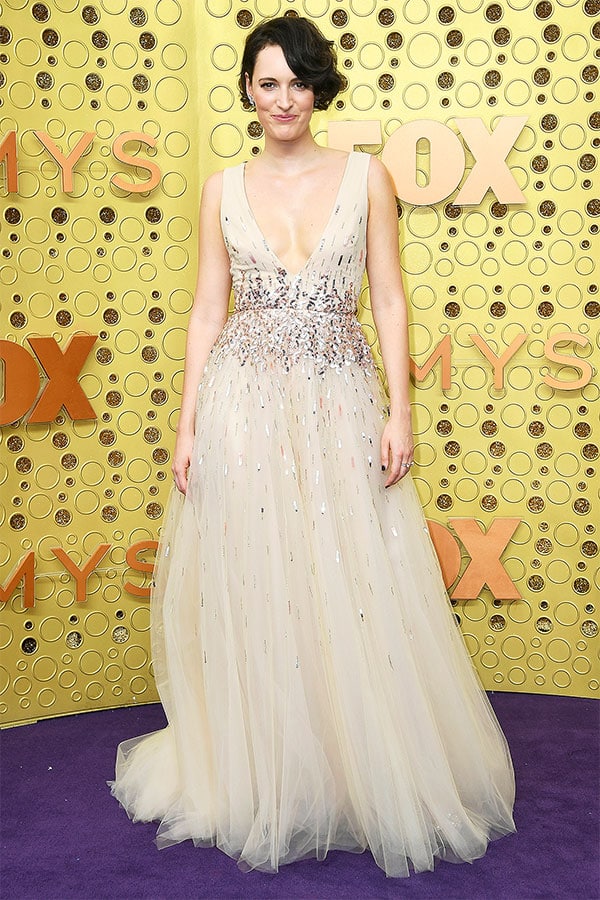 Exaltation over her incredible win for "Fleabag" aside, we're also celebrating the amazingness of Phoebe Waller-Bridge in her ethereal Monique Lhuillier. With its plunging V-neckline and dazzling array of disco-style glitz throwing a little party in the center, the gown is as much a winner as the extraordinary writer and actress herself.
Julia Louis-Dreyfus
The morning after the 2017 Emmy Awards, Julia Louis-Dreyfus learned she had breast cancer. It was the beginning of a long journey, which reached an important milestone when she announced she was cancer-free in October 2018.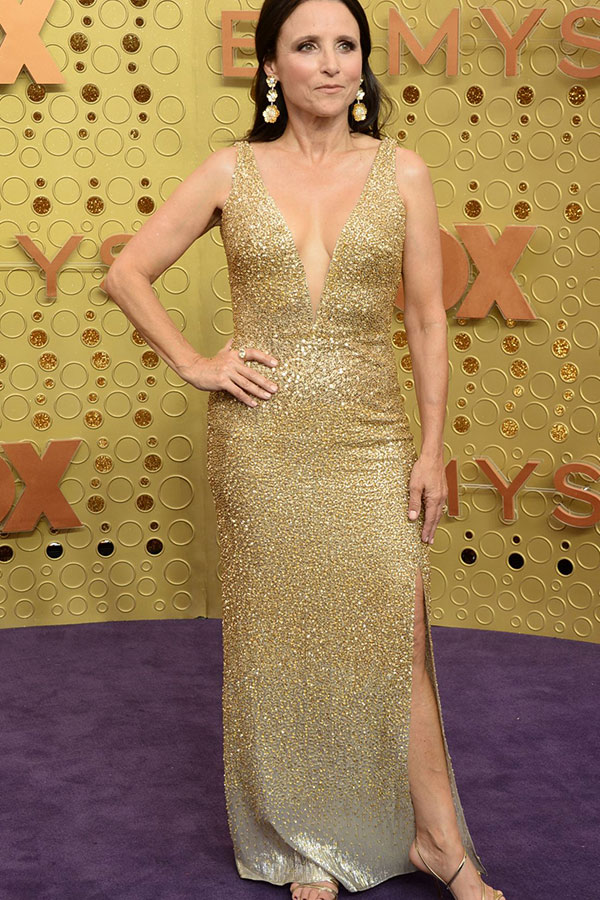 Since then, it's been a whirlwind—filming the final season of "Veep" and ultimately receiving a nomination for her role as Selina Meyer. Her purple-carpet return found her in a spectacular gold Oscar de la Renta gown befitting of a true survivor in every sense of the word.
Patricia Clarkson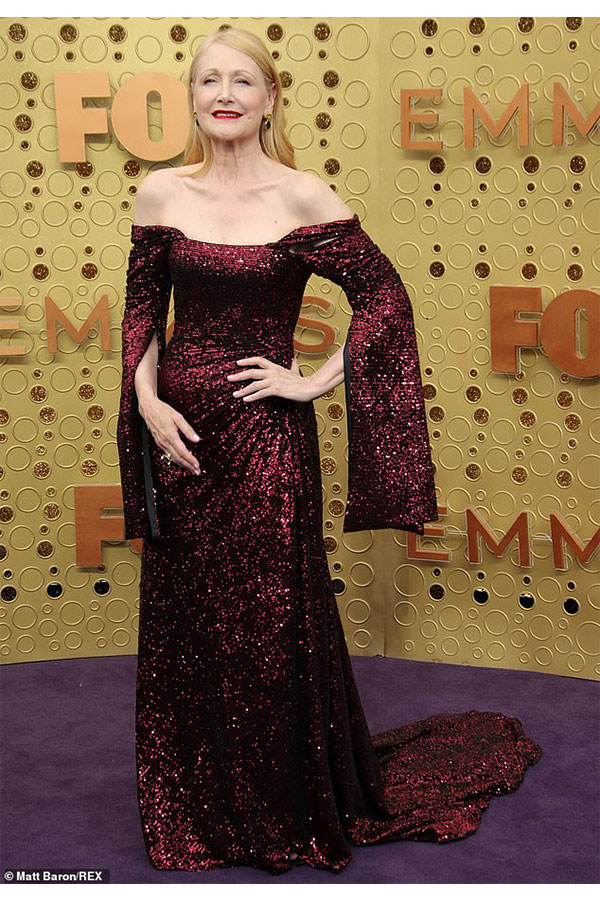 A dazzling burgundy gown awash in gleaming sparkles transformed Patricia Clarkson into an absolute scene stealer. There's no better way to describe the visionary piece, custom designed by Christian Siriano. Featuring a deep, cascading neckline, it was disarmingly sexy—an absolute vision of dramatic glamour just in time for fall.
Mandy Moore
Mandy Moore was one of many actresses who took to the purple carpet in a pink and red gown. It was this surprising color combo that emerged as the night's biggest trend—and maybe one of the easiest to wear, if you take your cue from the way so many rocked it with such success on Emmy night.
Moore's custom Brandon Maxwell gown was a study in serious glam, with its strategically puffed sleeves, hyper-plunged neckline, and deep slit. It's a fearless, phenomenal piece that stole the show.