This post may contain affiliate links. See our privacy policy.
Cupid's favorite holiday is on the horizon and last month's award show glamour has us feeling inspired. Most of us can't all roll out the red carpet or don a designer gown for V-Day, but we can take a few cues for our own special plans. Because if there's any night to feel like a princess, it's February 14th. With a little help from Hollywood's biggest stars, you can dress the part.
So many of the beautiful SAG, Golden Globe and Grammy Awards outfits sent us swooning, with unintentional nods to St. Valentine. Pulling from the holiday's signature palette and adding a few dreamy surprise details, we've found V-Day dupes for your favorite red carpet looks — all on a budget that leaves you with heart eyes. From sultry accessories to charming tea-length frocks and festive tops, these picks borrow from the best of awards season to give you your own star moment.
Red Carpet Style — 5 Looks to Copy
1. Romantic and Rosy
Bring the bouquet to life this year with a frock full of embroidered blooms inspired by one of the greats, Valentino. A blush base gets traditional pops of pink and red for a sweet twist on traditional Valentine's get-ups.
2. Moulin Rouge
Go all out Day of Love and show off some assets with a structural silhouette in a hot hue. Look for pleating and tucking details in a dress or blouse for a flirty look on your evening out and undoubtedly, painting the town red.
3. Victorian Vamp
Few outfits bring the heat like a lingerie-inspired ensemble. Take cues for Heidi Klum and work in some black lace or sheer Swiss dots for a peek of what's to come.
4. Ultra Violet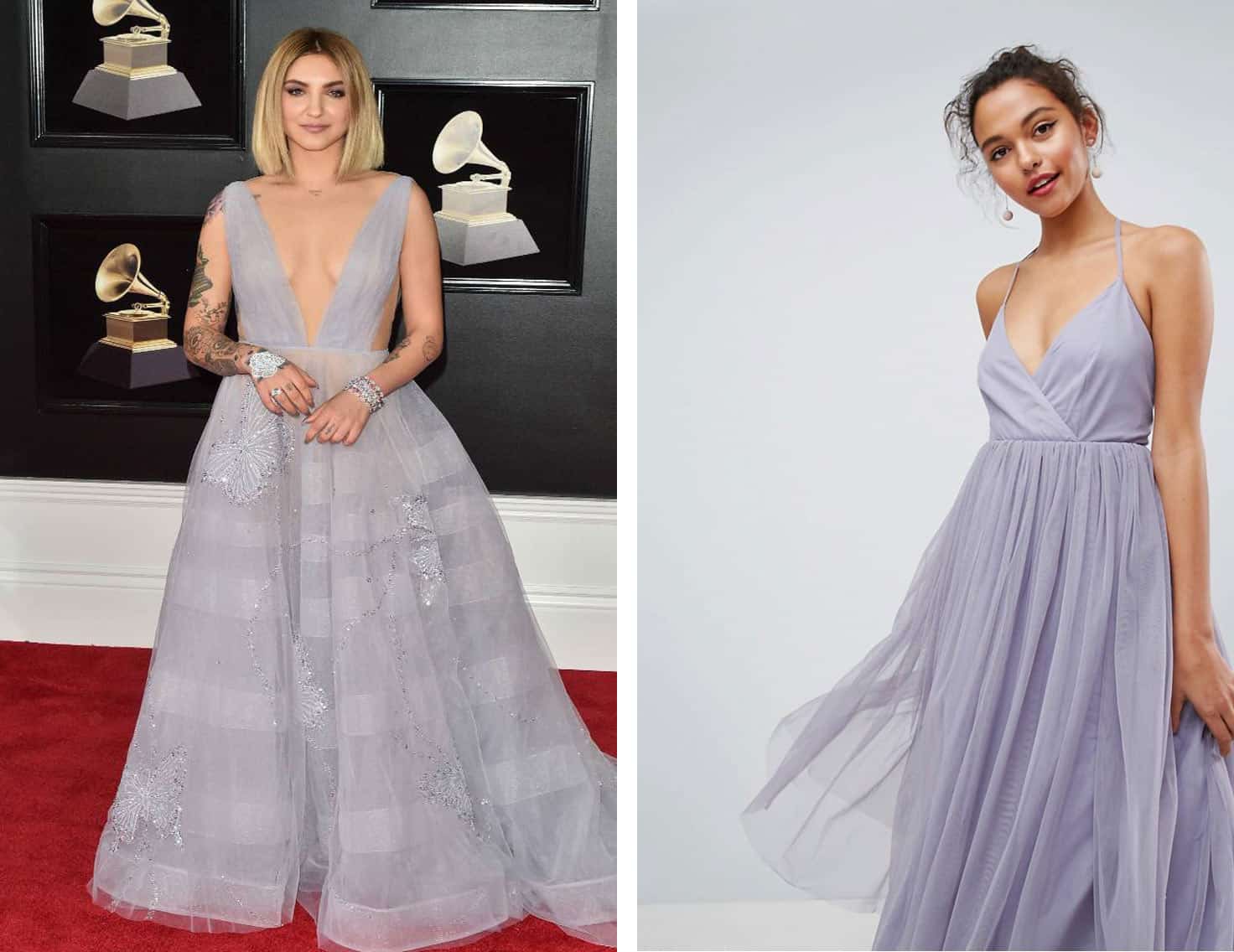 Purple may not be the first color that comes to mind for V-Day, but conversation hearts rock the violet and you can, too. Aim for the shade in an airy, ethereal fabric to channel your inner angel.
5. Evening Poppy
For a gothic twist on typical florals, look for stark contrast between your base shade and a bright red embellishment. This decorative poppy print is just the right amount of daring to pair with your favorite trouser and pump.
If you liked this post about red carpet style, you'll also like these: