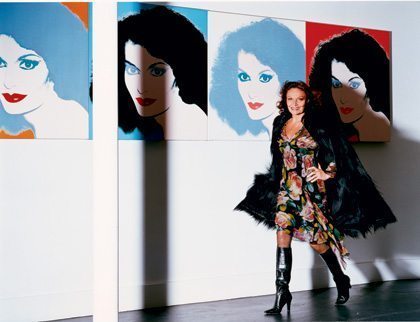 In the history of American fashion there have been many fascinating, influential, talented women who innovate and create amazing fashions. Here at Budget Fashionista we'd like to highlight just a few of them for National Women's History Month. We've come a long way, baby!
Diane Von Furstenburg: TBF's Woman of the Week for National Women's History Month
One such woman is Diane Von Furstenburg – a name known to the general public, even if we don't know WHY we know it. The origins of her fame are in the 1970's wrap dress she invented that invaded fashion in a triumphant manner and never left. Diane made, with one bold stroke, a permanent change in fashion: case in point, she designed one of the covers for the behemoth book: Fashion A-Z, an overview of the archives of the Museum at the Fashion Institute of Technology.
Here she is on the cover of Newsweek wearing one of her unique dresses, with the cover: Rags And Riches Newsweek called her the most marketable woman in fashion since Coco Chanel…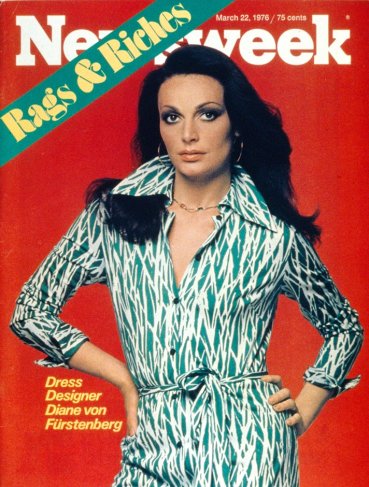 These wrap dressed filled a gap in the market; there were no dresses versatile enough to wear to work during the day and then cocktails and dancing at night. The wrap dress was a morning to night, easy to wear dress, in addition to being flattering to most body types.
A simple cotton dress in any number of patterns, soon every type of American woman was wearing one. It's unwrinkled jersey material made it a perfect travel companion and the ease of its design invited you to pull it off the top your head- two points of sale right in line with the women's sexual liberation movement. If a dress has ever been the symbol of a movement, the wrap dress is it.
Here, a description of the original pattern from an Etsy shop—
On the top flap ~ "Diane Von Furstenberg said "Feel like a woman …. wear a dress!" Then she proceeded to design the kind of wonderfully wearable dresses that make you want to wear her dresses night and day!" "Front wrapped dress, three inches (7.5cm) below mid-knee or evening length, with skirt gathered to fitted bodice, has neckline bands, attached tie ends and pockets in side seams. Sleeveless or short sleeves, with mock sleeve band."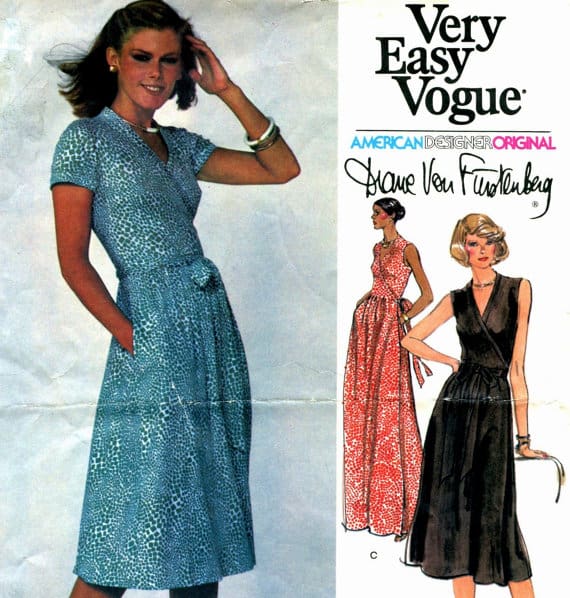 Mrs. Von Furstenburg was the daughter of a Holocaust survivor who nevertheless was raised in privilege and famously married at 20 to Prince Egon von Furstenberg, becoming a princess and an American society darling, known for her striking good looks and chic sense of style. Not happy with simply being a Princess and the mother of the two children soon produced, Mrs. Von Furstenburg began exploring her interest in fashion design. She apprenticed with an Italian knitting and design company and then created her own first collection, backed by a loan of $30,000 from her father. The iconic wrap dress was a product of this collection, and immediately took off in popularity.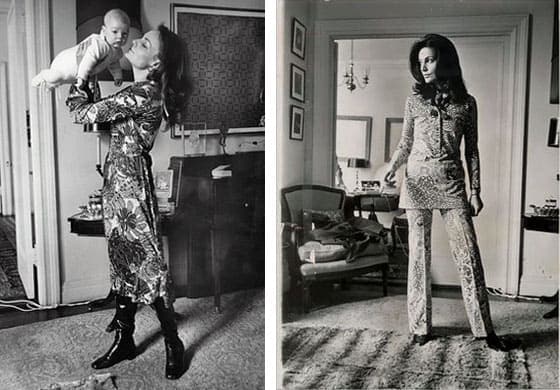 By 1976, the designer's company was producing over 20,000 of these wrap dresses.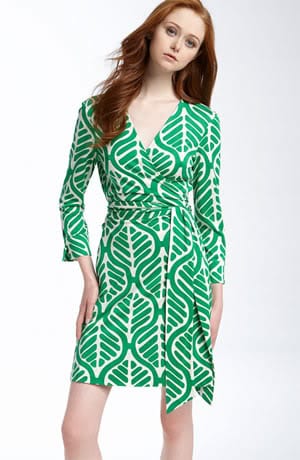 By the late 70's, the market had become oversatured with the dress, and demand stalled to an alarming degree. During these years, Diane had also made a well known black sweater called The Angela, named after the black activist Angela Davis that we profiled here in last month's feature on black women who have made a lasting impact on fashion.
In the 1980's it could have been thought that Mrs. Von Furstenburg's career in fashion was over. At this point divorced, she moved to Europe and started the French language publishing house 'Salvy'. She also fought an intense personal battle with the discovery of mouth cancer. After successful treatment, in the late 80's she began working with the QVC, online shopping network, and sold products under the name 'Silk Assets'. In the wake of this success, she moved back to the States.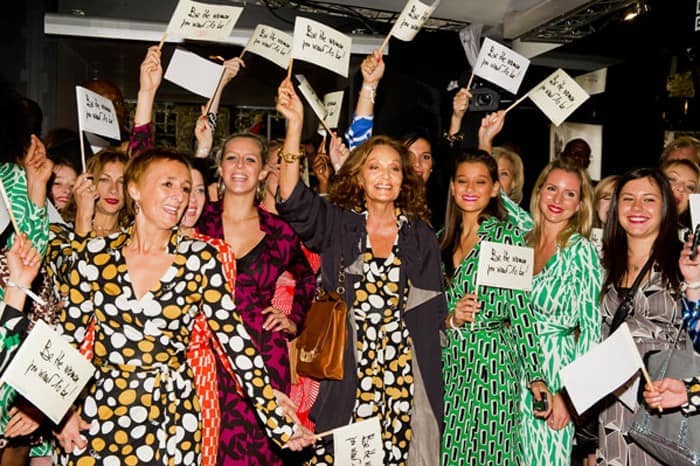 Her arrival home to the US in 1990 coincided with a renewed interest in the wrap dress- Mrs. Von Furstenburg noticed it being worn on all ages of women who had inherited from family or picked one out a a vintage store. Deciding the time was right, she relaunched the dress, and her brand under DVF . The dress began to sell and again was on the lips of the fashion world. Photographed on movie stars, thin women, curvy women, rich women, poor women- the dress remains a symbol for women's power.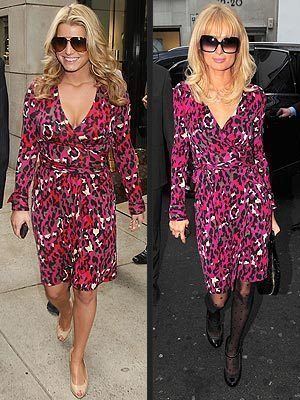 It was not with the initial success of the wrap dress that Diane Von Furstenburg became a fashion icon, but instead with her persistence, ingenuity, hard work and reemergence into the fashion world after failing to keep her initial success afloat- it was then, in the years after the dress failed to sustain her company, and in the refusal to give up, that she earned her place in fashion history.
As she says herself: "I have yet to meet a woman who is not strong, and if I have any role in fashion, it is to help women express that strength."