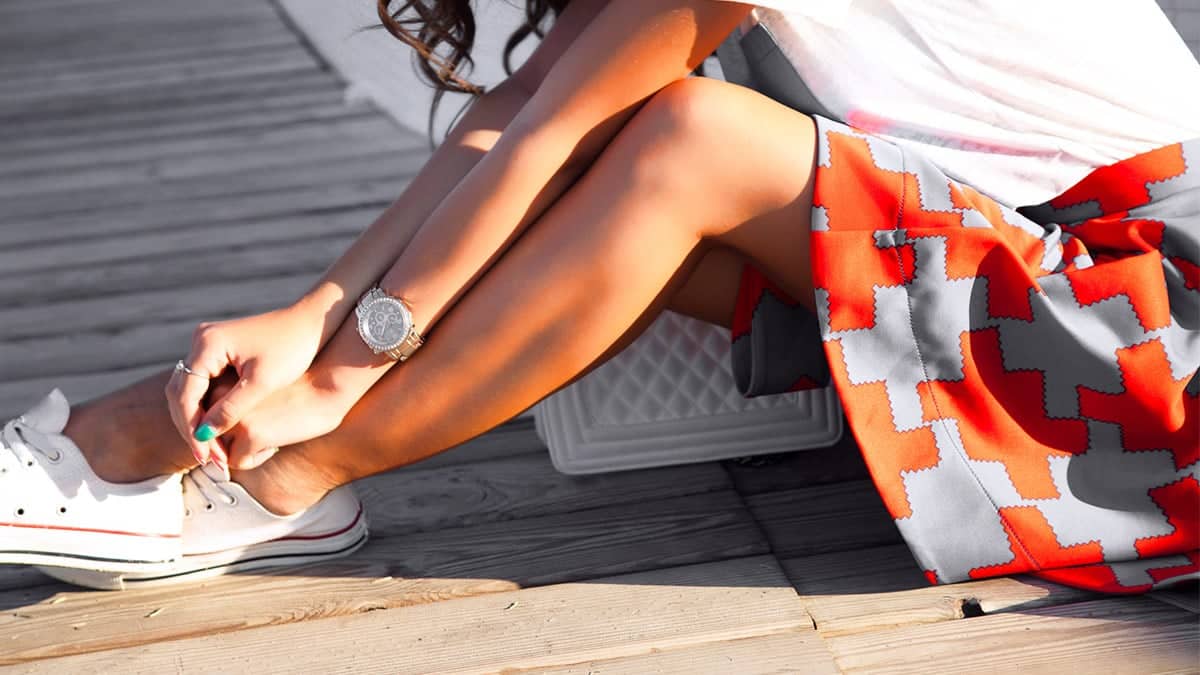 This post may contain affiliate links, which means I earn a small commission if you click and buy something (at no cost to you). See our privacy policy.
Mixing and matching clothes is a job some women find hard to master. Maybe you don't have the time, energy or brainpower to spare. Or you're too busy solving life's bigger problems. Either way, it doesn't mean you have to sacrifice on style.
All you really need is a few go-to casual outfit ideas that are easy to implement. Just like cooking, it's simple to spice things up once you have a guide or an inspiration to follow. So here's your mix-n-match starter kit: seven no-fail casual outfit ideas.
7 No-fail Casual Outfit Ideas
1. White tee with midi skirt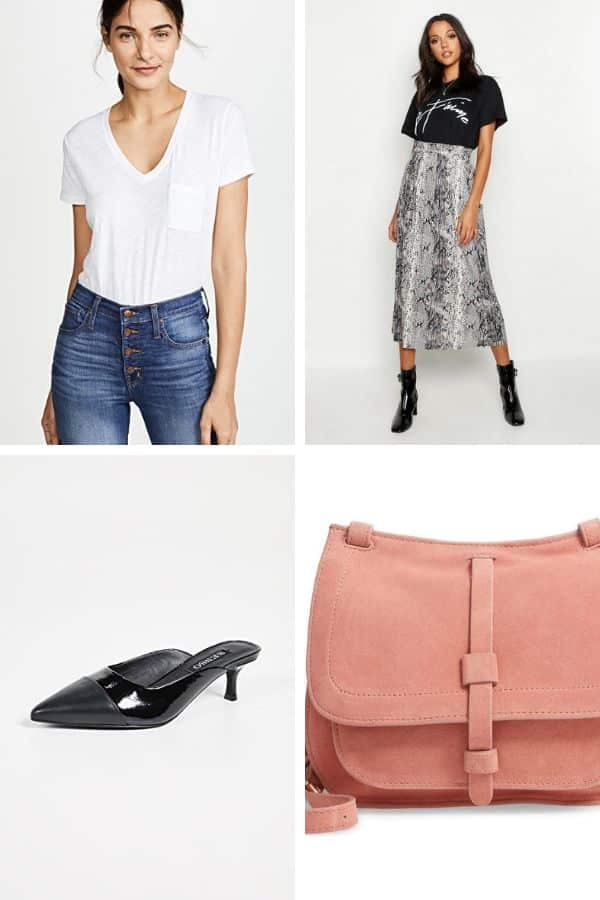 Tees, especially the white ones, may look very casual and plain on the hanger — but they're incredibly versatile. You can easily pair a white tee with any color, print or pattern, and with trendy and unique clothing staples. A simple tee can anchor a fabulously chic casual outfit.
Outfit ingredients
White tee
Animal print midi skirt
Patent-leather mules
Saddle bag
Directions
You can't fail with a fun animal print midi, teamed with a simple white tee. Tuck the top into your skirt, loose enough so you can move your arms around, but tight enough to show off your waist.
As with any casual outfit, comfortable shoes work best. Try patent-leather mules for the perfect blend of style and comfort. Then finish off the ensemble with a denim saddle bag.
Wear this outfit and your friends will start wondering who your personal shopper is.
2. Button-down shirt with jeans
Outfit ingredients
Oversized white cotton shirt
High-waist, cropped, straight-leg jeans
Saddle bag
Toe pumps
Directions
Put on your loose or oversized button-down shirt and tuck it in your straight jeans. When it gets cold, you can tie a beige sweater over your shoulders. Finish things off with a saddle bag and classic, low-heel toe pumps.
3. Prints charming
Outfit ingredients
Neutral top
Patterned skirt with tie-waist
Black ballet flats
Directions
Team a neutral color top with your patterned skirt. A shorter top works well here, so you can show off your waist and the skirt's built-in belt. Anchor the outfit with comfy black flats.
4. Three staples + one statement piece
Your staples
Button-downs
Blouses
Dark denim jeans
Knee-length pencil skirts
Ankle boots
Block heels
Your statement pieces
Necklaces
Scarves
Flashy hair clip
Directions
The rule is simple here: just pick three staples and one statement piece to make an outfit. This recipe is perfect to use on repeat for the office. Just make sure you have work-friendly clothing staples and an assortment of chic accessories on hand.
5. Three classics + one trendy
The fashion gods are fickle. Anything can go out of style in a blink of an eye and then, suddenly, your wardrobe is last year's news. But you don't have to stay away from the trends entirely — just don't spend too much on them. Try shopping fast-fashion stores like H&M and focusing on less expensive accessories.
Your classics
Dark-wash jeans
Pencil skirt
Trench coat
White tee shirt
Black pumps
Blazer
Button-up blouse
Your trendy pieces
Sheer duster
Animal print cardigan
Faux-fleece jacket
Boxy-tie front shirt
Long-sleeved bodysuit
Maxi dress
High-waisted trousers
Button-up skirt
Cut-out sandals
Slip-on animal print sneakers
Directions
Choose 3 classic clothing pieces and pick a trendy one to go with your overall outfit. Easy, right?
6. Bold and beautiful
Outfit ingredients
Solid-colored top
Patterned skirt
Sling-back heels
Directions
This no-fail outfit is casual with a touch of glam. Pair a solid-colored top with a patterned skirt. Finish things off elegantly with sling-back heels and you're ready to go.
7. Sweater with beads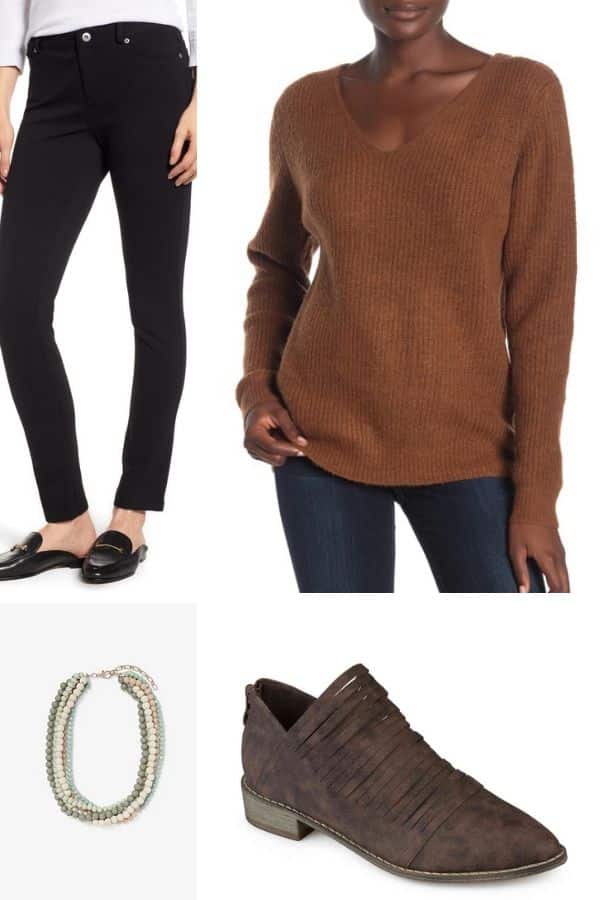 Outfit Ingredients
Sweater with a wide neckline
Skinny trousers
Flat ankle boots
Beaded necklace and other jewelry
Directions
Start out with your wide-neck sweater and layer a chunky, beaded necklace over the top. Complete your trendy casual look with skinny trousers and flat ankle boots. Add earrings and a bracelet too if you're feeling flashy.
These casual outfit ideas work for women of all ages, and can easily be adapted to use for work. Give them a shot and let us know how it goes!