Since I was a wee child, I've had a fixation with miniature-sized things. I would spend hours playing with wee-sized fruits and furniture and animals stuffed into dollhouses, and you can bet your bottom dollar I had a Polly Pocket. A doll that fits in your pocket? Yes, please.

This adoration for all things itsy-bitsy prevailed through my teenage years and into adulthood. And while I still own way too many toys for a 26-year-old woman with no children, my main interests have transitioned from Polly Pocket to beauty products. I can confidently sit here and type to you that I am the proud owner of box after box of little perfume vials; packets of lotion, eye cream and shampoo; tiny lip glosses and bottles of hairspray; and wee tubs of body scrub and tinted SPF. Don't judge me, but I get kind of obsessive about them; reorganizing and sifting through my collection brings me great joy.
With embarrassing confessions out in the open, let me tell you about just how much merriment I derive from the droves of beauty box subscriptions available on the market. Today I'm reviewing Beautyfix, a lesser-known program that, up until now, I've kept as my own little secret. Here's the 411:
Beautyfix Beauty Box Review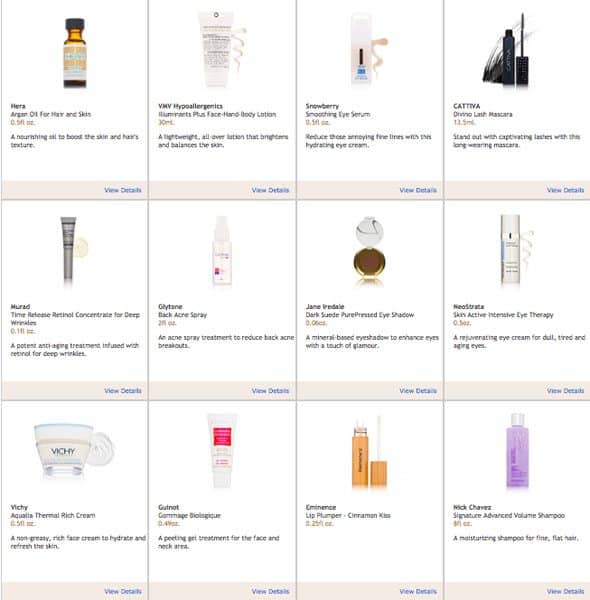 What is Beautyfix? Beautyfix is a beauty box program. However, unlike programs such as TestTube or Birchbox, you actually choose from a large list of products instead of being surprised when the box shows up at your door. While surprises are nice, there's a lot of disappointment associated with some beauty box programs, since some people cannot (or do not want to) use some of the products they receive.
What's the Cost? At $49.99 per box, Beautyfix is more expensive than other beauty box programs. With that said, you receive the box quarterly instead of monthly and many of the products you receive are deluxe or full-sized. You receive eight products with every box. They also throw in some freebies with every order (there's your element of surprise).
What Kinds of Things Can I get? Beautyfix is all beauty-centered. Items to choose from include body oils, lotions, serums, cosmetics, nail polish, hair spray, deep conditioners, perfume, brushes, etc.
How Big are the Products? Some products are truly sample-sized, while others are deluxe or even full-sized. For example, for the past year, I've received a full size of Jonathan hair spray and anti-frizz serum in every one of my orders. The cost of those two products is almost $49.99 alone (and I get to choose an additional six on top of them). I've done the math on several occasions and have received over $250 worth of products for the $49.99 price. You can look at the sizes of the products when putting your box together if you want to make sure you're getting more than your money's worth.
What are Some Perks? There are lots of perks with Beautyfix, making it an appealing choice for beauty gurus who want to try new, high-end products for a fraction of the price. Here are just a few: free shipping; you choose your own products; when you review items you've received on the Web site you can earn gift certificates to use at Dermstore.com; free vanity/makeup case with every box; and full-sized, high-quality products make it more than worth the price you pay.
If you want to check it out, visit Beautyfix.com and poke around. Bonus: Use the coupon code BF20BLOG to get $20 off your first order. Brilliant!