This content may contain affiliate links. Please see our disclosures for more information.
What to Wear to a Fall Wedding: Dressing Tips
Dress for the Time and Place
Aside from color, time and place are the two most important things to consider when attending a fall wedding. Is the wedding taking place on a farm? In a ballroom? On a vineyard? If the wedding is taking place outdoors, bring a shawl or scarf to keep warm.
You might also want to remember things like bug spray in case you spend the entire wedding outdoors. For an afternoon fall wedding, you can absolutely wear a dressy sundress. Evening weddings require more dressing up, so choose a tasteful cocktail dress or a suit. Another thing to consider is that the weather may get cooler as you move from the ceremony to the reception site, so plan accordingly. Ultimately, use the clues on the invitation to help you determine the time and place of the wedding, which in turn will tell you how dressy your outfit should be.
DAY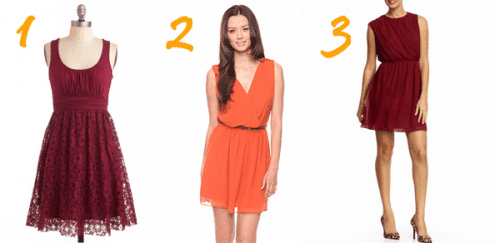 1.  Rasberry Iced Tea Dress, ModCloth, $47.99
2. Surplice Neckline Dress , Forever 21, $24.80
3. Theme Cocktail Dress, Piperlime, $69.00
EVENING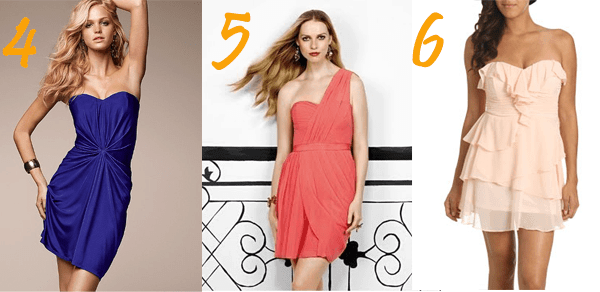 4.  Strapless Dress, $78.00
5. One Shoulder Dress, Jessica Simpson, $44.80
6. Chiffon Ruffle Tube Dress, Arden B., $59.00