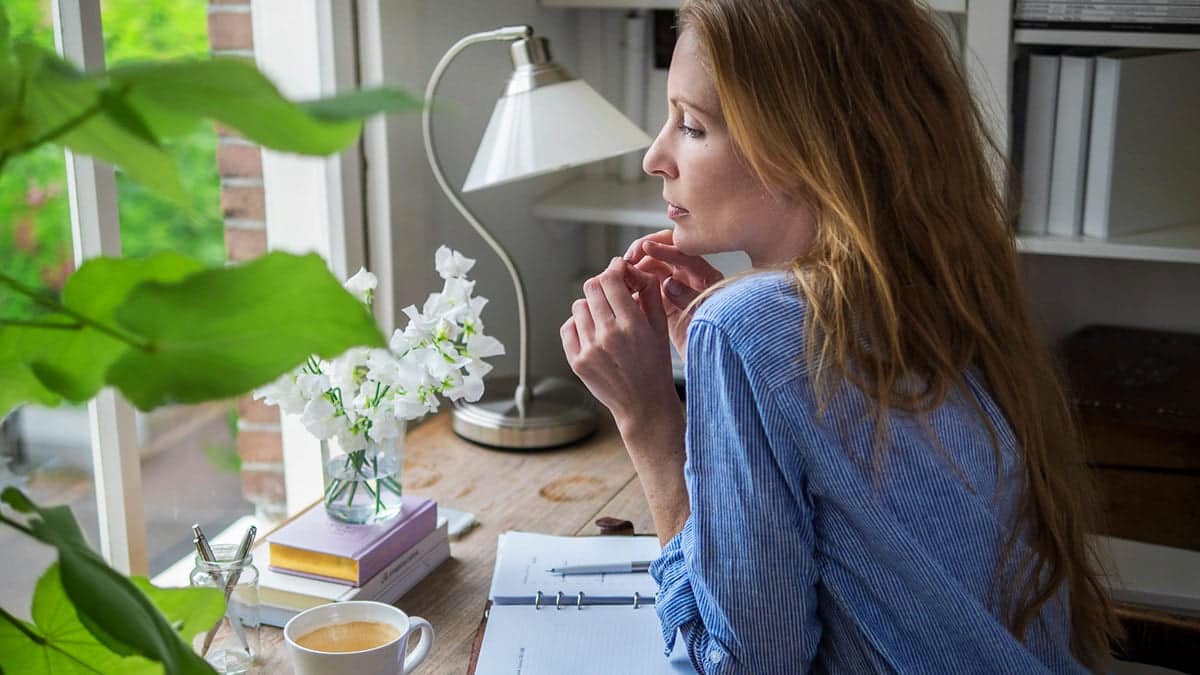 This post may contain affiliate links, which means I earn a small commission if you click and buy something (at no cost to you). See our privacy policy.
If you're proudly living that pajama life right now, well…we can't really blame you. Life generally is crazy at the moment, so you can't be blamed for going the hyper-relaxed route while you can. Of course, some women's pajamas are more appropriate for daytime wear than others – especially if there's the occasional video meeting on the agenda.
The solution? A pair of PJs that's perfectly comfortable for wearing to bed, but equally suitable to wear while you're checking items off your lengthy to-do list. Here are a few styles that are equal parts comfortable, cozy, and chic.
Women's Pajamas that Look Like Real Clothes
1. The sleek sleep shirt
There's always an argument to be made for the traditional nightgown. As far as women's pajamas go, they're soft and warm and wintery and perfect for snowy nights. But during the work day, you probably want something that exudes a bit more of a professional vibe – especially with summer just weeks away. And no, that doesn't mean topping your nightgown with a bathrobe.
This Abercrombie & Fitch Long-Sleeve Sleep Henley fits the bill nicely. It's made with the softest material, and offers a romantic touch courtesy of subtle trim along the neckline. Pair with joggers for a comfortable outfit from top to bottom.
2. The ultra soft pajama
If you love the idea of rolling out of bed, preparing your coffee, and getting straight to work, then you need a pair of pajamas that was designed with that type of lifestyle in mind.
These Alfani Supersoft Pajama Pants are ideal. They're plush to the touch and offer a flattering silhouette with a slightly tapered leg. In light blue and gray, they pair well with your favorite lounge tees and look equally great with hoodies and cardigans on cooler days.
3. The seriously cute set
Who knew pajama sets could be this cute? New York & Company definitely had magic in the works when they dreamed up their adorable range of pajama sets, which offer everything from bold madras plaids to playful polka dots.
The Dot-Print Pajama Set is a great example: the pants are stretchy, with an adjustable self-tie at the waist, and the top feels as soft as your favorite bedsheets against the skin. They're perfect for bedtime, but make a great transition to daytime wear, too.
4. The epic lounge jumpsuit
If not now, when? You've thought and thought about wearing a jumpsuit, but haven't yet fully committed to the cause. Now that you're at home, though, it may be a good time to step outside of your comfort zone and experiment with something new.
A great starting point? This Stars Above Perfectly Cozy Lounge Jumpsuit. It's been an IG favorite for a while now, and it's no surprise – the serious stretch factor, coupled with ultra-soft fabric and a versatile color make these Target pajamas the perfect addition to your wardrobe.
Want something a little more indulgent. See our picks for affordable silk pajamas too!