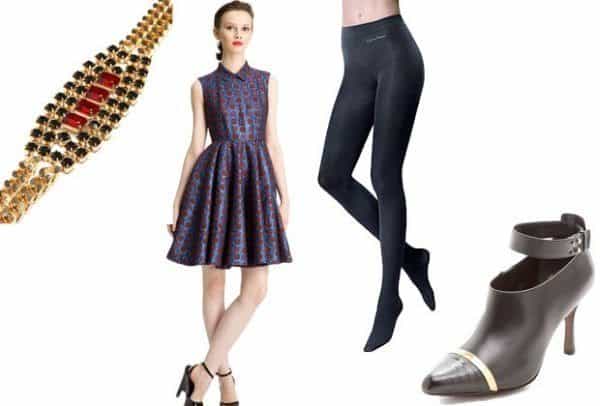 Figuring out what to wear to a winter wedding can be tricky. It's too cold for the strapless and sleeveless dresses you wore to your summer weddings. Yet, you don't want to be too covered up (it's a wedding, not a funeral). We have these answers and more with our quick list of do's and don'ts for your wardrobe to a winter wedding.
When you buy via links on this page, I may earn an affiliate commission. Learn more.
What to Wear to a Winter Wedding
Do…
Accessorize with gloves, scarves, and even a pretty winter hat.
Wear a beautiful coat. While colors other than white are preferred, a white coat is okay in a pinch.
Wear a pantsuit in a winter color like red, blue, or in a pinch, black
Wear tights for warmth and for style.
Wear pumps or flats with closed toes. You don't want your feet to get too cold!
Check with the bride to see what color the bridesmaids are wearing. You don't want to look like you're in the wedding party.
Dance the night away. It will keep you warm and you'll be sure to have a great time.
Don't…
Wear white , even if you look amazing in it.
Wear strappy sandals or open-toe shoes. Even in the south, winter nights can get chilly.
Wear clothes that are too tight or too short. No one likes to be stared at for the wrong reasons.
Wear jeans, khaki pants, etc. If you wear pants, they should be dressy.
Wear anything too showy. Unless it's black-tie, leave a long gown or a sequined dress at home.
What to Wear to a Winter Wedding: Dressing Tips
Dress for the Time and Place
If anything is predictable about winter, it's that it's unpredictable. When planning your outfit for a winter wedding, pay attention to the time and place of the event. Make sure to check the 10-day forecast beforehand to know what you're up against. For an afternoon winter wedding, it's appropriate to wear a dress with a cardigan over it. or nice pants and a dressy top. For an evening winter wedding, cocktail dresses or suits work best with a pretty wool coat and coordinating scarf. Deep blues and rich purples are excellent colors for wearing to a winter wedding, since these colors look amazing in the diffused winter light.
DAY/Afternoon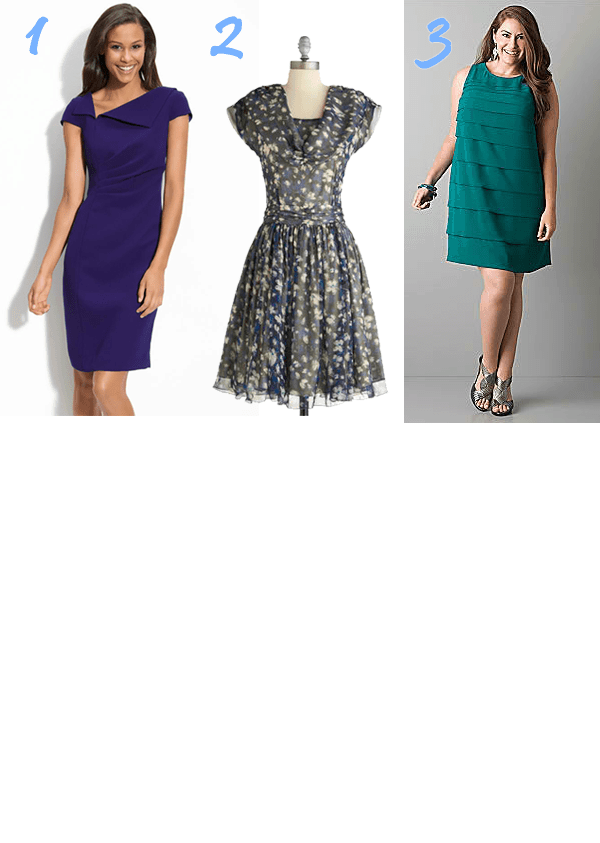 1. Tahari By Arthur Levin Dress, $98.00 at Nordstrom
2. Blooming in Blue Dress, $129.00 at Modcloth
3. Tiered Chiffon Dress, $99 at Lane Bryant
EVENING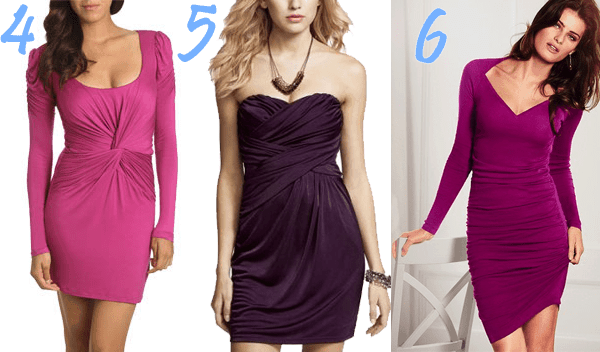 4. Twisted Knot Dress, Arden B., $69.00
5. Rouched Tube Dress, Express, $79.90
6. Sweetheart Sweaterdress, Victoria's Secret, $59.50
Dress to Impress
While the cold weather may inspire you to wear long johns under jeans to a wedding, remember that you are attending someone's special day. So dress appropriately (meaning NO jeans). However, you can opt for a nice pantsuit or a pair of dress slacks (chinos ARE NOT dress slacks) made from a lightweight wool or rayon and a dressy shirt.
Remember the Importance of Color
You've probably heard it a million times, but it's always good to say it again: Don't wear white to a wedding. Just don't (unless it is that type of wedding). The focus should be completely on the bride and groom.
What to Wear to a Winter Wedding: Accessorize
It's all about the accessories when it comes to any wedding, regardless of the season. Accessorize your outfit with a pashmina (which you can find for less than $20 at your local T.J.Maxx or Target) and jewelery in colors that coordinate with your outfit. Closed-toe shoes are a must so that your feet don't freeze. Also, don't forget about trendy tights and a small clutch to hold your necessities like lipstick, cash and powder.
Here's our tips on how to accessorize for a winter wedding.
The Right Shoes
For shoes, scour your closet to see if you already own dressy, neutral pumps. If you don't, purchase closed-toe pumps (not strappy ones) so that you can remain comfortable (and not freezing) both indoors and outdoors. Stick with a basic color like black, so you can wear the shoes again.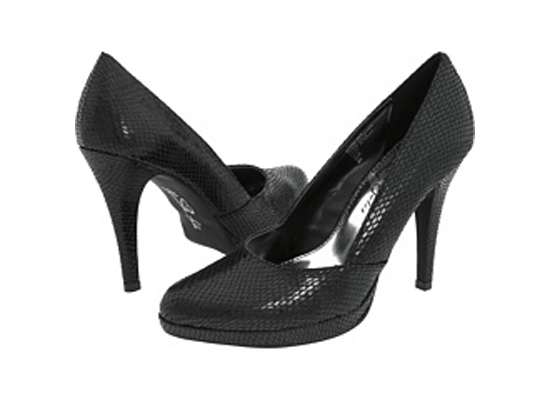 Romantic Soles Emitate, Zappos.com, $34.48
Jewelry: Get Your Bling On
The winter months bring lots of opportunity to sparkle. For an afternoon wedding, go simple and classic with real or faux diamond studs. For an evening wedding, you can absolutely add a bit more bling. Just remember to K.I.S.S (keep it simple stupid) with your jewelry and accessories.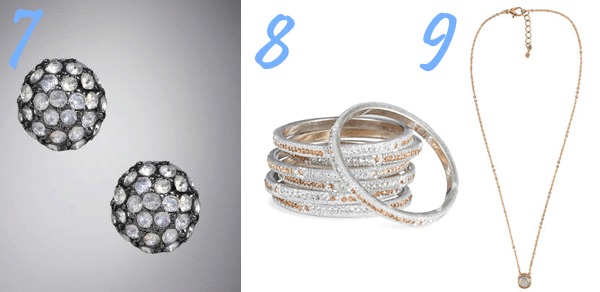 7. Pave Globe Stud Earrings, Express.com, $19.90
8. Natasha Couture Sparkle Bangles (Set of 7), Nordstrom, $48.00
9. Rhinestone Pendant Necklace, Forever 21, $3.80
By following these tips, you'll not only be among the best dressed at a winter wedding but you'll be comfortable and warm, too.