You've heard the news: Inflation recently hit its highest point since the 1980s. That means we're all paying more for food, gas, rent, utilities, and — gasp — clothes.
Clothing inflation hasn't been an issue for all of Budget Fashionista's history, which dates to 2003. But here we are, in 2022, facing a new budget fashion challenge. As we're squeezing pennies out of our monthly budget to stay stylish, we also must account for those pennies buying less and less.
To be specific, the January inflation report from the BLS showed apparel prices increasing 5.3% over the prior year. Across the board, prices rose 7.5%. The big movers were in the energy category, but prices for food and cars also rose significantly.
When you buy via links on this page, I may earn an affiliate commission. Learn more.
A 5% price increase on clothes is significant for anyone. But it might be more painful for those of us who price-shop, hunt for coupons, watch for sales, and strategically earn cashback. We're already doing the budget fashion thing — and now we must find more ways to save?
Sadly, yes, we must find more ways to save. Here are six strategies I'm implementing. Feel free to add more in the comments or drop me a note at cbrock@thebudgetfashionista.com.
1. Create (or revise) your budget
If you don't have a budget, create one. As a starting point, see if you can make the 50/30/20 budget work. Use paper, an app, or a spreadsheet — whatever works — to crunch the numbers.
If you have a budget, modify it to reflect the new reality of higher prices. You'll need to increase your spending allotment for gas, food, clothes, and other items. If there's no room for that, then you must double down on money-saving measures and shopping hacks.
2. Shop quality
Now's the time to buy quality pieces — not $5 tops that fall apart in the first wash. Sorry, Forever 21 and H&M. A $20 top that lasts six times as long as the $5 top is the better deal.
You'll have to use all your budget shopping skills to spend as little as possible on quality pieces, but I have faith in you. Stay glued to the clearance collections and use the remaining four strategies below to stay on budget.
3. Layer your rebates
Play your cards right and you can get three layers of rebates/savings on your clothing purchases:
Cash back from your credit card. I have a no-fee Citi Double Cash card that rebates 1% on purchases plus 1% on payments. For this to work for you, you must pay the balance off every month.
Cash back from Rakuten or Coupert. Depending on the store, these rebates can range from 1% to 8%.
Cash back from your store loyalty program. Loyalty programs that don't require a credit card can rebate 1% to 3%. Some store programs rebate up to 10% if you use their store credit card. Of course, these are only valuable if you use them. This is easiest if you keep your clothing purchases limited to a small number of stores, so you can "save up" those credits for future use.
Let's say you want to buy a $100 outfit from Banana Republic. You could get 2% back from your credit card, 2% back from Rakuten, plus 1% back from Banana Republic rewards. Once you use your Banana Republic rewards, you will have saved 5% — almost enough to offset inflation.
4. Skip the statement pieces
When money's tight, your available cash should go to mix-n-match garments only. Think solid, neutral colors. Wearable basics you can dress up or down. A single top that can play a role in five different outfits (without anyone noticing that you wore the same shirt twice this week). Jeans that'll take you to work and play.
Statement pieces and conversation pieces are less price-efficient because you can't wear them frequently. That amazing patterned dress that everyone notices and compliments? Or the patent lug boots that look so cool with a midi skirt? These pieces are far too memorable to wear all the time.
On the other hand, think about a silky, baby blue t-shirt. No one will notice if you wear that top under a blazer on Tuesday and again with jeans and a pendant necklace on Friday.
The takeaway? Invest in versatile pieces that you can re-wear often. You'll need fewer garments that way and ultimately spend less.
To add pop to your outfits, lean on cheaper items like lip color, nail color, and neck scarves.
5. Shop used
When you get the urge to dive into some retail therapy, shop used. Shopping used instead of new will save you more than enough to combat clothing inflation.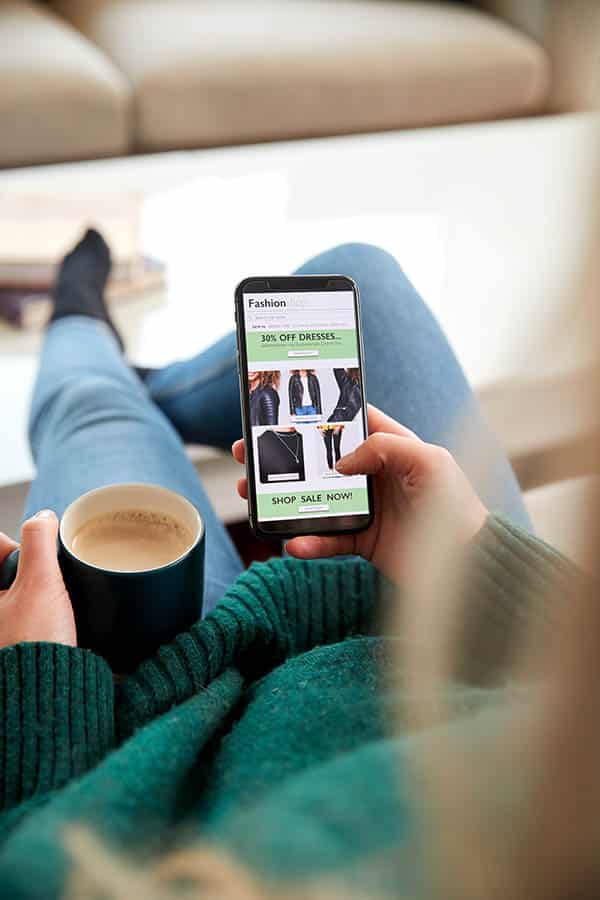 If you don't love thrift store shopping, try shopping used online. Right now, I'm loving Thredup's collection of sweaters under $15. I have my eye on a navy, V-neck Loft sweater that's on sale for $5. You can also find tons of cute spring and summer tops, priced in the $10 to $15 range.
Your best bet is to focus on non-designer brands that you know and trust. That where you get the most value for your shopping dollar. Of course, if you love labels, you can find those too — but the price tag will be much higher.
6. Sell before you buy
Selling your used clothes frees up closet space and creates breathing room in your budget. Granted, you're not going to make big bucks selling old stuff. It's more like that 1% rebate you earn in a loyalty program — only you get the funds after you've worn the clothes.
As an example, I sent four dresses and two tops to Thredup. Labels on those included Express, Loft, and Rock & Republic — so, lower range stuff. My total cash payout from those pieces was $15.91.
I've sold clothes on Poshmark and Thredup. The income potential on Poshmark is higher, but it's more work. I prefer Thredup because I don't have the time or motivation to market my stuff on Poshmark.
With Thredup, you ship your clothes, and they do the rest. It's easy. The big drawback is that it takes forever. You might wait months to hear back on which items they've accepted in your shipment. (Non-accepted items are donated free of charge.)
Combating rising prices on clothes
Clothing inflation is here, but it doesn't have to squash your style. Revamp your budget, keep your clothing spend focused tightly on quality that you'll wear often, and work those rebates. Make habits out of those practices and you'll manage through this inflation cycle as chic as ever.