If you already struggle to decide on the right outfit for a date, winter is not your friend. Somehow you've got to (1) look amazing and stylish, and (2) stay warm. When you're staring at the inside of your own closet, the conundrum feels impossible to solve.
I mean, you'd rather not wear the plump parka layered over fleece pants and boots. That's your grocery store outfit. And you can't suck it up and withstand the cold without cover. That'll be unbearable.
What you can do is get your hands on a few cold-weather basics that will very fabulously complete your outfit. Here's how to handle this sartorial situation.
What to Wear on Winter Dates
1. Be Chic in Sleek Layers
One word should be top-of-mind when you're dressing for any winter occasion: layering. Layering is the only way you stand a chance of looking and feeling comfortable as the wind swirls around you and snowflakes settle onto your hair.
However — and this is a big however — you don't want to layer so much that you look bulky. Seek out pieces that add warmth without the volume.
Start with a pair of fleece-lined footless tights, such as these from Free Press ($9.97). They serve as the perfect starting point for any outfit.
Then add a warm dress that provides substantial coverage, like this plush-knit swing dress from Old Navy ($14).
Finish with a coat or jacket that suits the style of the dress. A form-fitting dress looks great with a cropped length, but you'll want something flowing if you're wearing a longer length.
2. Perfect in Pants
Make the pants the star of the show if you can't imagine stepping out in anything else. You don't have to go all out or step outside of your comfort zone if you aren't used to wearing patterned anything, let alone bottoms.
Try a vivid hue, like these red PrettyLittleThing tailored wide-leg pants ($12.50).
Add a sleek turtleneck sweater with an interesting detail, such as the subtly cut arms on this one from Prologue ($24.99).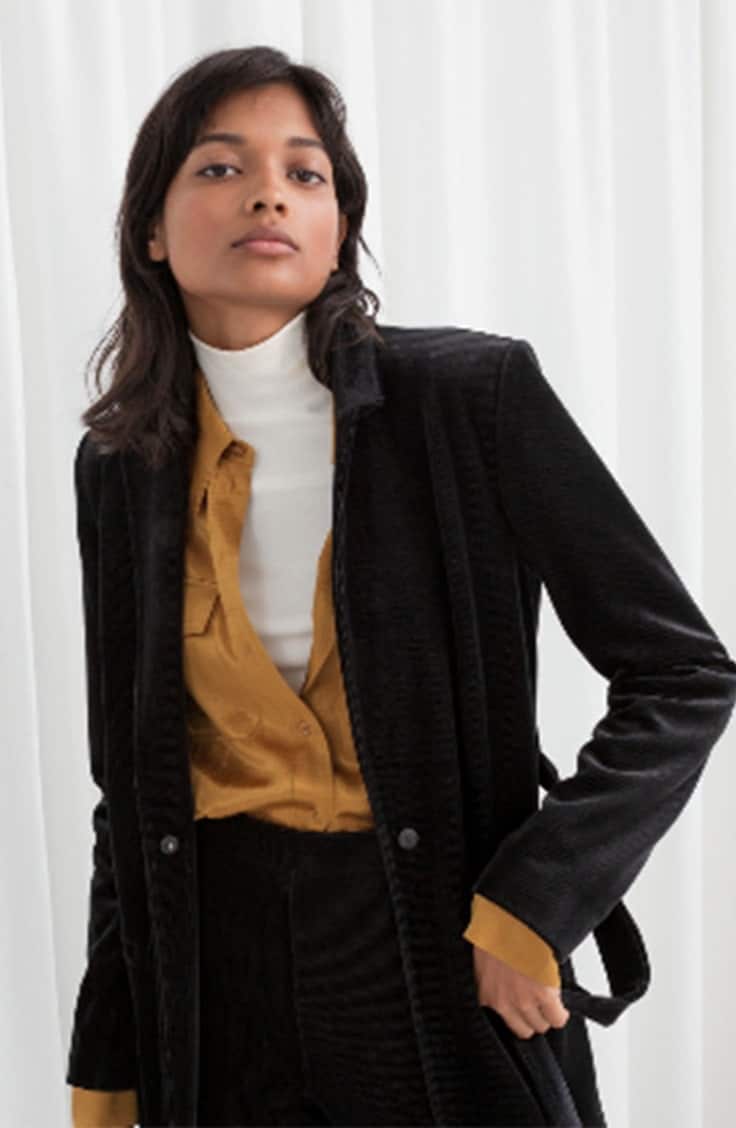 Up your dressy vibe with a belted velour blazer, such as this look from & Other Stories ($119), to add serious warmth.
3. Dazzle in Denim
When you're going for casual and unpretentious, you can't go wrong with jeans. Try a pair that's more fitted, phenomenally soft super-smooth denim leggings by Hue ($44). These are available in multiple shades to flatter any look.
Slide into a pair of over-the-knee boots, which will add some sass and fit perfectly over those denim leggings.
Finish your ensemble with a plush, oversized sweater that you can snuggle into. Whether you're curled up by the fire or enjoying a meal at a cute café, Aerie's oversized cable turtleneck ($29.97) does the trick.