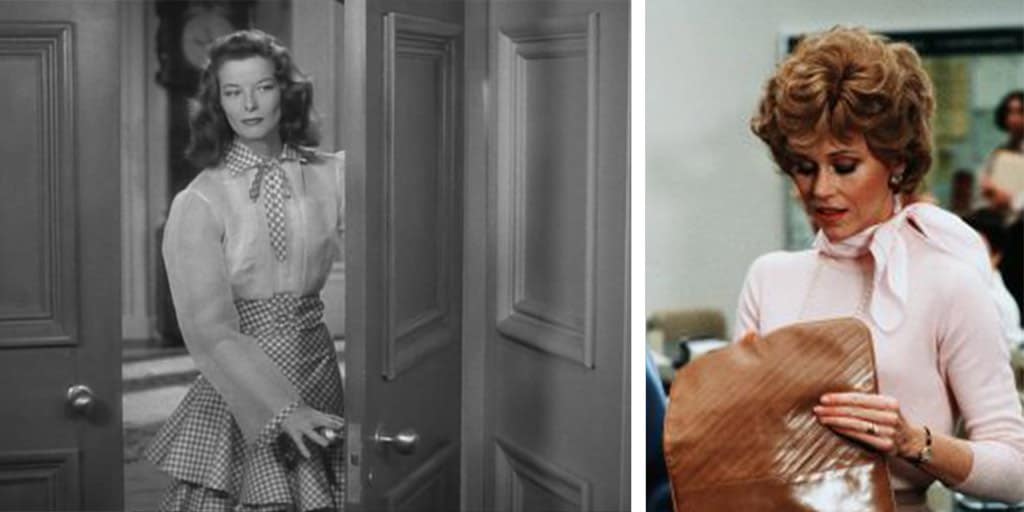 This post may contain affiliate links, which means I earn a small commission if you click and buy something (at no cost to you). See our privacy policy.
A few decades ago, only certain women could pull off menswear with authority — Katharine Hepburn being among the best at it. Not so today. Menswear-inspired silhouettes are fairly mainstream, and range from the softer shirt dress to the more angular power trouser. Right in the middle of that spectrum is the tie-neck blouse.
The tie-neck blouse has an interesting history. Ms. Hepburn rocked the look without apology in the '40s. But in the '80s, this silhouette became a symbol for the older, overworked receptionist. The pendulum swung again, to the point where even Kohl's was selling cute tie-neck blouses just a few years ago. The trend has trailed off a bit since, but fashion gals still turn to the tie-neck blouse for edgy, power looks.
How to Style the Tie-Neck Blouse
A few handy tips will keep you looking fab, not frumpy, in your tie-neck blouse!
Do consider proportions. Ties can be bulky or sleek. Try on both styles to see which suits you best. If you're petite, you may be overwhelmed by a big, floppy tie. If you're curvy up top, you may prefer a longer, straighter tie.
Do choose fitted bottoms. A pencil skirt or straight trousers work well with this blouse style for the office. On casual days, try slightly distressed skinny jeans, faux leather leggings, or even an A-line mini. Avoid baggy or bulky pant styles.
Do tuck and layer. Most tie-necks are better suited for tucking in. They also look amazing layered under blazers, denim jackets and trenchcoats. Also, a long or short hemline for your top layer will usually work better than a hip-length piece.
Do wear your best shoes. Heels, boots and loafers can all pair successfully with your blouse — as long as they're in good shape. A beaten down pair of sandals, for example, breaks down the power vibe you get from the top.
Trendy Tie-Neck Tops Under $50
A modern take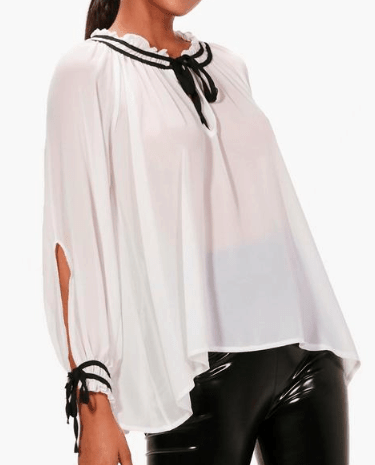 The Harlow Tie-Neck Blouse ($16 on sale) blends the tie concept with modern statement sleeves and an A-line shape. Less masculine that the traditional tie-neck, it's a nice option for newbies to this style.
All-out stripes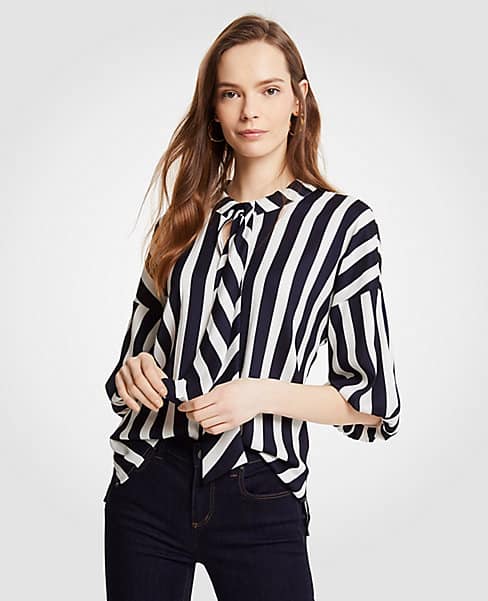 On the other end of the masculine scale is this striking puff-sleeved top by Ann Taylor ($40). Wear it when you're ready to stand out from the crowd.
The classic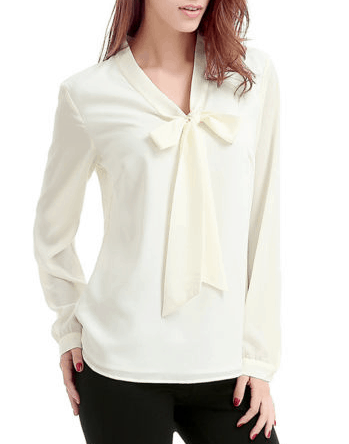 Sweet and simple, the Phistic Women's "Florence" Tie Neck Pullover Blouse scratches that itch for classic styling. Pick it up at JCPenney for a mere $29.
The floral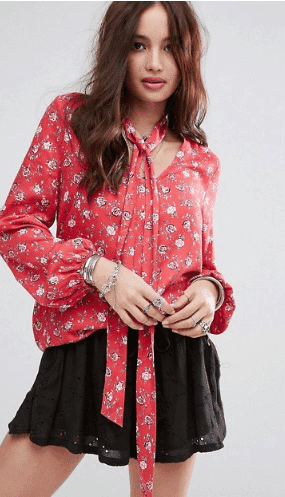 Go beyond black or white with this floral top by Honey Punch ($20). It's lightweight, rayon construction makes it easy to care for and a perfect choice for, say, drinking wine on a breezy summer evening.
What do you think about the tie-neck style? Will it find its way into your wardrobe rotation?